PUNJAB
HARYANA
JAMMU & KASHMIR
HIMACHAL
REGIONAL BRIEFS
NATION
OPINIONS
MAILBAG
BUSINESS
SPORTS
WORLD
Tuesday, July 20, 2004, Chandigarh, India
Updated at 3:00 am (IST)

Centre may go in for Presidential reference
Punjab's law on water
New Delhi, July 19
The Centre is keeping its options open on going in for a Presidential reference under Article 143 of the Constitution on Punjab Chief Minister Amarinder Singh's unilateral move to abrogate water-sharing pacts with neighbouring states. This will enable the matter to be taken up by a Constitutional Bench of the Supreme Court.

CAST YOUR VOTE
Should frequent transfers of public servants in key positions be avoided?


EDUCATION
JOBS & CAREERS
HEALTH & FITNESS
FORUM
SCIENCE & TECHNOLOGY
SPORTS
WOMEN
TRIBUNE CLASSIFIEDS
BRIDES WANTED
GROOMS WANTED
OTHERS
HOW TO PLACE ADVTS

Srinagar, July 19
Jammu and Kashmir Deputy Chief Minister Mangat Ram Sharma and two other ministers escaped an attempt on their lives in a grenade attack killing five persons and injuring more than 34 at a function at Kapran, Dooru in Anantnag district this afternoon.
Asghar Samoon, Deputy Commissioner of Anantnag, is carried by doctors into the hospital for treatment minutes after being airlifted to Srinagar on Monday.
— Tribune photo by Amin War
Jobs & Careers
THE TRIBUNE MAGAZINES
On Sundays

On Saturdays

IN PASSING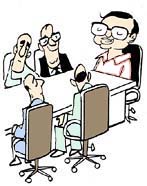 Let us begin with a prayer to the rain god.
by Sandeep Joshi
(Click to enlarge)


Natwar Singh in Pak for talks
Islamabad, July 19
External Affairs Minister K. Natwar Singh arrived here today to hold talks with his counterparts from Pakistan and other SAARC countries, saying he has come with a message of goodwill from the Government and people of India.
Relief after two decades for Bhopal gas tragedy victims
New Delhi, July 19
After a relentless wait for two decades by the Bhopal gas tragedy victims for the payment of compensation by US major Union Carbide, the Supreme Court today directed the Reserve Bank of India (RBI) to release Rs 1503 crore deposited with it by the company for disbursement to them. (Details on Nation page)
Hospitals await information on faulty stents
New Delhi, July 19
Hospitals around the country have become cautious over the use of drug-coated heart stents, manufactured by Boston Scientific Corp, after the news of a death and serious injuries.

Punjab buying power worth Rs 13.26 cr a day
Chandigarh, July 19
Failure of the south- west monsoon to break over the region in time has been costing the Punjab State Electricity Board (PSEB) dearly. The board has been spending Rs 13.26 crore a day to buy power from Rajasthan, Uttaranchal and Goa to ensure uninterrupted three-phase supply to tubewells in rural areas.
Cap transfer industry, Manmohan writes to CMs
July 19, 2004
TN tragedy toll 90; five held
July 18, 2004
87 school kids burnt to death in TN
July 17, 2004
Fresh Godhra probe rocks Parliament
July 16, 2004
"What do you think...," PM pulls up Capt
July 15, 2004
Punjab legislation rocks Parliament
July 14, 2004
Punjab annuls all water pacts
July 13, 2004
SAD sweeps SGPC election
July 12, 2004
Bhattal divested of Agriculture
July 11, 2004
11 get life term for Mumbai blasts
July 10, 2004