PUNJAB
HARYANA
JAMMU & KASHMIR
HIMACHAL
REGIONAL BRIEFS
NATION
OPINIONS
MAILBAG
BUSINESS
SPORTS
WORLD

Friday, July 23, 2004, Chandigarh, India
Updated at 3:00 am (IST)

India steps up efforts for release of hostages
New Delhi/Islamabad, July 22
India today stepped up efforts to secure the safe release of its three nationals held hostage in Iraq along with four others as a video showed the captives making desperate pleas for their lives.

A video grab shows the Indian hostages at an undisclosed location in Iraq. — Reuters photo

In video: India hopes Iraqi captors will release hostages. (28k, 56k)
Nation page: 5,000 Indians working in Iraq
CAST YOUR VOTE
Should the rates of interest on EPF be lowered?


EDUCATION
JOBS & CAREERS
HEALTH & FITNESS
FORUM
SCIENCE & TECHNOLOGY
SPORTS
WOMEN
TRIBUNE CLASSIFIEDS
BRIDES WANTED
GROOMS WANTED
OTHERS
HOW TO PLACE ADVTS

Take all I have but free my son, man to Iraqi militants
Dehlan (Una), July 22
I am ready to give anything to them for releasing my son. They can take every penny I have in lieu of my only son.

Kusum Lata, wife of kidnapped driver Ataryami, with her daughter.
President refers Punjab water law to SC
New Delhi, July 22
President A.P.J. Abdul Kalam today sought the Supreme Court's opinion on the Punjab Government's decision to abrogate all water-sharing treaties with its neighbouring states after the Union government sought a Presidential reference on this issue under Article 143 of the Constitution.


SAD appeals to President, PM on SYL issue

Special article: Logic and law of water-sharing
SPECIAL FEATURE
Fire: How safe are our schools? — A Tribune survey
As many as 90 children were burnt alive when fire engulfed Lord Krishna Higher Secondary School at Kumbakonam in Tamil Nadu on Saturday morning.
THE TRIBUNE MAGAZINES
On Sundays

On Saturdays

IN PASSING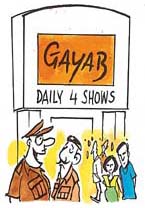 This is the right place to find clues to locate the 'wanted' minister.

by Sandeep Joshi
(Click to enlarge)

Judge refuses to hear Soren plea
CJ orders hearing today
Ranchi, July 22

The Jharkhand High Court posted for hearing tomorrow Coal Minister Shibu Soren's petition challenging the non-bailable warrant issued against him in Chirrudih massacre case.


Nation page: Soren issue rocks Parliament


In video (28k, 56k)
Punjab cuts admission fee to MBBS, homoeo courses
Chandigarh, July 22
The Punjab Government today slashed the admission fee and fixed the limit of other charges to be taken from students for joining the MBBS, BDS, Ayurvedic and homoeopathy courses in the government recognised private colleges in the state.
Haryana buying power worth 16 cr each day
Panchkula, July 22
Haryana Power Utilities is spending Rs 15 crore to Rs 16 crore each day for buying power from Himachal Pradesh and Orissa to meet the increasing demands of power.
Last date for filing IT returns extended


Pak extends visa of Indian woman facing deportation
Islamabad, July 22
The Pakistani Government today allowed an Indian doctor, who faces deportation from Pakistan on expiry of her visit visa, to stay in the country for another 60 days. Dr Divya Dayanan, 22, now Hafza Aman, married Aman Khan Hoti last year after embracing Islam.

Where is Sibu Soren?
July 22, 2004
Eradicate terror, India tells SAARC
July 21, 2004
Centre may go in for Presidential reference
July 20, 2004
Cap transfer industry, Manmohan writes to CMs
July 19, 2004
TN tragedy toll 90; five held
July 18, 2004
87 school kids burnt to death in TN
July 17, 2004
Fresh Godhra probe rocks Parliament
July 16, 2004
"What do you think...," PM pulls up Capt
July 15, 2004
Punjab legislation rocks Parliament
July 14, 2004
Punjab annuls all water pacts
July 13, 2004