FORUM
Q: How can India make its sportsmenís performance better?
(This is the first instalment of readersí response)
Let the heads roll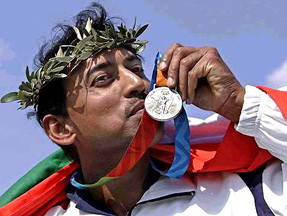 No government official should head any sports organisation at any level. The Sports Authority of India should be an independent body comprising only sportsmen. Prizes for gold, silver and bronze should be announced at least four years before the commencement of the games. Sports organisations should be formed at village level, block level and district level before these are formed at the national level. Non-performing coaches and officials should be reprimanded. The DPEs should give their full time to sport and no other activity. All sports officials and coaches should be hired on contract and asked to show results.
GURDIAL SINGH KHATKAR, Former member and captain of Ambala DH Club (1953-56) and member of the Punjab hockey team (1956), VPO Paddi Sura Singh


Sarv Khel Abhiyan, thatís the answer
There should be a nationwide Sarv Khel Abhiyan and it should be made compulsory for all states to take up this programme as mission. Rural children should be motivated to take up sport as a career. There must be a number of Phelps and Thorpes in almost every Indian village, swimming in the village ponds and lakes. They should get all the right amenities and coaching in addition to a balanced diet right from school. Our policy should be to promote all sport equally. We should improve our infrastructure and use foreign expertise. Incentives, scholarships and the daily allowances of sportsmen should be raised.
RAGHAV SOOD, Oachghat (Solan)
Best diet and practice will help Merit should be the only criterion while selecting international players. Best coaching and diet, adequate subsistence allowance and superior kits should be given to Olympians. Practice matches should be arranged from time to time well before the Olympics and not one or two months before the games, as today. The government does not spend adequately on its international players.
B. R. DHAND, Mansa
Parents need to change attitude There is as yet no tradition in India of spotting talent at a young age and allowing it to grow to its full potential. Elsewhere in the world, the nurseries of sport are schools and colleges. In India, this is not possible because schools find it difficult even to arrange classrooms for students. It is too much to expect them to have playgrounds, swimming pools and gymnasia. Another reason for our poor show in competitive sport is cultural. Even enlightened citizens, who moan the most about the inadequacy of playing facilities in schools, would be the first to admonish their chidden if they take a keen interest in sport. It is slogging at books that gets you high marks and admission in a professional institute. A student is considered good only if he is good at studies. Parents need to change their attitude if India is to do well in sport.
Dr SANJAY VASHISHT, Delhi
Expect more from players
In India, sportsmen are selected on the basis of recommendation and not performance. Sports authorities alone cannot be held responsible. It is the non-seriousness of players, lack of practice and doping that are to blame. It's a matter of shame for us that the International Weightlifting Federation (IWF) had to put our weightlifters under suspension for doping. In an attempt to show better performance, our players resorted to steroids, which is a serious offence. Our sportsmen fail to gauge the expectations of their fans. It would be better if they were selected on merit.
VIKAS DOGRA, Nagrota Surian (Kangra)
Catch them young
Budding sportsmen should be spotted at an early age. Selections should be fair and the reserves should also be treated well. Teams should be chosen minimum five years in advance for major international events and not chopped and changed thereafter. Best coaches should be discovered to impart the most rigorous and constant training. Training institutes should have the modern equipment. Liberal accolades must be showered on whoever performs well. Sportsmen should be look after well in all departments: diet, equipment, kit and monetary benefits. We should learn from the top nations in sport: their sports directors are of a high repute, assertive, fair and firm.
Col S.D. SHARMA (retd), Hamirpur
Stop misuse of funds The reason for our shocking performance at the Olympics is our rusted politics. The heads of various sports organisations misuse the money allotted for training for their own benefit. This money would, otherwise, have gone into coaching and rewarding players. The players lack proper guidance and mental toughness. Players should be given an atmosphere that helps them gain confidence and always improve their performance. Players should be provided with scientific facilities by which they are able to know their drawbacks. Fitness standards and the amount of international exposure should be raised.
ABHISHEK INDORIA,
Chandigarh
Encourage rural games The government discourages rural sport, from where it can pick new talent. In foreign countries, governments bring in science and technology to improve the performance of sportsmen, but all this is unheard of in India. India has many sports colleges like the NIS, but these institutes don't churn out champions. Maybe, if the government ends political interference in sport, their performance will improve. Sport science should be a compulsory subject, at least in sports academies. The sports quota for jobs in government and private sector should be enhanced.
AMRIT PAL SINGH, Moga
Give merit a chance Stop political interference and give genuinely talented sportsmen a chance to play and get more exposure to assess weaknesses. Sponsorship and modern facilities will boost the performance of our players.
RAMAN DEEP CHAWLA, Abohar
Leave it to the Army Every person can't be a sportsman. The right type has to be picked as early as the age of 8 or 10. The training has to begin in primary school. Sportsmen begin after class XII or college these day and even their jobs ahead are not secure. You can't win this way, especially when nobody is looking into what our officials have been doing. Raising champions is a task that can be done very well by the Army. A separate directorate can be established for training boys and girls at the regimental centres where a fair selection procedure can be worked out. The education of the recruits can be arranged in the regional centres where they will also get qualified coaches (even civilians). The underachievers among them can be enrolled in the Army after class X and the rest should graduate to the big league.
Col J. S. CHANDEL (retd), Bilaspur
Outsource scouting
Sport in India needs a revolutionary change from the roots. An outside agency should be given the task of spotting the raw talent and its selectors should be top achievers in international sport. This agency should then be authorised to prepare the sportsmen for tomorrow.
MIKU WADHAWAN, Jagadhari
Ensure quality coaching Our sport authorities should ensure proper selection, quality coaching and the best of international exposure. Suitable replacements for ageing players must be found in time for big tournaments. We should have a pool of young, fully trained and highly motivated reserve players. The poor quality of Indian coaches forces us to hire marginally better foreign coaches. We should improve the standard of Indian coaching and promote sport in schools and colleges where students are hooked on to just cricket. If we can motivate our students to take up volleyball, basketball, swimming, tennis and athletics, much will be achieved. In my village (Chanankhera), boys play volleyball all day and win all tournaments held in nearby villages. Their dedication merits attention. How can our talent hunters ignore such wealth of talent? Divide responsibility. Let the services hockey team represent India, the CRPF produce the volleyball team and the BSF build our basketball team.
Lt Col ONKAR CHOPRA (retd), Chanankhera (Abohar)
Be fit and youíll hit Our performance at Athens is because half of us were unfit and the rest unprepared. The only exception was Major Rajyavardhan Singh Rathore. It was a shame for India that some of us were caught doping. It's better to make amendments straight away and follow a stricter routine. The coaches will have to be more demanding. If our players learn to look after their personal hygiene, they'll be fitter.
TANYA GULATI, Jalandhar
Athletes should be heard Indians have tasted success in science, education and even sport. It all lies in training. Pre-tournament, the atmosphere should be such that it facilitates physical, psychological and emotional toughness. The morale should remain high. Athletes should be heard and their grievances should not be ignored. It should be every athlete's personal duty to stay away from drugs. Don't send them to war with jammed rifles.
SHUCHI MAKOL, Mohali
End sifarish, back talent Nearly 25 years ago, my son, Rajesh Salhotra, captain of the Government College, Gurdaspur, cricket team was ignored for an inter-state match by the then Principal under the spell of "sifarish", an epidemic that will deprive India of even the lone medal at Olympics one day. About four decades ago, Major J. K.Tuli, OC, stations workshop, Sikandrabad (my brother-in-law) along with Subedar Parshottam Dev Sofat (my son's father-in-law) encouraged a co-worker, Milkha Singh, to become an Olympic gold medallist. His Ekalavaya-type will power did bring him success, no doubt. Major Tuli is no more, but his two sons, Narinder Tuli, Principal, Ankur Public School, and Col Anil Tuli, who lives in Krishan Nagar, Gurdaspur, still remember the Flying Sikh. Subedar Parshottam Dev, who lives in Purana Bazar, Gurdaspur, is ever ready to receive Milkha Singh, Flying Sikh of the EME workshop, Sikandrabad. May their tribe increase.
PRAN SALHOTRA, Gurdaspur
Focus on improving strategy Our country stands next to China in terms of population, but when we see the medal tally of Athens Olympics, China is far ahead of us. India has the talent, the potential, the facilities, the will and the spirit of competition, but we lack proper strategy. We need a capable and judicious board of selectors. There will be no room for provincialism in such a board. The progress in the field of sport is strongly linked with input and healthy inter-province competition. The career of a sportsman is short, so ample social security arrangements will have to be made. To borrow for betterment will give the desired results.
VEENA SABHARWAL, On e-mail
Reach down to come up The ordinary people will have to be provided with the basic infrastructure first and later modern facilities for India to shine in sport. Sports federations will have to be freed from the clutches of politicians. Our focus is still on cricket, even though we are struggling for individual gold in Olympics. There must be a proper policy under which the whole job must be done.
SAURABH GUPTA, Gidderbaha
Adopt sports psychology India has so many good sportsmen, coaches and the best of equipment and techniques. Even then our performance at the Olympics is dismal because our squad is neither physically fit nor mentally prepared to perform well. This is because the Indian sports federations do not provide our sportsmen with psychological training, which is essential in high-level sport. If this aspect is kept in mind for future, our sportsmen will surely perform better.
AMANDEEP SINGH, On e-mail
Spot the right talent I don't think India sends her best sportsmen to the Olympics. Where are the right people? India, being the land of legendary archers like Arjuna, has tremendous talent; the need is to recognise the talented. Corrupt selectors should be eschewed and honest, clean people, who understand sport, should take their place. People who have less desire for money and more urge to do something for the country should be selectors. Nationwide talent hunts covering every possible aspirant should be held. After selecting, we need the best persons to train them, whether Indian or foreign. Our players should get good accommodation, nutritious food, regular intake of proteins and a balanced diet. Players and coaches should be accountable for failures.
VIKRAM SETH, Amritsar
Kick out politics from sport Our failures in sport are mainly due to the interference of politicians. India is brimming with talent, but we'll have to get this talent out of the dark, for which all politics will have to be kicked out from sport. Political interference brings forth dull players. In many countries, players prove their fitness by playing domestic matches, but in India only a fitness certificate is enough to qualify for a big tournament. That is why many times our sportsmen return home in the middle of big events. Perhaps we don't have the same determination and objectives as these countries, but we certainly have talent and resources. Revise the rules, set new standards, set goals and get addicted to winning.
ROHIT SHARMA, Amritsar
Buy tickets, patronise all sport India excels in cricket. How is it possible that we have talent only in cricket not in archery, football, badminton or any other sport? There's talent in other sport, but only cricket has money. The IOA and the government should "bring in" money in other sport as well. If we'd love India to do well at the Olympics, we should buy tickets for many other sports events, besides cricket. Encouragement from public will surely be a small step for that big leap towards the 2008 Olympic glory in Beijing.
SHARAD SHARMA, Panchkula


Next Thursday More letters on this issue