Terrorist Babla lands in police net
Jupinderjit Singh
Tribune News Service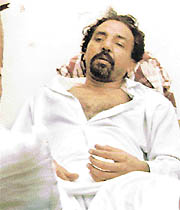 Terrorist Gursewak Singh, alias Babla, in police custody at the CIA office, Jagraon, on Wednesday. — Photo by Sayeed Ahmed
Ludhiana, September 22
An alleged Khalistan Commando Force terrorist, Gursewak Singh, alias Babla, was nabbed by the Jagraon police here today. The arrest came exactly one month after he escaped from the police custody in New Delhi.
Babla could have escaped abroad or to some remote part of the country had he not got seriously injured in a road accident. With fractured collarbone, broken legs and jaw, he was bedridden in Khokhar Hospital, near Raikot. Feeling insecure, he was trying to shift to a hospital in Jalandhar when the police caught him.
After escaping from the police custody, he got in touch with a former terrorist, Jeet Singh, a proclaimed offender in a terrorism-related case registered in Sangrur in 1991, and arranged money and a revolver for himself.
The DGP, Punjab, Dr A.A. Siddiqui, while talking to reporters in Jagraon today, said Jeet Singh was yet to be arrested. He said Babla's escape was as per his own plan and there was no conspiracy behind it. He said his escape was not the handiwork of any terrorist group. He said Babla did not contact any wanted terrorist hiding in Pakistan.
He said Babla had talked to wanted terrorist and KCF chief Paramjit Singh Panjwar in 1998 using a mobile phone. Panjwar, who was in Pakistan, had told Babla that he should fend for himself, the DGP claimed.
The DGP said the police was seeking help from the judiciary and the government to check such cases of escaping in future. He said the police had proposed to the state and the Centre governments and the judiciary that either special courts should be set up for dangerous criminals or the courts be held in jails only.
He said he had recommended awards for the Jagraon police officials, including SSP Rajiv Ahir, SP(D) Jaspal Singh Dhanoa, special investigation team in charge, Prithipal Singh, ASI Jarnail Singh, Head Constables Sukhyad Singh, Jagtar Singh, Amarjit Singh and SPOs Kuldip Singh and Harjit Singh.
He said on September 21 they received information that Babla was recuperating in a hospital following a major accident about two weeks ago. The hospital was reported to be located in the area near Raikot. Babla was to shift his location with the help of Jeet Singh.
A trap was laid at Drain Bridge, Raikot. A little before midnight, a white car was intercepted. Injured Babla was travelling by it. However, his accomplice, Jeet Singh, managed to escape.
During preliminary interrogation, Babla said he had been contemplating to escape for some time and on that day, seeing the circumstances conducive to his escape, he decided to give it a go. After the court hearing, that day the police party went around Delhi for site seeing. In the evening, after having a drink session, the police party decided to go to a Paharganj hotel.
As members of the police party were inebriated, Babla was asked to drive the police vehicle from the main road to the hotle after the police party disembarked and entered the hotel, Babla parked vehicle in front of the hotle and went up. Seeing policemen sleeping, he escaped.
From Paharganj, he went to Dhaula Khuan and boarded a bus to Jaipur. He reached Jaipur the next morning, but immediately returned to Ambala by bus. This was to evade police. Later, he went to Jalandhar and booked a room in a hotel on the Garha Road under a false name, Jaswant Singh. He stayed in the hotel for around five days and spent another three days in another hotel in the same area. He also visited Amritsar during the quadricentennial celebrations.
He then contacted Jeet Singh and stayed with him at a place near Sangrur. On September 5, he met with an accident while driving a scooter.
Meanwhile, Babla had reportedly changed his guise. He had got a new look by trimming his hair and supporting a French-cut beard.