PUNJAB
HARYANA
JAMMU & KASHMIR
HIMACHAL
REGIONAL BRIEFS
NATION
OPINIONS
MAILBAG
BUSINESS
SPORTS
WORLD
Thursday, September 23, 2004, Chandigarh, India
Updated at 5:15 pm (IST)

BREAKING NEWS
Jagir Kaur returns as SGPC chief after four years

PM for expanding Security Council
Group of 4 presses for permanent seats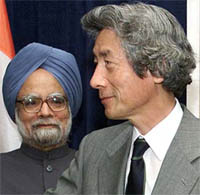 New York, September 22
After the famous and sometimes notorious P-5, it is now the turn of the G-4. In a bid to challenge the might of the five permanent members of the UN Security Council, India along with Japan, Germany and Brazil, better known as the Group of Four (G-4), had their first meeting yesterday.

Prime Minister Manmohan Singh with his Japanese counterpart Junichiro Koizumi in New York on Tuesday. — PTI photo by Subhash Chander Malhotra
CAST YOUR VOTE
Should we decorate sportsmen who give their personal best, but end up losers?

THE TRIBUNE MAGAZINES
On Sundays

On Saturdays


Grenades explode as Mufti files papers
Srinagar, September 22
Five pedestrians were injured, three of them seriously, in four rifle grenade explosions in Anantnag town this afternoon when the Chief Minister Mufti Mohammad Sayeed was filing his nomination papers for the Pahalgam Assembly seats.
Sikh students can wear patka, says French envoy
New Delhi, September 22
Taking serious note of the resistance of the Sikh community to the ban on wearing ostentatious religious symbols in public primary and high schools in France, the French government has decided to allow Sikh boys enrolled in these schools to wear discreet 'patka'.
Foreign experts offer to resign, Left elated
New Delhi, September 22
Deputy Chairman of Planning Commission Montek Singh Ahluwalia is expected to convene a meeting next week, soon after his return from trip abroad, to consider the offer of resignation by experts from multilateral agencies, following a threat from the Left economists to quit the panel.
Terrorist Babla lands in police net
Ludhiana, September 22
An alleged Khalistan Commando Force terrorist, Gursewak Singh, alias Babla, was nabbed by the Jagraon police here today.
Badal authorised to nominate SGPC chief, executive
Amritsar, September 22
SGPC members, belonging to the Shiromani Akali Dal authorised Mr Parkash Singh Badal, to finalise the names of the next president, office bearers and executive members of the Shiromani committee at a meeting held here today.


Jagsir yet to decide on bringing wife home
Kotbhai (Muktsar), September 22


Even as Mohammad Arif, who spent about five years in Pakistani jails, has decided to take Gudia, his wife, back though she got married to Taufiq in his absence, his friend in jail, lance naik Jagsir Singh is yet to decide on whether to bring his wife back or not.


Nation page: Gudia under pressure, says women's forum

Delhi page: L'affaire Gudia: TV channels indulge in
one-upmanship


Bush lauds India's stand on Pak
September 22, 2004
Manmohan Singh, Blair vow to fight terror
September 21, 2004
Reforms to continue, says PM
September 20, 2004
Weed out graft from judiciary
September 19, 2004
Cabinet nod for repeal of POTA
September 18, 2004
Government to probe Census confusion, says Sonia
September 17, 2004
Haryana says Punjab Act unconstitutional
September 16, 2004
We are not bound to build SYL: Punjab
September 15, 2004
Punjab power crisis deepens
September 14, 2004
India, Nepal vow to fight terror
September 13, 2004