PUNJAB
HARYANA
JAMMU & KASHMIR
HIMACHAL
REGIONAL BRIEFS
NATION
OPINIONS
MAILBAG
BUSINESS
SPORTS
WORLD
Saturday, October 30, 2004, Chandigarh, India
Updated at 3:00 am (IST)

Deshmukh to be CM
Maratha lobby prevails
Mumbai, October 29
After more than eight hours of tough political bargaining, Congress MLAs this evening elected Mr Vilasrao Deshmukh to be Maharashtra's Chief Minister for the second time.
Newly elected MPCC Legislative party leader Vilasrao Deshmukh is congratulated by party observer Ghulam Nabi Azad at Vidhan Bhavan in Mumbai on Friday.
— PTI photo
CAST YOUR VOTE
Should India send Election Commission officials to monitor Iraq polls?

FORUM
EDUCATION
JOBS & CAREERS
HEALTH & FITNESS
SCIENCE & TECHNOLOGY
SPORTS
WOMEN
TRIBUNE CLASSIFIEDS
BRIDES WANTED
GROOMS WANTED
OTHERS
HOW TO PLACE ADVTS
Punjab Governor Verma resigns
General Rodriguez tipped to be new Governor


New Delhi, October 29
The resignations of NDA-appointed Governors continued today with the Punjab Governor, Justice Om Prakash Verma, submitting his resignation to President A.P.J. Abdul Kalam here. According to informed sources, General S.F. Rodriguez (retd) and Lieut-General B.K.N. Chhibber (retd) are likely to be named Governors of Punjab and J&K respectively.


Profiles of new Governors

In Sports Tribune today
THE TRIBUNE MAGAZINES
On Sundays

On Saturdays

Tamil Nadu Governor quits
Chennai, October 29
Ending a month-long controversy, Tamil Nadu Governor P.S. Ramamohan Rao today sent in his resignation to the President, after the Union Home Ministry sent signals to him that he was no more wanted and the Supreme Court declined to stay his removal or transfer.
Copter with General aboard missing near China border
New Delhi, October 29
One of the Cheetah helicopters of the IAF with General Officer Commanding of the Sixth Mountain Division based at Bareilly, Major-General D.P. Singh, and a Lieutenant Colonel on board went missing near the border with China beyond Joshimath this morning.
Serial baby killer held
Jalandhar, October 29


A spectre of fear terryfying local residents for the past over seven months almost vanished in this morning as a cruel serial baby killer, Darbara Singh, was finally arrested by the local police.
Darbara Singh, alleged serial baby killer and rapist, being taken to the police lines in Jalandhar on Friday.
— Tribune photograph

16 hurt in refinery blast
Vadodara, October 29
A powerful blast in one of the reactors of the Indian Oil Corporation-owned Gujarat Refinery today injured 16 persons, spreading panic in the highly sensitive industrial belt of Jawaharnagar on the outskirts of the city.


Asif wants to go back to Pakistan
Faridkot, October 29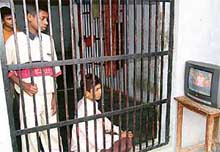 While the district administration has sent a proposal to the state government for sending Asif, a 13-year-old Pakistani boy languishing in Juvenile Jail here, to a destitute home, he only wants to return to his home in Pakistan.

Asif (left) and Altaf watch TV at Juvenile Jail in Faridkot on Friday. — Photo by Iqbal Singh


Sri Guru Granth Sahib - Quadricentenary Celebrations
Athens 2004
Illegal Cremations: NHRC List
G. S. Tohra (1924—2004)
Patiala Heritage Week
Turbans
Chandigarh is 50
EARLIER FEATURES
Maratha lobby averse to Shinde as CM
October 29, 2004


Cong to head govt in Maharashtra
October 28, 2004


Musharraf's new Kashmir formula
October 27, 2004


NCP defers decision on Congress proposal
October 26, 2004


Omar, Farooq survive bomb attack
October 25, 2004
Final decision likely today
October 24, 2004
Decide turban issue by Nov 5, French court tells school
October 23, 2004
Centre ready for talks with Bodos
October 22, 2004
FDI in civil aviation hiked to 49 per cent
October 21, 2004
Sharad Pawar wants Home at the Centre
October 20, 2004