PUNJAB
HARYANA
JAMMU & KASHMIR
HIMACHAL
REGIONAL BRIEFS
NATION
OPINIONS
MAILBAG
BUSINESS
SPORTS
WORLD
Friday, November 5, 2004, Chandigarh, India
Updated at 3:00 am (IST)

Petrol, diesel prices hiked by over Rs 2
LPG to cost Rs 20 more
New Delhi, November 4
Ending speculation of over one month and consultations with allies, the government today hiked petrol prices by about Rs 2.20, diesel prices by about Rs 2.10 per litre linking them to import parity price and LPG by Rs 20 per cylinder while sparing kerosene prices.
CAST YOUR VOTE
Will India strengthen its relations with the US after President Bush's victory?

FORUM
EDUCATION
JOBS & CAREERS
HEALTH & FITNESS
SCIENCE & TECHNOLOGY
SPORTS
WOMEN
TRIBUNE CLASSIFIEDS
BRIDES WANTED
GROOMS WANTED
OTHERS
HOW TO PLACE ADVTS
Bush vows to fight terrorism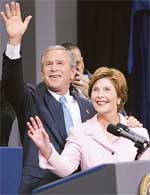 Washington, November 4
Setting his agenda for the second term in office, US President George W. Bush pledged to continue the fight against terrorism.

US President George W Bush waves as he stands with First Lady Laura Bush at the Ronald Reagan Center in Washington after delivering his victory speech on Wednesday. — Reuters photo


Editorial: Polls apart

Opinions page: What will Bush do in his 2nd term?

Business page: Industry welcomes Bush's re-election
PM cautions Bush on terrorism as state policy
New Delhi, November 4
Prime Minister Manmohan Singh and President A.P.J. Abdul Kalam today wrote separate letters to US President George Bush, congratulating him on his re-election.


In video (28k, 56k)

HARYANA: Poll panel removes Narwana SDM


HIMACHAL: Virbhadra proposes national pay panel


CHANDIGARH: Racket in rly tickets busted


LUDHIANA: Artificial shortage of cooking gas


OPINIONS: Democratic Afghanistan


BUSINESS: Govt moots rural business hubs


SPORTS: Kumble, Kartik keep India afloat

In Science & Technology today
THE TRIBUNE MAGAZINES
On Sundays

On Saturdays

IN PASSING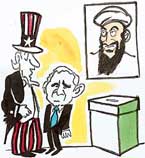 Now that the elections are over, should we remove this picture?

by Sandeep Joshi
(Click to enlarge)
Accused complains of coercion in Best Bakery case
Mumbai, November 4


An accused in the 2002 Best Bakery carnage case today complained of coercion, a day after the volte-face by prime eyewitness in the case, Zaheera Sheikh, who retracted her statement made last year in the Vadodara Fast Track Court and charged social activist Teesta Setalvad with threatening her.


Zaheera changed statement under pressure: Sahmat

Zaheera fails to turn up in court
Punjab will have 5 more reserve Assembly seats
One more reserve Lok Sabha constituency
Chandigarh, November 4
Punjab will have five more reserve Assembly constituencies and one more reserve Lok Sabha constituency. The existing number of reserve Assembly segments in Punjab at present is 28.
Mumbai ex-police chief gets bail in Telgi case
New Delhi, November 4
The Supreme Court today granted interim bail to former Mumbai Police Commissioner Ranjitsing Brahmajeetsing Sharma 22 months after his arrest under the Maharashtra Control of Organised Crimes Act for his alleged involvement in the Rs 33,000 crore Telgi fake stamp paper scam by imposing stringent conditions on his movements.
5 more Judges for Punjab and Haryana HC
New Delhi, November 4
The President, Dr A.P.J. Abdul Kalam, has issued order for the appointment of five new Judges of the Punjab and Haryana High Court, it was officially announced here today.
Arafat reported clinically dead; PM denies


Jerusalem, November 4
Palestinian President Yasser Arafat was declared clinically dead today in a French hospital, Israeli television said citing French sources.


Illegal colonisers, beware of eye in sky
Patiala, November 4
An eye in the sky may well turn out to be a new nightmare for illegal colonisers in Punjab. Two satellites are set to give pictures on demand to the Punjab Urban Planning and Development Authority to allow it to pinpoint illegal constructions at the click of a button.

Sri Guru Granth Sahib - Quadricentenary Celebrations
Athens 2004
Illegal Cremations: NHRC List
G. S. Tohra (1924—2004)
Patiala Heritage Week
Turbans
Chandigarh is 50
EARLIER FEATURES
Bush is US President again
November 4, 2004

Free-for-all in Orissa Assembly, CM injured
November 3, 2004

Bush, Kerry target key states in final hours
November 2, 2004


No increase in petrol, diesel prices
November 1, 2004


Shinde is Andhra Governor
October 31, 2004


Deshmukh to be CM
October 30, 2004


Maratha lobby averse to Shinde as CM
October 29, 2004


Cong to head govt in Maharashtra
October 28, 2004


Musharraf's new Kashmir formula
October 27, 2004


NCP defers decision on Congress proposal
October 26, 2004


Omar, Farooq survive bomb attack
October 25, 2004