PUNJAB
HARYANA
JAMMU & KASHMIR
HIMACHAL
REGIONAL BRIEFS
NATION
OPINIONS
MAILBAG
BUSINESS
SPORTS
WORLD
Friday, November 19, 2004, Chandigarh, India
Updated at 3:00 am (IST)

Recruitment ban in J&K to go: PM
Announces setting up of 4 ITIs for women in Jammu region


Jammu, November 18
The Prime Minister, Dr Manmohan Singh, today announced that the recruitment ban on government jobs that was imposed following an MoU between the Centre and the J&K Government would immediately be scrapped to provide employment opportunities to the youth of the trouble-torn state.


In video (28k, 56k)


Troop reduction a calculated risk: PM

Manmohan's remarks disappointing: Kasuri

J&K page: PM promises to rehabilitate Pandits
CAST YOUR VOTE
Will Condoleezza Rice's appointment give a flip to Indo-US relations?

FORUM
EDUCATION
JOBS & CAREERS
HEALTH & FITNESS
SCIENCE & TECHNOLOGY
SPORTS
WOMEN
TRIBUNE CLASSIFIEDS
BRIDES WANTED
GROOMS WANTED
OTHERS
HOW TO PLACE ADVTS
J&K page: Pakistan visit was not precondition: APHC
Hurriyat meets to decide about the future of talks with Centre. (28k, 56k)

J&K Deputy Chief Minister Mangat Ram Sharma felicitates Prime Minister Manmohan Singh with a shawl on his arrival at the Parade Ground in Jammu where he addressed a public rally on Thursday. — PTI photo
Uma sorry but demands apology
New Delhi, November 18
Expelled BJP leader and former Madhya Pradesh Chief Minister Uma Bharti, expressing her willingness to apologise to BJP President, L.K. Advani for her outburst during central office-bearers meeting on November 10, also put a condition today that the party should apologise to her on some counts.

In Science & Technology today
THE TRIBUNE MAGAZINES
On Sundays

On Saturdays


Verdict on seer's bail plea reserved
Chennai, November 18
The crowded courtroom of Mr Justice R. Balasubramaniam in the Madras High Court today witnessed the battle of words between defence counsel Mr Ram Jethmalani, who has been arguing the seer's bail plea since Saturday and the public prosecutor while the Judge reserved his order without specifying any date.


I have been falsely implicated: seer
Panel to review Manipur Act
New Delhi, November 18
The Centre tonight decided to set up a five-member committee headed by a former Supreme Court judge to review the Armed Forces (Special Powers) Act in operation in Manipur for preparing the ground for Prime Minister Manmohan Singh's first visit to Imphal later this week.

Way paved for dismantling of PSEB
Patiala, November 18
Way has been paved for dismantling of the Punjab State Electricity Board with the board management passing a resolution to this effect and forwarding the same to the Punjab Cabinet for ratification.


Tortured widow meets CJ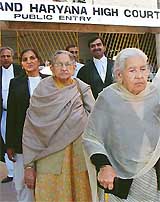 Lower court refuses bail to retired Colonel
Chandigarh, November 18
India's first lady pilot and her sister today finally managed to meet Mr Justice B.K. Roy Chief Justice of the Punjab and Haryana High Court, to narrate their tale of sorrows.

India's first lady pilot, Beant Kaur (right), and her sister, Satwant Kaur, come out of the Punjab and Haryana High Court in Chandigarh on Thursday. — Tribune photo by Manoj Mahajan

PM promises a new Kashmir
November 18, 2004

Militants kill 12 in J&K ahead of PM's visit
November 17, 2004

NDA seeks peaceful solution of Ayodhya
November 16, 2004

Aziz to discuss Kashmir during visit
November 15, 2004

Stampede at Delhi railway station
November 14, 2004

Yasser Arafat is no more
November 12, 2004

Uma suspended after protest walkout
November 11, 2004

Arafat is dead, say Palestinians
November 10, 2004

India, EU vow to combat terror
November 9, 2004

Pak proposals to be examined when received, says Patil
November 8, 2004

Centre open to Hurriyat's Pak visit
November 7, 2004

India committed to resolve issues with Pak, says PM
November 6, 2004