FORUM
Q: What should be done to improve the performance of the Indian cricket team?
(This is the second instalment of readers' response)
Lay stress on physical fitness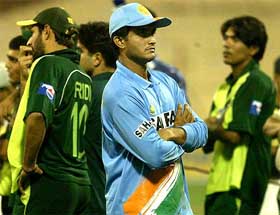 Staring at the face of defeat: Captain Sourav Ganguly watches the prize distribution ceremony after India was defeated by Pakistan in the BCCI platinum jubilee ODI on November 13
The current home series against Australia has once again exposed our shortcomings. It is not so much the conditions that have beaten India, but the lack of fighting spirit and the will to stay at the wicket in the face of all odds. Our ostentatious batting line-up has forgotten the art of staying at the crease, which shows lack of devotion towards the game. An overhaul of the team is unavoidable. We should maintain a good stand-by team for change at any stage and shun dilly-dallies by inducing young players. The skipper boosts the morale of the team at the time of such catastrophe. If he does not perform in three consecutive matches or is out of form, he should be replaced without looking at his record. Stand-in captain or the vice-captain should be given his cap. There are five-six big earners in our team; too much moneymaking is at the root of this lack of fighting spirit. Stop commercialising the game. The BCCI should issue guidelines in this regard. There should be no politicisation of this collective debacle. Equal representation should be given to players of all regions in the selection committee. They should keep a close watch on the performance of each player in domestic cricket and pull out a rabbit from the hat when needed. Physical fitness is the key to triumph in any sport, but we continue to ignore this vital aspect. Physical training should be given emphasis and too much playing that effects health should stop. Players should be rotated to give rest to the exhausted ones.
SURESH KHOSLA, Chandigarh
Prepare sporting pitches
The dead-wood should be weeded out from the team and all players clinging on to their places on their past reputation should be frankly told to make way for those who have the potential to excel. Sourav Ganguly should relinquish captaincy as he has run out of steam and his form has nose-dived. Sachin Tendulkar, who is the best batsman of the world, should be made captain, as he is now mature enough to lead the team; or will he be made skipper when he hangs his boots? Sporting pitches should be prepared so that our batsmen and bowlers learn to play on all types of wickets and in all conditions. Players should take pride in playing for the country and not for their own self, the BCCI or the firms whose products they endorse. Indian players are professionals, who earn lakhs of rupees in a single series, so they should not hanker after advertisements vigorously. Rather they should concentrate on improving their game. A second-string Indian team on the lines of the Australian bench should be raised so that whenever the need arises, players from the reserve team can walk into the Test side. In addition to all that, the spirit and dignity of the players and the game should be raised and maintained. The game should be kept beyond politics and the methods of selection and should be fair, to encourage young players. Our coaching and cricket infrastructure should be of international standard and easily available to a large number of players. Accountability in team's selection and performance will have to be fixed to avoid further losses and shame. The game should be played for national pride, pleasure and recreation, and not for money and other extraneous motives alone.
TARSEM S. BUMRAH, Simble (Batala)
Seniors should realise their responsibility
Cricket is a prominent sport in India. In the present squad led by Sourav Ganguly, there are world-class players, but their performance is not satisfactory. To improve performance, it is necessary to increase the fitness of players. It is because of a lack of fitness that they are not able to play continuously for their side. The second factor is even senor players are not performing well under pressure. The players should be toughened mentally so that they can play well under pressure. Skipper Saurav Ganguly will also have to perform better so that the others get confidence from him. It is a team game; therefore, each player should show some commitment and do his best, fight till the end, go for victory. There should be two coaches, one to look after the bowling department and one to take care of the batting aspect. It is time to change things from the grass-root level, if we want to save our reputation in the game.
GURPREET SINGH, On e-mail
Select team on basis of current form
Cricket is the most widely followed sport in India, but recently, the unsatisfactory performance of the team has left the fans disillusioned. One of the major reasons for the deteriorating performance of the team is selection. The team should be selected according to the present form of the players and not on the basis of their past record. Self-confidence needs to be instilled in the players, especially in the middle order of the batting line-up, as they lose their zeal and concentration in case we lose a few quick wickets early in the innings. Another measure that needs to be adopted is to ban the players from doing advertising campaigns as long as they are in the team. With so much money available to players through endorsements, they perhaps forget that the reason they are famous is because they play cricket and not because they act as models.
DIYA SODHI, Panchkula
India need an all-rounder
We need reputed coaches for infusing proper fielding, bowling and batting skills in the Indian team. Those who are playing cricket in the under-19 team and have the potential to make it big should be given financial aid for advanced training by the BCCI. They should be encouraged to play county cricket. A good all-rounder is the need of the hour. This player should have multiple skills, like he could be a fast bowler and a solid middle-order batsman rolled in one. We should analyse why every key player gets unfit after playing an average of two matches. Recently, Murali Kartik wasn't allowed to play in spite of his splendid performance in the previous two matches. Selection should be on the basis of form and not the past record. The game shouldn't be sold as a product. Efforts should be made to give more opportunity to new players and selectors shouldn't just go after big names.
MANU SHARMA, Patiala
Pitches and not players are to blame
There is nothing wrong with the Indian team. It is the "sporting pitches" they have to play on which brings losses on home soil. All pitches for the home series should be prepared to suit the home team. All plans for preparing sporting, bouncy tracks should be implemented in domestic cricket first before bringing the experiment into Test cricket at home.
JASBIR SINGH SODHI, On e-mail
Abandon negative approach
Despite the world's best talent in the Indian cricket team, success seems far from its reach. So many heavyweights are in the team, but it is still losing on all fronts, whether it is batting, bowling fielding or taking catches. The key to improvement lies in our failures. Lack of absolute commitment, sense of satisfaction, dilution of the feeling of national pride, weak psyche, non-accountability and negative approach are some of the factors responsible for the plummeting fortunes of the Indian cricket team in the recent past. Improvement is not impossible to attain. The Indian cricket team is full of potential; a strong will along with a feeling of national pride would definitely push our team to the top.
DHRUV MOHAN KAPIL, Baddi (Solan, HP)
Keep faith in senior players
With the crushing series defeat still fresh in the minds of the people, Sourav and his men should better make sure that their Sona Chandi Chywanprash works this time. Despite technically adverse situations and unforeseen injuries, the immaturity still showed in the way the Indians lost this series. What the team needs to do is to lift its spirits and confidence that presently seems to be at zero. The win in the last match was refreshing after the seemingly never-ending rut of losing. The team needs to do what it did then: to play like a team, keeping in mind that there are a billion people watching, waiting and hoping. The team management should stop making useless experiments like changing the batting order every other day. New players should surely be given a chance, but faith in the older players is also necessary. Giving the players the security of their position in the team can bring about positive results.
MEHAK GARG, Chandigarh
Appoint no foreign coach
The policy of appointing foreign coaches should be abandoned. National selectors should not be nominated, but voted out from among the persons who have played at least 50 Ranji trophy matches and 25 international-level matches (ODIs or Tests). More attention should be paid towards raising the fitness level of our players and the selection after injury should be transparent and the criteria should be the same for all players. All members of the Indian team should be directed to play a certain number of first-class matches at home and their form should be judged on the basis of their performance in these matches only. Any player who is out of form should be put on notice and given a fixed number of matches to prove his ability and rediscover his form, failing which he should be replaced. The quota selection system, where players are chosen from different zones, should be discarded. Players should not be allowed to take their families with them on the Test tours. After all, it is a good-spirited war and no picnic. The decision to classify players within the same team for receiving differential annual payments is discriminatory and dangerous, and should immediately be withdrawn. Two separate teams should be formed for One Day Internationals and Test matches. Dirty politics should not be allowed to be dragged into the nation's cricketing affairs, as politics makes cricket an ungentle men's game.
JAGROOP SINGH, Jalandhar
Evaluate performance regularly
In India, a single performance in a season is good enough for a player to earn him a place in the national XI. It is necessary that the performance of our players be evaluated regularly after each match they play. Players should get selected on the basis of their current performance and not on the basis of past statistics. In this respect, it is suggested that if a player is otherwise good, but encounters successive failures, it is better to keep him out and give him some rest till he regains his form. On the line of the mandatory physical fitness test, there should be a mental fitness test for each player, so that they are prepared to play on all kinds of pitches and against all teams to perform well under pressure.
VIJAY SINGH, VPO Katholi (Kangra, HP)
Look within for better results
It is a matter of concern that India with her vast population, talent, and efficiency is not capable of producing a good cricket team. There is a dire need to self-introspect. If Australia, New Zealand, Sri Lanka and Pakistan, with less population, can produce better teams, what stops India? For the bright and prosperous future of Indian cricket, we should focus on raising new infrastructure. A player should be given at least three chances to prove that he is worthy of keeping his place. The board or selectors should be made autonomous.
MOHAMMAD SALEEM, Ludhiana
(Concluded)