FORUM
Q: What should be done to stop corruption?
(This is the first instalment of readers' response)
Banish the virus of delay from govt offices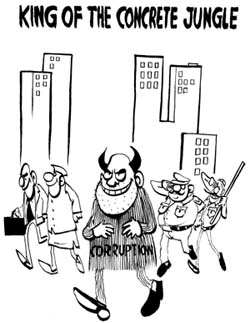 Illustration by Sandeep Joshi
During the past 30 years, corruption has been growing at a supersonic speed despite many crusades against it. Corruption is now synonymous with words like scams, hawala, scandals, rackets, school/college admissions, transfers of government servants, bogus donations, plot/house allotments, recruitments, allotment of petrol pumps/gas agencies etc. The list is endless.
In the present set-up, in a lighter vein, one is tempted to describe the various "vitamins" essential for good health. Vitamin A is for adulteration, B for black money, C for corruption, D for disproportionate assets, E for extortion and K for kickback.
I however, feel that the main cause of corruption, delay, has found little mention in the Press.
It is said that delay is the deadliest form of denial, as it breeds corruption. Justice delayed is justice denied.
There is a general feeling among the public that there are abnormal delays in the disposal of cases in government offices/organisations at the panchayat, block, district, state and even ministerial levels. It is a common joke that to make a file move from one table to the other the "wheels" of the files need oiling at every step. A recent joke is that if one goes to some office dealing with the public "suited-booted," one is likely to come back only with underclothes.
In the above context, the government should take immediate steps to banish the virus of delay from government offices, boards, organisations, corporations and public sector undertakings. It is hoped that with delay out of the way, 70 per cent of the battle for wiping out corruption would be won.
O.P SHARMA, Faridabad


13-point programme
The following measures should be taken to stop corruption in government offices:
1. Application filing procedures should be made simple.
2. Helpline/helpdesk should be set up to guide people.
3. All offices should have a complaint box or a complaint cell, and action on complaints should be taken promptly.
4. Letters should be sent to people by registered post only.
5. Response to applications should be given in a fixed time and officers keeping files pending be made accountable.
6. Refunds should be released from the head office and not from the local office.
7. Monetary punishment and suspension from job for those found indulging in corruption.
8. State barriers and octroi posts should be removed immediately.
9. The free movement of goods from state to state should take place under the VAT system.
10. Stringent laws should be introduced to deter officials from accepting bribe.
11. Only graduates should be allowed to vote.
12. Set minimum qualification for candidates contesting elections.
13. A bi-party system should be adopted to avoid horse-trading.
Zubin Khurana,
On e-mail
Pass a Bill to legalise it
What cannot be cured must be endured. Corruption has invaded almost every part of our life-from school to hospital and from religion to politics. Therefore, it is suggested that the government should pass a bill to legalise it. Rates should be fixed for every odd and even job, and the revenue thus generated may be taken into account and allowed to accrue to the salary of the employees. Let us be honest with the corrupt and their ways to save ourselves from any kind of embarrassment and harassment.
Gurdip Singh Bhamra, Zira
Amend the law of inheritance
Amendments to the law of inheritance can help a lot in checking corruption. Most of the people in our country are backward. Their lives revolve around their children. They spend their whole life worrying about the future of their offsprings. For the happiness of their children, they go on accumulating wealth by wrong means. If a limit is imposed on the maximum property that can be passed on to the next generation, problem of corruption can be solved to a great extent. The surplus property should be handed over to a charitable trust. Everyone is selfish but if he knows that the wealth he is accumulating will be used for some social work, he will think a number of times before doing such shameful acts.
URJA KUMAR, Yamunanagar
Social groups should act as watchdogs
Corruption has become synonym with the progressive society in India. The dividends are so high and the chains so strong and deep-rooted that an honest citizen cannot even talk of staying away from the system, what to think of fighting it. The fate of people like Satyendra Dubey further gives a boost to corruption. The whole system has become rotten to a level that partial surgeries or short-term measures will not be of any use. Any reform works from the top. The top leadership in the country intends to have a corruption-free system. It can be achieved provided the intentions are honest and the laws are implemented equally. The interpretation of law should not change with the person in question. But the government should not be the only hope. There is a large group of retired educated persons in India who have been instrumental in the development of the country and are comparatively honest. These people should come forward, form social groups and act as watchdogs to cleanse the society.
V. K. Gupta, Jogindernagar
Set up fast track courts
To eradicate corruption, the government must set up fast track courts, which would deal exclusively with corruption cases and decide the matters within a period of two years. A centralised complaint cell in the Chief Minister's office should be set up to receive and monitor all complaints related to corruption. Since most of the corruption cases at the departmental levels are handled by seniors, who are "hand-in-glove" with corrupt juniors, they can delay the decisions and demand money. In every act there should be provision for time-bound disposals of cases. Last, but not the least, there should be picketing agitations against the corrupt officials to put them to shame.
Raj Kumar Goel, Moga
Ensure safety of whistle-blowers
The government should take the following steps to eradicate corruption:
1. Proper and regular monitoring of government departments
2. Secrecy and security for whistle-blowers.
3. Strict actions against corrupt officials.
4. Confiscation of the property of corrupt officials. It should be used for public purposes.
Suresh Saini, Gurdaspur
Give incentives to honest people
A continuous erosion of moral and ethical values, craze for collecting money, disrespect for the constitutional and democratic system, etc. are the most common causes of corruption. Consequently, the whole system has become non-trustworthy and inefficient. Instead of giving special benefits to honest people, they are being pushed to the wall, as they pose threat to corrupt people. To instil moral and ethical values into people, the Army service/training should be made compulsory for some limited period. Such training would help create proper values, stringent discipline, time management and dedication to the jobs when they join the public service. The performance and efficiency of various departments should be checked regularly. If someone is convicted in a corruption case, there must be severe punishment.
Gurcharan Singh, On e-mail
Stop working selfishly
Corruption has penetrated so deeply into the system that its treatment has become more difficult than even cancer. Law has been reduced to a tool in the hands of corrupts who use it to loot people. The day is not away when officers will start writing on files that "since Mr X has failed to pay me bribe, therefore, I have reasons to believe that he has committed such and such crime." The political leadership provides only lip service to garner votes, otherwise they work in tandem with bureaucracy. Corruption cannot be stopped unless the political leadership stops working with selfish motives.
Tirath Garg, Ferozepore City
Introduce stringent laws
The government should introduce stringent laws to eliminate corruption. The laws should be made very severe like in China so that no one dares to indulge in corrupt practices. Every department's working must be made transparent, excluding defence and policy matters which are related to security of the country. Children must be taught Gandhian philosophy of truth and honesty. Once they instil these values, corruption and dishonest practices would vanish.
Bikaram Gill, Ludhiana
II
Most of our laws dealing with corruption have become obsolete. Till date, no amendment has been made that compels the ordinary man not to indulge in corrupt practices. By enforcing the laws stringently, corruption will come down drastically. A majority of the Indians want to be honest, but the system compels them to behave otherwise. The higher rate of taxation, too, breeds higher evasion that consequently leads to more corruption. Instead of a multiple-point taxation system, the government should adopt a single-point taxation system.
RAKESH BHRANY, Amritsar
Adopt Army work culture
Parents and teachers in life of an individual are the two guiding forces, which help in imbibing honest and truthful feelings. If we really want to eradicate corruption from society, we must incorporate strong beliefs of truth and honesty in our children. The work culture of civil servants and the police must be brought equal to that of the Army. A soldier is made to live in honourable and disciplined atmosphere, so government departments must follow the same practice. Severe punishment for the corrupt and dishonest must be instituted. Instead of raising fingers at one another, let us all pledge to spread the message of truth and honesty.
Gurdeep Mann, Bathinda


Next Thursday More letters on this issue