PUNJAB
HARYANA
JAMMU & KASHMIR
HIMACHAL
REGIONAL BRIEFS
NATION
OPINIONS
MAILBAG
BUSINESS
SPORTS
WORLD
Thursday, November 25, 2004, Chandigarh, India
Updated at 3:00 am (IST)

India, Pak disagree on core issues
But agree to forge banking ties
New Delhi, November 24
India and Pakistan stuck to their respectively stated positions on Kashmir and continued to have differences on the proposed Srinagar-Muzaffarabad bus service and the gas pipeline as Prime Minister Manmohan Singh held talks today with his visiting Pakistani counterpart Shaukat Aziz.


Business page: MFN status for pipeline must, India tells Pak


CAST YOUR VOTE
Do you welcome Punjab CM's statement on privatising PSUs?

FORUM
EDUCATION
JOBS & CAREERS
HEALTH & FITNESS
SCIENCE & TECHNOLOGY
SPORTS
WOMEN
TRIBUNE CLASSIFIEDS
BRIDES WANTED
GROOMS WANTED
OTHERS
HOW TO PLACE ADVTS

World page: No solution possible sans Kashmiris: Pak panel

Prime Minister Manmohan Singh with his Pakistani counterpart Shaukat Aziz before a meeting at Hyderabad House in New Delhi on Wednesday.
— Tribune photo by Mukesh Aggarwal
Kashmiri militant inspired by Netaji
Mirpur, November 24
He spent his best years in Indian jails. He was just 22 when he crossed the Line of Control and fell into the hands of the Indian security forces.

THE TRIBUNE MAGAZINES
On Sundays

On Saturdays


Govt rolls back LPG price hike
New Delhi, November 24
In major relief to consumers, the government today decided to roll back the decision to hike the prices of LPG by Rs 5 per cylinder.

Farm loan rate cut by 1 pc in Haryana
Sampla, November 24
Chief Minister Om Prakash Chautala today announced a 1 per cent cut in the interest rate for farm loans from cooperative banks in the state.

Tribune impact
Fungus-infested meal withdrawn
DC orders inquiry
Chandigarh, November 24
Taking a serious note of the lapse in serving food unfit for consumption to children of a government school in Kaithal, the Deputy Commissioner, Mr H.S. Malik, today marked an inquiry into the matter, according to sources.


Nation: SC sets deadline for cooked mid-day meal


Ashes of Sahibzadas in gurdwara?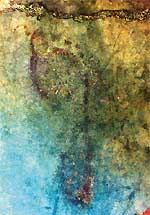 Alorakh (Bhawanigarh), November 24
Even as the Sikhs are busy preparing for the tercentenary of the martyrdom of two younger Sahibzadas of Guru Gobind Singh — neither the SGPC nor the state government has bothered to recognise the significance of the historic Manji Sahib Gurdwara at Alorakh village.



The slab at gurdwara Manji Sahib at Aulo Arakh village which reportedly carries a footprint of Mata Gujri.

Natwar, Aziz to go on with talks
November 24, 2004


Seer remanded in judicial custody
November 23, 2004


PM invites ULFA for talks
November 22, 2004
Include Hurriyat in talks, says Pak
November 21, 2004
Seer remanded in police custody
November 20, 2004
Recruitment ban in J&K to go: PM
November 19, 2004

PM promises a new Kashmir
November 18, 2004

Militants kill 12 in J&K ahead of PM's visit
November 17, 2004

NDA seeks peaceful solution of Ayodhya
November 16, 2004

Aziz to discuss Kashmir during visit
November 15, 2004

Stampede at Delhi railway station
November 14, 2004