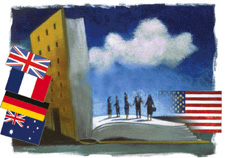 Students seek new shores
As more and more students head towards Europe and Australia, the US appears to be losing its status as the most-favoured destination for education, write Vibha Sharma and Manoj Kumar
Two recent surveys have shown a major decline in foreign student applications for the US. In fact, countries like Australia, Canada, the UK, France, Germany, Australia and New Zealand are now emerging as new destinations for Indian students.
Haute line
Cool couture
It is that time of the year when warm woolies and silk fabrics wait in the wings to come out in their full glory. This is also the time to party hard and dress up for weddings. And this is also when the top fashion designers go full steam to offer clothes to go with the winter mood.