PUNJAB
HARYANA
JAMMU & KASHMIR
HIMACHAL
REGIONAL BRIEFS
NATION
OPINIONS
MAILBAG
BUSINESS
SPORTS
WORLD
Sunday, November 28, 2004, Chandigarh, India
Updated at 3:00 am (IST)

Soren back in Cabinet
PM buys peace with alliance partners

New Delhi, November 27
Prime Minister Manmohan Singh today bought peace with his alliance partners when he effected a minor expansion and reshuffle of his Council of Ministers by reinducting JMM leader Shibu Soren and allocating the labour portfolio to TRS leader K. Chandrashekhar Rao.

JMM leader Shibu Soren bows before Prime Minister Manmohan Singh before being sworn in as a Cabinet Minister at Rashtrapati Bhavan on Saturday. — Tribune photo by Mukesh Aggarwal


JMM urges EC to check state govt

Nation page: Jharkhand all set for keen contest

BJP raps UPA on Soren re-induction
CAST YOUR VOTE
Should we have cricket pitches that help the home team?

FORUM
EDUCATION
JOBS & CAREERS
HEALTH & FITNESS
SCIENCE & TECHNOLOGY
SPORTS
WOMEN
TRIBUNE CLASSIFIEDS
BRIDES WANTED
GROOMS WANTED
OTHERS
HOW TO PLACE ADVTS

J.J. Singh to be Army chief
New Delhi, November 27


Lieut-General Joginder Jaswant Singh was today named as the next Chief of the Army Staff and will succeed General N.C. Vij when he retires on January 31, an official announcement here said.


Chandigarh page: Seniority principle followed in Gen J.J. Singh's appointment

Opinions page: Fine-tuning defence security apparatus

Kidwai refers controversial Bills back to House
Chandigarh, November 27
The Haryana Governor, Dr A.R. Kidwai, has returned the controversial Bills seeking to advance elections to the panchayati and municipal elections for reconsideration by the state Assembly.
In Society Tribune today
THE TRIBUNE MAGAZINES
On Sundays

On Saturdays


SGPC to issue white paper on turban issue
Jalandhar, November 27

Akal Takht Jathedar Giani Joginder Singh Vedanti, said today that a white paper would be issued by the SGPC, which would highlight all aspects relating to the turban and its ban in France.

Giani Joginder Singh Vedanti, Jathedar of Akal Takht, addresses a press conference in Jalandhar on Saturday. — Photo by S.S. Chopra

PM pins hopes on Laos visit


New Delhi, November 27
Prime Minister Manmohan Singh is specially looking forward to meeting his Chinese counterpart Wen Jiabao in Laos on the sidelines of the third India-Asean summit early next week.


PM's Laos visit to intensify ties

India, ASEAN adopt Partnership Agreement

PM for stable pricing system for petro products
S. M. Krishna is new Maharashtra Governor


New Delhi, November 27
Former Karnataka Chief Minister S. M. Krishna has been appointed the new Governor of Maharashtra in place of Mohammad Fazal, whose tenure ended yesterday.
Sikh trader's shop still locked in Muzaffarabad
Protected by neighbour for 57 years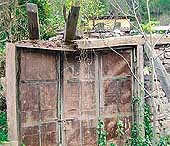 Muzaffarabad, November 27
At the foot of the Chanari Rest House on the Muzaffarabad-Srinagar road is the skeleton of a small shop that belonged to a Sikh.


The locked gate of a shop abandoned by a Sikh trader in Muzaffarabad 57 years ago. — Photo by writer


Cabinet expansion today; Soren to be back
November 27, 2004
Another rail link with Pakistan on the anvil
November 26, 2004

India, Pak disagree on core issues
November 25, 2004


Natwar, Aziz to go on with talks
November 24, 2004


Seer remanded in judicial custody
November 23, 2004


PM invites ULFA for talks
November 22, 2004
Include Hurriyat in talks, says Pak
November 21, 2004
Seer remanded in police custody
November 20, 2004
Recruitment ban in J&K to go: PM
November 19, 2004

PM promises a new Kashmir
November 18, 2004

Militants kill 12 in J&K ahead of PM's visit
November 17, 2004