PUNJAB
HARYANA
JAMMU & KASHMIR
HIMACHAL
REGIONAL BRIEFS
NATION
OPINIONS
MAILBAG
BUSINESS
SPORTS
WORLD
Monday, November 29, 2004, Chandigarh, India
Updated at 3:00 am (IST)

Indonesia seeks India's help on defence
Vientiane, November 28
Within an hour of his arrival in Laos to attend the third Indian-Asean summit on Tuesday, Prime Minister Manmohan Singh set in motion his interface with leaders from Indonesia, Laos and Vietnam which were essentially bilateral with the host country extending its support to India for a permanent seat in the UN Security Council.


CAST YOUR VOTE
Is Shibu Soren's reinduction in the Cabinet justified?

FORUM
EDUCATION
JOBS & CAREERS
HEALTH & FITNESS
SCIENCE & TECHNOLOGY
SPORTS
WOMEN
TRIBUNE CLASSIFIEDS
BRIDES WANTED
GROOMS WANTED
OTHERS
HOW TO PLACE ADVTS

Train mows down 12 near Bhopal
Bhopal, November 28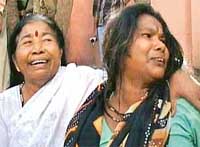 At least 12 persons, including a woman, were mowed down by the Chennai-Lucknow Jayanti Janata Express near Bhopal today.


In video (28k, 56k)

Grieving relatives of people killed in a train accident in Bhopal on Sunday. — ANI



In Forum today
THE TRIBUNE MAGAZINES
On Sundays

On Saturdays

CRPF jawan goes on rampage, kills seven colleagues
Srinagar, November 28
In a fit of anger after he was punished, a CRPF constable went on a shooting spree killing seven of his colleagues, including a company commander, and injuring two before being shot dead at the battalion headquarters in Jammu and Kashmir's Baramulla district late last night.


In video (28k, 56k)
French turban law silly, says UK jurist
New Delhi, November 28
The French law banning the wearing of religious symbols, including turban, came in for criticism from Lord Slynn of Hadley, an eminent jurist. (Details on Nation page)


Punjab page: SGPC white paper on turban issue won't do, says Mann

Permanent solution of Kashmir issue not possible: Qayyum
Says Hurriyat not true representative of J & K people
Muzaffarabad (PoK), November 28
Former Prime Minister of Pakistan Occupied Kashmir Sardar Abdul Qayyum Khan has stressed for an interim solution of the Kashmir issue, saying a permanent resolution of the problem was impossible and unlikely to be accepted by the parties concerned.


Home Ministry to focus on Indo-Pak road links

World page: Pak for 'sincerity' and 'flexibility' on Kashmir issue

Goa gears up for the film festival


Panjim (Goa), November 28
If there are many teething problems, bear them with a smile because this is the first time that the denture called the International Film Festival of India has been affixed on the smiling face of Goa.

Soren back in Cabinet
November 28, 2004
Cabinet expansion today; Soren to be back
November 27, 2004
Another rail link with Pakistan on the anvil
November 26, 2004

India, Pak disagree on core issues
November 25, 2004


Natwar, Aziz to go on with talks
November 24, 2004


Seer remanded in judicial custody
November 23, 2004


PM invites ULFA for talks
November 22, 2004
Include Hurriyat in talks, says Pak
November 21, 2004
Seer remanded in police custody
November 20, 2004
Recruitment ban in J&K to go: PM
November 19, 2004

PM promises a new Kashmir
November 18, 2004