PUNJAB
HARYANA
JAMMU & KASHMIR
HIMACHAL
REGIONAL BRIEFS
NATION
OPINIONS
MAILBAG
BUSINESS
SPORTS
WORLD
Wednesday, December 8, 2004, Chandigarh, India
Updated at 3:00 am (IST)
Naga leaders meet PM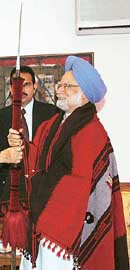 Seek peaceful, honourable solution
New Delhi, December 7
Prime Minister Manmohan Singh today told the Nationalist Socialist Council of Nagaland (I-M) leadership that the Centre favoured a "mutually acceptable and honourable" solution to the decades-old problem in Nagaland.
Prime Minister Manmohan Singh with a shawl and traditional Naga spear presented by Naga leaders at his residence in New Delhi on Tuesday. — PTI photo

CAST YOUR VOTE
Should Indian cricketers tour Bangladesh, despite the death threat?

FORUM
EDUCATION
JOBS & CAREERS
HEALTH & FITNESS
SCIENCE & TECHNOLOGY
SPORTS
SOCIETY
TRIBUNE CLASSIFIEDS
BRIDES WANTED
GROOMS WANTED
OTHERS
HOW TO PLACE ADVTS

Pak blocks road to Muzaffarabad
Says no to passport
New Delhi, December 7
The first ever technical-level talks between India and Pakistan on the proposed Srinagar-Muzaffarabad bus service, which began here today, made no progress at all, despite India showing a marked flexibility on its earlier insistence that passport and visa could be the only acceptable travel documents for the bus service.

Supreme Court asks Haryana cops to
protect couple
Inter-caste marriage
New Delhi, December 7
The Haryana Police was today directed by the Supreme Court to provide adequate protection to a boy and girl from Gurgaon who had defied caste barriers to tie the nuptial knot. They had also defied the diktates of the village panchayat that had declared their marriage illegal.
DELHI: Lid off Bhatti Mines murder


CHANDIGARH: 135 posts of teacher vacant


LUDHIANA: Hotel owner detained illegally, tortured


OPINIONS: Terror in Jeddah


THE TRIBUNE MAGAZINES
On Sundays

On Saturdays

IN PASSING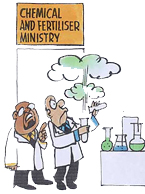 How many times did I tell you that Laloo oxide and Paswan sulphate don't mix?

by Sandeep Joshi
(Click to enlarge)
India win 3-1 in Champions Trophy
Arjun Halappa is tackled by German defender Eike Duckwitz during the Champions Trophy Hockey match at Lahore on Tuesday.
— Reuters photo

Sports page:
India bounce back to beat Germany
Lahore, December 7
India bounced back from a one-goal deficit to beat a spirited Germany 3-1 for their first win in the Champions Trophy hockey tournament here today.

Cricket tour to Bangladesh cleared
Detailed report on Sports page
Kidwai clears controversial Bills
Chandigarh, December 7
The three controversial Bills seeking to advance the panchayat and municipal elections in Haryana are now Acts, following the Governor, Dr A.R. Kidwai, giving his assent to them today.


Experts restore damaged tapestries
National Museum to conserve remaining 9 tapestries
Chandigarh, December 7
Conservation work on two of the 11 tapestries which Le Corbusier created for Chandigarh is over. Five months after they were removed from the courtroom of Punjab and Haryana High Court Chief Justice, the two
richly-woven tapestries will be heading back to courtroom number 1.
| | |
| --- | --- |
| | Expert conservationists from National Museum, New Delhi, busy restoring the priceless Le Corbusier tapestries that were removed from the courtroom of Punjab and Haryana High Court Chief Justice in July this year. The tapestries, completely preserved, have been handed over to the UT Administration. — Tribune photo by Pankaj Sharma |
In Health & Fitness today
Jobs & Careers
Terror strikes Saudi Arabia
December 7, 2004
Indo-Pak Punjab Games begin in riot of colour
December 6, 2004
Putin wants UN seat with veto power for India
December 5, 2004
India, Russia come closer
December 4, 2004
Elahi promises to protect gurdwaras in Pakistan
December 3, 2004
Vajpayee, Advani court arrest
December 2, 2004
India, China take up border issue
December 1, 2004
Seer has confessed to murder, TN tells HC
November 30, 2004
Indonesia seeks India's help on defence
November 29, 2004
Soren back in Cabinet
November 28, 2004
Cabinet expansion today; Soren to be back
November 27, 2004