PUNJAB
HARYANA
JAMMU & KASHMIR
HIMACHAL
REGIONAL BRIEFS
NATION
OPINIONS
MAILBAG
BUSINESS
SPORTS
WORLD
Sunday, December 12, 2004, Chandigarh, India
Updated at 3:00 am (IST)
Ensure gender justice, CJI tells courts
New Delhi, December 11
Chief Justice of India R. C. Lahoti today asked the courts to be more sensitive to the rights of women and achieve the goal of "gender justice" by treating them on an equal footing with men. To that end, he recommended the appointment of more judicial officers and lawyers.
CAST YOUR VOTE
Would Anil Kumble be able to break the world record for the highest number of wickets?

FORUM
EDUCATION
JOBS & CAREERS
HEALTH & FITNESS
SCIENCE & TECHNOLOGY
SPORTS
SOCIETY
TRIBUNE CLASSIFIEDS
BRIDES WANTED
GROOMS WANTED
OTHERS
HOW TO PLACE ADVTS

Woman's 'moral character' no defence for accused in rape case: SC
New Delhi, December 11
The Supreme Court in an important judgement has held that a rape accused cannot be allowed to take "loose moral" character of a woman as defence for acquittal in the case as such a view was "indefensible".
Sachin equals Gavaskar's record
Dhaka, December 11
Sachin Tendulkar today added another feather to his glittering cap by equalling compatriot Sunil Gavaskar's world record of 34 Test centuries.
'Turning point of my career'

In video (28k, 56k)

Sachin Tendulkar celebrates after making his 34th century against Bangladesh on the second day of the first Test in Dhaka on Saturday. He thus equalled Sunil Gavaskar's world record of the highest number of centuries in Test cricket.
— Reuters photo
Pak in touch with Benazir, Nawaz Sharif
Islamabad, December 11
Efforts are being made for national reconciliation and the government is in contact with a number of important politicians, including those outside Pakistan, says Information Minister Sheikh Rashid Ahmed.
In Society today
THE TRIBUNE MAGAZINES
On Sundays

On Saturdays

Mother begins rath yatra to 'free' Kanshi Ram
Amritsar, December 11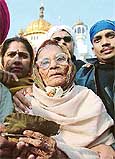 Ms Bishan Kaur (95), mother of BSP leader Kanshi Ram, along with her son Dalbara Singh and members of the Kanshi Ram Bachao Sangarsh Committee, began a rath yatra to get him "released from illegal custody" after performing ardas at Akal Takht here this morning.

Ms Bishan Kaur, mother of BSP leader Kanshi Ram, comes out of Akal Takht before starting a rath yatra to 'free' her son in Amritsar on Saturday. — Photo by Rajiv Sharma

Subbulakshmi dead


Chennai, December 11
Renowned Carnatic musician M.S. Subbulakshmi died here tonight following various complications, according to hospital and family sources. She was 88. Her husband Sadasivam died in 1997.
16 die in Venezuela plane crash
Caracas, December 11
A military plane crashed in the mountains near Caracas, killing all 16 persons on board, including two high-ranking military officers, officials said.
Cong to revive CMs' meetings
New Delhi, December 11
The Congress is planning to revive the practice of calling a meeting of its chief ministers, ostensibly to review the implementation of its election manifesto promises.
Indo-Pak Punjab Games end with a bang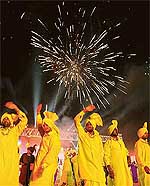 Patiala, December 11
Athletes, officials and dignitaries from the two Punjabs congregated at the floodlit YPS stadium today to say goodbye to the city which hosted the inaugural edition of the Indo-Pak Punjab Games.

Bhangra team members say goodbye to their Pakistani friends during the closing ceremony of the first Indo-Pak Punjab Games in Patiala on Saturday.
— Tribune photo by Pradeep Tewari

ULFA says no to PM's peace offer
December 11, 2004

India cautions USA on arms for Pak
December 10, 2004

Kalam visits Kargil
December 9, 2004
Naga leaders meet PM
December 8, 2004
Terror strikes Saudi Arabia
December 7, 2004
Indo-Pak Punjab Games begin in riot of colour
December 6, 2004
Putin wants UN seat with veto power for India
December 5, 2004
India, Russia come closer
December 4, 2004
Elahi promises to protect gurdwaras in Pakistan
December 3, 2004
Vajpayee, Advani court arrest
December 2, 2004
India, China take up border issue
December 1, 2004