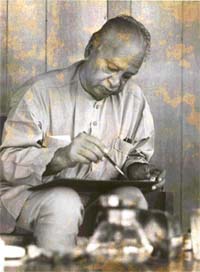 Self obituary
MULK RAJ ANAND
The celebrated writer Mulk Raj Anand wrote his own obituary in 1999. His foster son, Kewal Anand, has made it available to The Tribune. Written in a self-mocking and ironical tone, it serves as a fitting tribute to Anand as he may have relished it on what would have been his 100th birthday

THE death is reported, through sudden heart failure, of Mulk Raj Anand at his retreat in the mountains of the planet Moon at twelve midnight on December 12, 1999, at the age of a few months short of centennial year.

A rare photograph of Mulk Raj Anand by an unknown photographer shows him painting. Art, too, was a passion with the writer.
Korean flavour
Darshan Singh Maini gives a taste of Seoul or the soul of South Korea
......simplicity and times slow passing
five thousand years of history in a face (A Korean text)
In a recent travel series on TV, the itinerant traveller reaches South Korea, "The land of the morning calm." That reminded me of my week-long stay in that country, more particularly in Seoul, its ancient capital, now transformed into a modern, bustling, metropolitan city.
Design your own saree
K.R.N. Swamy
For those who would swear by the saree, how about designing one for yourself? Add to your wardrobe a saree made of the most exotic of silks — Conjeevaram, with natural dyes, and made to designs of your own choice.
FILMS
What a climax
Unusual endings of films make even oft-repeated storylines wear a new look, writes Surendra Miglani
THE ending of Ken Ghosh's recent movie Fida was in news. The makers of the movie even flashed the findings of a survey in a promo to know the audiences' opinion about the ending. While 82 per cent of the viewers liked it, the promo claimed, 18 per cent did not.