Kids want expensive gifts
HIS dreams are too big for his stockings. For the Christmas, the little one — pampered by the ways of the world — wants an impressive box of Swiss chocolates. Nicely tied with red ribbon. Too lavish to be stuffed into tiny red stockings. The ones adorned with twinkling stars and glittery trimmings. Also a "programmed" tree with glowing needles for the living room of his Sector 48 house.

'I want my Santa'.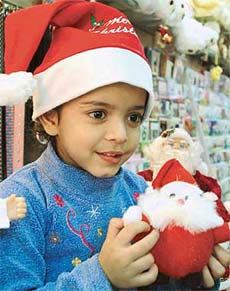 Beauty and variety, hallmarks of Jhamb's art
Hargopal Jhamb believes in makings sense with his art. Driven by purpose and aesthetics, the painter-sculptor is back with his creations, this time to project everything possible under the sun.

Hargopal Jhamb with his works displayed at IndusInd Art Gallery, Sector 8, Chandigarh, on Tuesday. — A Tribune photograph
Hungarian film fest opens today
The long-awaited Hungarian film festival will open at the Institute of Microbioal Technology, Sector 39, Chandigarh, on Wednesday evening. Being brought to the city by the Chandigarh Film Society, the festival will open with the screening of the Hungarian classic "Jadviga's Pillow", by Krisztina Deak.


Vasundhara, Kalapini to perform today
The Department of Cultural Affairs, Haryana, in collaboration with Gandharva Mahavidyalaya, Panchkula, will organise a vocal recital by the mother-daughter duo Vasundhara and Kalapini Komkali.



Vasundhara and Kalapini Komkali
Festival of Silk begins
The grace of Indian silk sarees was highlighted at the Festival of Silk being organized at Handloom House, Sector 17, Chandigarh, on Tuesday. The range of hand-woven sarees and dress material on display is sure to win admiration.


A view of the Festival of Silk that began in Sector 17, Chandigarh, on Tuesday. — A Tribune photograph






Mohali hospital cries for power hotline link
Mohali, December 21
While patients at the Civil Hospital here suffer due to the lack of a regular supply of power, red tape is holding up the installation of a hotline connection to the hospital. The hospital is facing frequent power cuts leading to disruption in work and inconvenience to patients.