PUNJAB

HARYANA

JAMMU & KASHMIR

HIMACHAL

REGIONAL BRIEFS

NATION

OPINIONS

MAILBAG

BUSINESS

SPORTS

WORLD


S P O R T S

Ponting, Fleming, Lara in World XI
Sydney, January 2
Cricket stars have signalled their support for victims of the Asian tsunami by agreeing to play in the first of two benefit matches in Melbourne next week. Former Australian captain Steve Waugh will coach and manage a World XI, which contains five Australians and four Test captains for the match against an Asian XI at the Melbourne Cricket Ground on January 10.


In video (28k, 56k)


Australian fans donate $ 55,275


Lankan cricketers visit victims


Sharapova beats Venus Williams


Paes to donate prize money

Pak collapse after Butt's century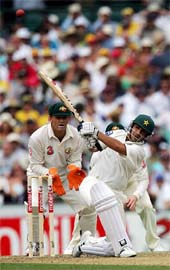 Sydney, January 2
Pakistan lost eight wickets for just 87 runs to slump to 292 for nine and squander a brilliant start by Salman Butt and Yasir Hameed on the opening day of the third and final Test with Australia today. Butt celebrated his maiden Test hundred with a fine 108 while Yasir blazed 58.




Pakistan's Salman Butt hits a boundary as Australia's Adam Gilchrist looks on during the first day of the third Test in Sydney on Sunday. — Reuters photo

South Africa make sedate start
Cape Town, January 2
South African captain Graeme Smith survived a contentious caught-behind decision but failed to capitalise as his side advanced to 164 for three at tea on the first day of the third Test against England on Sunday.
ICC XI, Asia XI to play 2 fund-raisers
January 2, 2005
Sports bodies rally to help victims
January 1, 2005
BCCI announces 1 cr for relief fund
December 31, 2004
Aussies beat Pak by 9 wickets
December 30, 2004
India surrender lead to draw with France
December 29, 2004
India beat Bangladesh to clinch series
December 28, 2004
Minnows Bangladesh stun India, level series
December 27, 2004
India look to wrap up series
December 26, 2004
Expert for Harbhajan next week: BCCI
December 25, 2004
India overcome spirited Bangladesh
December 24, 2004
India look to continue domination
December 23, 2004