PUNJAB

HARYANA

JAMMU & KASHMIR

HIMACHAL

REGIONAL BRIEFS

NATION

OPINIONS

MAILBAG

BUSINESS

SPORTS

WORLD
Friday, January 21, 2005, Chandigarh, India
Updated at 3:00 am (IST)
Laloo flaunts Godhra report
CEC warns of tough action
Patna, January 20
Ahead of the Assembly elections in Bihar, RJD supremo Laloo Prasad today sought to make the U.C. Banerjee Committe report on Godhra a major poll plank and targeted the Sangh Parivar and BJP for the post-Godhra riots even as JD(U) called for prohibiting the use of the report by political parties during elections.



Nation page: Cong finalises Haryana campaign plan


Implement CMP strictly for support, says CPM


Haryana page: Kalyan for President's rule before poll


No govt in Haryana sans BJP, claims Gaur


Selja sees Cong wave in Haryana
CAST YOUR VOTE
Is the EC right in not using video cameras in polling booths due to privacy concerns?


FORUM

EDUCATION

JOBS & CAREERS

HEALTH & FITNESS

SCIENCE & TECHNOLOGY

SPORTS

SOCIETY

TRIBUNE CLASSIFIEDS

BRIDES WANTED

GROOMS WANTED

OTHERS

HOW TO PLACE ADVTS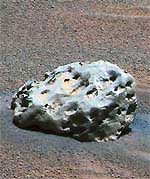 In this image released on Wednesday, NASA's Mars Exploration Rover "Opportunity" has found an iron meteorite on Mars, the first meteorite of any type ever identified on another planet. The pitted, basketball-size object is mostly made of iron and nickel. This composite combines images taken through the panoramic camera's 600-nanometer (red), 530-nanometer (green), and 480-nanometer (blue) filters. — Reuters
Another murder in Kanchi Mutt; key accused turns approver
Chennai, January 20
Tension prevailed in the temple town of Kancheepuram, 70 km from here, as the manager of Uttaranchal Mutt, Srinivas Acharya, was found murdered inside the Mutt premises early morning today.
Power crisis in north to worsen
Chandigarh, January 20
The power crisis in north India is set to worsen in the coming weeks. Major hydro power stations spread across North India have started conserving whatever little water is available till the snow starts melting in May and the dams starts filling up again.



Punjab page: Govt depts fail to pay power bills

Assembly Elections 2005

In Science & Technology today
THE TRIBUNE MAGAZINES
On Sundays

On Saturdays


Dostum escapes suicide bomb attack
Kabul, January 20
A suicide bomber blew himself up in northern Afghanistan today wounding two persons, but the apparent target of the attack, ethnic Uzbek warlord Abdul Rashid Dostum, escaped unhurt, his aides said.
Pak says no evidence of firing on LoC
Islamabad, January 20
Pakistan today said it had found no evidence of mortar fire by its troops on one of the Indian Army's forward post in the Poonch sector across the Line of Control (LoC) in Kashmir, officials said.



No tension along border, says Pranab


Firing from across LoC


Editorial: Restraint is worth it
India, Nepal okay extradition treaty
New Delhi, January 20
India and Nepal today finalised the texts of the Extradition Treaty and the Agreement on Mutual Legal Assistance in Criminal Matters. The documents were initialled at the end of the two-day Home Secretary-level talks between Nepal and India that concluded here today.


Bhutan King to be chief guest at R-Day parade
New Delhi, January 20
The King of Bhutan, Mr Jigme Singye Wangchuck, is scheduled to pay a state visit to India from January 23 to 27 as the chief guest at the Republic Day parade. The King will be accompanied by the Bhutanese Foreign Minister, Mr Lyonpo Khandu Wangchuk, and other senior officials of the Royal Government of Bhutan.

Nation page: Multi-tier security for R-Day

Pak told to probe LoC firing
January 20, 2005
High Court summons Advani in Babri case
January 19, 2005
Godhra fire an accident, says report
January 18, 2005
Musharraf roots for bus to Muzaffarabad
January 17, 2005
Ultras storm stadium
January 16, 2005

Major, 2 jawans killed
January 15, 2005
Cong, RJD fail to reach consensus
January 14, 2005
MBBS admissions: SC sets strict guidelines
January 13, 2005
India proposes fresh talks on Baglihar
January 12, 2005