PUNJAB

HARYANA

JAMMU & KASHMIR

HIMACHAL

REGIONAL BRIEFS

NATION

OPINIONS

MAILBAG

BUSINESS

SPORTS

WORLD

Saturday, January 22, 2005, Chandigarh, India
Updated at 3:00 am (IST)
Murder charges framed against Shankaracharya and junior seer
Kancheepuram, January 21
The Tamil Nadu Police today filed the 1873-page charge sheet arraigning the two acharyas of Kanchi Mutt, Jayendra Saraswati and Vijayendra Saraswati for conspiring to murder Varadaraja Perumal temple manager Sankararaman.


In video (28k, 56k)
Editor's Column
The value of restraint
Peace process would need tender care
by H.K. Dua
Often there are surprises in India-Pakistan relations. Until a couple of years ago absence of firing along the Line of Control (LoC) made news.

CAST YOUR VOTE
Is the Election Commission right in asking politicians not to discuss the Godhra report during elections?


FORUM

EDUCATION

JOBS & CAREERS

HEALTH & FITNESS

SCIENCE & TECHNOLOGY

SPORTS

SOCIETY

TRIBUNE CLASSIFIEDS

BRIDES WANTED

GROOMS WANTED

OTHERS

HOW TO PLACE ADVTS
Icy winds sweep region
Fresh snowfall in Himachal, Kashmir
Shimla, January 21
Normal life in middle and higher reaches of the state was disrupted, following a fresh round of snow and rain.
Chandigarh page: No respite from cold wave


Girls from Chandigarh enjoy the fresh snowfall on the Ridge maidan in Shimla on Friday.
— Tribune photo by Anil Dayal
States can't withdraw cases at will: SC
New Delhi, January 21
In a judgment of wide ramification in the context of the government often found withdrawing cases, specially against the politicians, the Supreme Court has held that a criminal case cannot be withdrawn at the will of the State but must to approved by the trial judge.

Assembly Elections 2005

THE TRIBUNE MAGAZINES
On Sundays

On Saturdays

One of the Tricolours flutters, but upside down, along Rajpath in New Delhi on Friday, as rehearsals for the Republic Day parade is on.
— PTI photo
BJP raises Bhagalpur to counter Laloo
New Delhi, January 21
In a bid to counter RJD chief Laloo Prasad Yadav's attempt to consolidate Muslim votes with Godhra carnage report, the BJP today raised the Bhagalpur riots issue and accused the RJD of failing to provide justice to the victims of the 1989 killings during its 15 year rule.



BJP seeks derecognition of RJD symbol


Poll panel transfers Hisar DC


More stories on Nation page


More stories on Haryana page

Indian troops leave for Congo
New Delhi, January 21
The Army today despatched its 560 men from 22 Grenadiers for Congo to be part of the Indian troops being deployed there as part of the UN Peacekeeping operations in that country.


Sania goes down fighting to Serena
Melbourne, January 21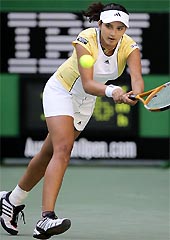 Sania Mirza's dream run in the Australian Open was cut short abruptly as she went down in straight sets against six-time Grand Slam champion Serena Williams in the women's singles third round here today.



Sports page: 'It was good to know I could match Serena'


Sania wins hearts Down Under

Sania Mirza hits a return against seventh-seeded Serena Williams in their third-round match at the Australian Open Tennis Tournament in Melbourne on Friday. — AFP photo


In Sports Tribune today
Laloo flaunts Godhra report
January 21, 2005
Pak told to probe LoC firing
January 20, 2005
High Court summons Advani in Babri case
January 19, 2005
Godhra fire an accident, says report
January 18, 2005
Musharraf roots for bus to Muzaffarabad
January 17, 2005
Ultras storm stadium
January 16, 2005

Major, 2 jawans killed
January 15, 2005
Cong, RJD fail to reach consensus
January 14, 2005
MBBS admissions: SC sets strict guidelines
January 13, 2005