PUNJAB

HARYANA

JAMMU & KASHMIR

HIMACHAL

REGIONAL BRIEFS

NATION

OPINIONS

MAILBAG

BUSINESS

SPORTS

WORLD
Sunday, February 6, 2005, Chandigarh, India
Updated at 3:00 am (IST)
New Goa CM meets Sonia, says he will prove majority
New Delhi, February 5


With the BJP mounting an offensive against the Congress for the "illegal dismissal" of the Manohar Parrikar government in Goa, the newly-appointed Chief Minister, Mr Pratapsinh Rane, and PCC President Louisinho Faleiro arrived here today to counter these charges and deny reports of dissidence in its ranks over ministerial berths.
Goa Chief Minister Pratapsinh Rane speaks at a press conference in New Delhi on Saturday. — PTI photo


CAST YOUR VOTE
Would the sale of F-16 fighters to Pakistan have an impact on the Indo-US relations?


FORUM

EDUCATION

JOBS & CAREERS

HEALTH & FITNESS

SCIENCE & TECHNOLOGY

SPORTS

SOCIETY

TRIBUNE CLASSIFIEDS

BRIDES WANTED

GROOMS WANTED

OTHERS

HOW TO PLACE ADVTS
QUOTE OF THE DAY
We cannot accept the submission of the BCCI that while playing abroad, the board sends its own team.
— Mr Justices S.N. Variava and S.B. Sinha


4 ex-ministers held in Nepal
Kathmandu, February 5
Continuing its crackdown on political activities, Nepal's new Royal government has arrested four ministers of the ousted Deuba cabinet and has decided to set up a commission to probe corruption cases against politicians and others.


Nation page: Sikhs protest turban ban in France



Sikh children shout anti-French government slogans against a law banning the wearing of religious symbols in schools, during a demonstration at Jantar Mantar in New Delhi on Saturday.
— Tribune photo by Mukesh Aggarwal

Poll in Anantnag, Pulwama today
Litmus test for ruling coalition
Srinagar, February 5
While the people's verdict in the civic poll has been delivered in north Kashmir and the Srinagar Municipal Corporation, it is to be decided in the twin districts of Anantnag and Pulwama in South Kashmir tomorrow.
Repoll at 368 booths in Bihar, Jharkhand today
New Delhi, February 5
The Election Commission today ordered repoll at six polling booths in Haryana and over 350 polling booths in Bihar and Jharkhand, which witnessed large-scale electoral malpractices during the first phase of polling.
In Society today

THE TRIBUNE MAGAZINES
On Sundays

On Saturdays

Girija strong contender for NCW top post
New Delhi, February 5
Ms Girija Vyas, chairperson of the AICC media department, appears to have edged out other contenders to emerge as front-runner for the post of the Chairperson of the National Commission for Women (NCW).
Govt to refund money to 2.5 lakh job applicants
Chandigarh, February 5
A government job is a cherished desire of every unemployed youth. But an indescribable tragedy awaits many such youth, who have been waiting for years for jobs they had applied for long back. Failing to give employment to them, the Punjab Government has decided to refund their money charged as fee along with applications for jobs.
SP MP surrenders in MLA murder case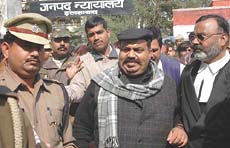 Allahabad, February 5
Samajwadi Party MP Atiq Ahmed, whose brother was arrested in the BSP MLA Raju Pal's murder, today surrendered before a local court and was remanded to 14-day judicial custody.
Samajwadi Party MP Atiq Ahmad comes out of the Allahabad District Courts where he surrendered before the Chief Judicial Magistrate on Saturday. Ahmad was named in an FIR in connection with the murder of BSP MLA Raju Pal on January 25. — PTI photo


18-month-old abducted in Delhi, found in Orissa
Rourkela/New Delhi, February 5
Eighteen-month-old Arpit Dewan was today rescued from the clutches of his maid, a tribal, who had kidnapped him from his New Delhi residence five days ago, after she was recognised by a passerby from posters put up at Rangpur town in Orissa's Sundergarh district.


Arpit Dewan


Engineer goes missing
Assembly Elections 2005

BK Roy is chief of Guwahati HC
February 5, 2005


18 die in Jharkhand, Bihar poll violence
February 4, 2005

Rane sworn in as Goa CM
February 3, 2005
Nepal King sacks Deuba govt
February 2, 2005

PM promises reforms in education, healthcare
February 1, 2005

Bomb attacks kill 31 in Iraq
January 31, 2005
Kashmiris vote like never before
January 30, 2005
Govt ups maritime security
January 29, 2005
SP leader held for MLA's murder
January 28, 2005
Kalam focuses on 5 critical sectors
January 26, 2005