PUNJAB

HARYANA

JAMMU & KASHMIR

HIMACHAL

REGIONAL BRIEFS

NATION

OPINIONS

MAILBAG

BUSINESS

SPORTS

WORLD
Saturday, February 12, 2005, Chandigarh, India
Updated at 3:00 am (IST)
N. Korea goes nuclear
Come back for talks, cry USA, China, Germany
Seoul, February 11
Countries from China to Germany urged North Korea on Friday to return to talks on ending its nuclear programmes after the Communist state announced it had nuclear weapons and had pulled out of disarmament discussions.
News analysis
The North Korean challenge
NORTH KOREA has announced for the first time in public that it has assembled nuclear weapons and rejected moves to restart disarmament talks anytime soon.
CAST YOUR VOTE
Do you approve of Prince Charles marrying Camilla Parker Bowles?



FORUM

EDUCATION

JOBS & CAREERS

HEALTH & FITNESS

SCIENCE & TECHNOLOGY

SPORTS

SOCIETY

TRIBUNE CLASSIFIEDS

BRIDES WANTED

GROOMS WANTED

OTHERS

HOW TO PLACE ADVTS

CJ Roy lambasts Judges on TV


B.K. Roy

Chandigarh, February 11
In an outright condemnation of his brother Judges, outgoing Chief Justice of the Punjab and Haryana High Court, Mr Justice B.K. Roy, today claimed that when he took over in Chandigarh he found that some Judges "were not complying strictly with the roster of duty."

Singhvi, Bali, Jain posted out
Chandigarh, February 11
Mr Justice G.S. Singhvi, Judge of the Punjab and Haryana High Court, has been transferred to the Gujarat High Court. Justice G.S. Singhvi



Six BSF personnel killed in avalanche
J&K highway closed for fifth day
Srinagar, February 11
Six Border Security Force personnel were killed while 13 others were rescued as an avalanche, the third in Jammu and Kashmir within a week, struck two forward posts near the Line of Control in Kupwara sector early today.
In Sports Tribune today
Assembly Elections 2005: FULL COVERAGE

QUOTE OF THE DAY
Pakistan is very serious on moving forward on the betterment of relations between India and Pakistan so that the entire South Asian region benefits from it.
—Pervez Musharraf

THE TRIBUNE MAGAZINES
On Sundays

On Saturdays

Sania marches into final
Hyderabad, February 11
Sania Mirza overcame a spell of erratic display and a stubborn opponent to storm into her maiden WTA final at the $ 140,000 Hyderabad Open here today. The 18-year-old, who became the first Indian to reach the third round of a Grand Slam event at the Australian Open last month. (Detail story on Sports page)


Sania Mirza
SC orders closure of 117 varsities in Chhattisgarh
New Delhi, February 11
In a landmark judgement aimed at streamlining higher education and save it from being turned into a commercial market venture, the Supreme Court today ordered closure of all 117 private universities in Chhattisgarh which were allowed to be opened by the previous Congress Government.
6 cops, civilian killed in naxal attack
Bangalore, February 11
Days after the Karnataka police shot dead a top naxal leader, naxalites from bordering Andhra Pradesh late last night attacked the Karnataka State Reserve Police camp at Venkammanahali in Tumkur district, leaving six KSRP personnel and a civilian dead and five others injured.


In video (28k, 56k)
Tributes paid to Tribune founder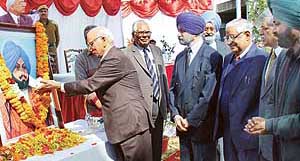 Chandigarh, February 11
The President of the Tribune Trust, Justice R.S. Pathak, exhorted the Tribune employees to gear themselves up to face the challenges of the future.
The Chairman of the The Tribune Trust, Justice R.S. Pathak, pays floral tributes to Sardar Dyal Singh Majithia to celebrate the 124th foundation day of the newspaper in Chandigarh on Friday. Mr R.P. Bambah, Mr R.S. Talwar, Justice S.S. Sodhi (all trustees), Mr H.K. Dua, Editor-in-Chief, Mr R.N. Gupta, General Manager, Mr Jagtar Singh Sidhu, president of The Tribune Employees Union, and Mr O.P. Arora, Additional General Manager, are also seen in the picture. — Tribune photo by Manoj Mahajan



11,000 troops airlifted
February 11, 2005
Navy all set to acquire Orion P3-Cs
February 10, 2005
Thousands still stranded on highway
February 9, 2005
Avalanches kill 11 in HP, Kashmir
February 8, 2005
Govt favours unified command to tackle Naxals
February 7, 2005
New Goa CM meets Sonia, says he will prove majority
February 6, 2005
BK Roy is chief of Guwahati HC
February 5, 2005

18 die in Jharkhand, Bihar poll violence
February 4, 2005

Rane sworn in as Goa CM
February 3, 2005
Nepal King sacks Deuba govt
February 2, 2005