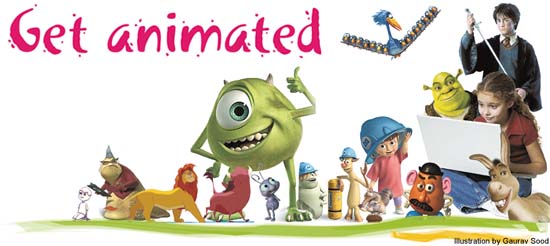 There is a lot of buzz about animation, which is increasingly being seen as a sunshine industry with enormous employment potential. Kireet Khurana, a pioneer in the field in India, cuts through the hype to analyse the growth in animation and how we can cash in on it.
THE global animation business is valued at more than $50 billion. India's share in that is a paltry $25 million. Which accounts for merely 0.5 per cent of the entire market share. Although the road is long and the current scenario not so happy for the animation industry in India, there are plenty of opportunities.

THE DISNEY WAY
Art on glass
Each stained glass window adorning the Christ Church in Shimla is a masterpiece, observes Anuradha Thakur
Although everyday a number of tourists pass by the Christ Church on the Ridge in Shimla, hardly a few care to peep inside. Most of the passersby are oblivious of the fact that this second oldest church of North India holds a hidden treasure — the stained glass windows, which are no less beautiful than those adorning the cathedrals of Goa.


Naya daur second show
B.R. Films is all set to release Naya Daur in colour, reports V.Gangadhar
ANAND Villa on 15th Road, Santacruz, a Mumbai suburb could be a temple of love for a Hindi film buff. Its walls are full of photographs of classic films bearing the B.R. Chopra banner, Afsana, Dhool Ka Phool, Dharamatma, Kanoon, Waqt and so on. The patriarch, now in his 80s, is in good health but seldom attends office.
Race for the Oscars
WITH eyes trained on February 27, Oscars night, film buffs are all set to make their choices of films in various categories, the Oscar winners male and female and scan the line-up of likely winners. To start with the bad news the Marathi film Shwaas, the Indian entry for the Oscars, did not find a place in the nominations.
Barracks of memory
Director Anjan Dutta's take on the Anglo-Indian lifestyle is authentic, writes Ervell E. Menezes
TAKE a middle-class Anglo-Indian community in Calcutta (now Kolkata) and fill it with a host of idiosyncratic characters. Then get a real estate developer to make a pitch for this old fashioned neighborhood. How these "born losers" pool in their meager resources to fight him and stick to their ground is what Bow Barracks Forever is all about.
Hits and misses
There are several coincidences and paradoxes related to Bollywood that escape the notice of cinegoers. Surendra Miglani picks out a few lesser-known facts about well-known films and film-makers
Rajkumar Santoshi's The legend of Bhagat Singh, hailed as an authentic slice of history on the screen. But is it not paradoxical that the title of the movie was in English, the language of the people against whom Bhagat Singh had fought? Sanjeev Kumar played old man on the screen so many times that he virtually ended up glamorising such roles.