PUNJAB

HARYANA

JAMMU & KASHMIR

HIMACHAL

REGIONAL BRIEFS

NATION

OPINIONS

MAILBAG

BUSINESS

SPORTS

WORLD
Monday, March 7, 2005, Chandigarh, India
Updated at 3:00 am (IST)

President's rule likely in Bihar
New Delhi, March 6
President's rule being clamped in Bihar for the eighth time appeared certain with Governor Buta Singh recommending the same as neither the UPA or the NDA is in a position to chalk up the simple majority of 122 in the 243-member Assembly.


In video (28k, 56k)



Bihar House dissolved


CAST YOUR VOTE
Should strict action be taken against students caught cheating?



FORUM

EDUCATION

JOBS & CAREERS

HEALTH & FITNESS

SCIENCE & TECHNOLOGY

SPORTS

SOCIETY

TRIBUNE CLASSIFIEDS

BRIDES WANTED

GROOMS WANTED

OTHERS

HOW TO PLACE ADVTS
President's rule in Bihar for 8th time?
Patna, March 6
Bihar will come under President's rule for the eighth time, if the Union Cabinet gives a go ahead to Governor Buta Singh's recommendation.

Jharkhand Governor summons Assembly
Ranchi, March 6
Jharkhand Governor Syed Sibtey Razi has summoned a
six-day session of the state Assembly from March 10.

Hooda promises canal water to all
Chandigarh, March 6
The Haryana Chief Minister, Mr.Bhupinder Singh Hooda, said here today that the canal water would be equitably distributed among all areas of the state.



More stories on Haryana page

QUOTE OF THE DAY
Without the patronage of the Union Government Governors of both Goa and Jharkhand could not have acted against the NDA keeping the Constitution and sanctity of their post at stake.
—Shatrughan Sinha

THE TRIBUNE MAGAZINES
On Sundays

On Saturdays

Surjeet, Basu may step down on health grounds
Kolkata, March 6
CPM veterans, Jyoti Basu and Harkrishen Singh Surjeet are likely to step down from the politburo and the central committee after the forthcoming party congress in April on health grounds.
Jagmeet Brar joins anti-Amarinder chorus
Tohra (Patiala), March 6
Anti-Amarinderism was in the air at the 'barsi' programme of former Shiromani Committee chief Gurcharan Singh Tohra here today. (Details on Punjab page and more)

Pakistan cancels special trains
Warm welcome to cricket fans at Wagah
Ambala, March 6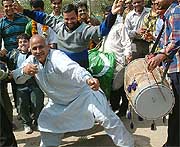 Pakistani cricket fans, keen to watch the Indo-Pak cricket Test, will not reach Chandigarh by train.

Pakistani cricket fans perform bhangra on their arrival at Wagah checkpost on Sunday.
— Photo by Rajiv Sharma



More stories on Sports page
Tarapur atomic unit goes critical
Tarapur (Maharashtra), March 6
Braving stiff embargoes, India took a giant leap forward in nuclear power generation when its largest and first 540 Mwe plant went critical at Tarapur, months ahead of schedule, here this afternoon.


Forensic experts record crime scene at Park Plaza
Ludhiana, March 6
A team of forensic experts from the State Forensic and Chemical Department, Chandigarh, today began an independent probe into the Park Plaza hidden camera case.



Editorial: Outrage at Ludhiana


Punjab page: No remorse for what they did


Ludhiana page: 4 accused in Park Plaza incident not registered for verification


Politicians for exposing truth behind filming of couple

Hooda takes oath as Haryana CM
March 6, 2005


Hooda to be Haryana CM
March 5, 2005


Kalam summons Jharkhand Governor
March 4, 2005


Soren is Jharkhand CM
March 3, 2005
Paswan meets Sonia
March 2, 2005
IT relief of Rs 1 lakh for all
March 1, 2005
Cong sweeps Haryana
February 28, 2005
Laloo tables populist Rly Budget
February 27, 2005
Pak must end terror for better ties: Kalam
February 26, 2005
Militants storm DC's office complex, 8 dead
February 25, 2005
Violence mars Ajnala bypoll
February 24, 2005