Mushaira at Plaza
Chandigarh, March 7
The Chandigarh Administration organised a mushaira in the honour of Pakistani guests in association with Shri Ram Cultural Society and the Punjabi Kavi Mandal at Plaza on Monday.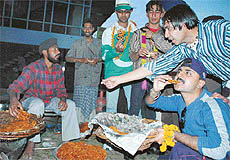 Pak visitors savour jalebis at a langar inside the Sector 16, Cricket Stadium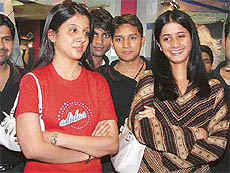 Star wives Arti Sehwag and Selja Laxman at a salon in Sector 11, Chandigarh on Monday.
Pakistanis relish langar
Chandigarh, March 7
Pakistani visitors were treated generously at the Sector 16 cricket stadium for the second day today where the SGPC-sponsored langar was served to them. The SGPC has put up free langar camps at the Sector 16 cricket stadium and at Gurdwara Nada Sahib and Gurdwara Amb Sahib, Phase VIII, Mohali. Giving this information, Mr Bhupinder Pal Singh, Manager, Gurdwara Nada Sahib, said it was the SGPC President, Bibi Jagir Kaur, who initiated the move to offer hospitality to the visitors.
Countryside hospitality for visitors from Pak
Jayanti Majri, March 7
Visitors from Pakistan are in for a relaxed holiday in the lap of nature here in this hamlet near the site of Jayanti Devi Mandir. Near the PGIMER, the road meanders along a narrow stretch of pucca road into the countryside. About 8 km away from the medical institute is a scenic sight of a farmhouse.


Aero-yoga to keep pace with youngsters
Chandigarh, March 7
Generation next need not crib about the slow pace of yogic asanas. The Chandigarh-based yoga expert, Balvinder Kumar, has devised an innovative form, aero-yoga, combining yoga with aerobics for the benefits of the youth.