PUNJAB

HARYANA

JAMMU & KASHMIR

HIMACHAL

REGIONAL BRIEFS

NATION

OPINIONS

MAILBAG

BUSINESS

SPORTS

WORLD
Saturday, March 12, 2005, Chandigarh, India
Updated at 6:30 pm (IST)
MATCH UPDATE


Akmalís heroics rescue Pak in first Test

---
Soren quits, Munda made CM
To seek trust vote by March 21
Ranchi/New Delhi, March 11
Climaxing a day-long political drama, Chief Minister Shibu Soren bowed out of office after failing to prove his majority in the state Assembly as directed by the Supreme Court following which BJP leader Arjun Munda was appointed to the post.



Editorial: Belated wisdom


Nation page: NDA flays Speakerís suggestion


SC order violated in Jharkhand: BJP


Jharkhand episode unfortunate: Laloo
CAST YOUR VOTE
Should the Governor of Jharkhand be asked to resign?



FORUM

EDUCATION

JOBS & CAREERS

HEALTH & FITNESS

SCIENCE & TECHNOLOGY

SPORTS

SOCIETY

TRIBUNE CLASSIFIEDS

BRIDES WANTED

GROOMS WANTED

OTHERS

HOW TO PLACE ADVTS
Govt not for Presidential reference
New Delhi, March 11
Steering clear of a confrontation with the Supreme Court, the Congress-led UPA government decided against making a Presidential reference to the Supreme Court on its intervention in advancing the Jharkhand trust vote.


In video (28k, 56k)

Pak put up a fight, but wilt under Balajiís spell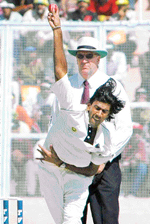 Chandigarh, March 11
Pakistan were staring down the barrel of a gun at the end of the fourth dayís play against India in the first match of the three-Test series at the PCA Stadium here today.


Laxmipathy Balaji bowls to Pakistan batsman Taufeeq Umar as umpire Darrell Hair looks on during the fourth dayís play of the first Test in Mohali on Friday.
ó Tribune photo by Pradeep Tewari



Sports page: Musharraf to watch one-dayer and more


Full coverage: India vs Pak

2005
In Sports Tribune today
QUOTE OF THE DAY
Excessive judicial activism far beyond its powers.
ó Somnath Chatterjee
THE TRIBUNE MAGAZINES
On Sundays

On Saturdays

Water, power to cost more in HP
Shimla, March 11
The people of the hill state will have to pay more for water, electricity, sewerage, irrigation and other basic services as Mr Virbhadra Singh, Chief Minister, made an effort to put the process of fiscal reforms on the fast track in the Budget for 2005-06 presented in the Vidhan Sabha today.
Haryana hikes relief for hailstorm-hit farmers by 25 pc
Chandigarh, March 11
The Haryana Government has decided to enhance by 25 per cent the rates of compensation to be provided by the state government to those farmers whose crops were damaged due to hailstorms in recently.
Rabri orders as caretaker CM put on hold
Patna, March 11
With Bihar coming under President's Rule, all orders passed by Rabri Devi as caretaker Chief Minister between February 28 and March 7 have been put on hold and would be executed only after a review, official sources said today.
Suicide attack in Iraq kills 47
Mosul (Iraq), March 11
Fortyseven Iraqis were killed and more than 80 wounded in a suicide bombing at a Shiite funeral in Mosul, hospitals said, as the frontrunners in the last monthís elections raced to finalise a deal on a new governing coalition.
Another Maharashtra minister quits
Mumbai, March 11
Another minister in the Maharashtra Government has resigned after being indicted for corruption by a commission of inquiry. State Labour Minister Nawab Malik today resigned close on the heels of Minister for Higher Education Sureshdada Jain quitting yesterday.


Jain takes oath as Chief Justice
Chandigarh, March 11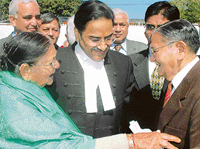 The new Chief Justice of Punjab and Haryana High Court, Mr Justice Devinder Kumar Jain, was administered oath of office by the Haryana Governor, Mr A.R. Kidwai. Prior to this appointment, Mr Justice Jain was a pusine Judge of the Delhi High Court.
Mr Justice D.K. Jain receives the blessings of his parents soon after he took the oath as Chief Justice of the Punjab and Haryana High Court at Haryana Raj Bhavan in Chandigarh on Friday. ó Tribune photo by Manoj Mahajan

Speaker to seek Kalamís view on SC order
March 11, 2005

Jharkhand floor test on March 11
March 10, 2005

Biharís turf war shifts to Union Cabinet
March 9, 2005

Presidentís rule imposed on Bihar
March 8, 2005

Presidentís rule likely in Bihar
March 7, 2005

Hooda takes oath as Haryana CM
March 6, 2005

Hooda to be Haryana CM
March 5, 2005

Kalam summons Jharkhand Governor
March 4, 2005

Soren is Jharkhand CM
March 3, 2005
Paswan meets Sonia
March 2, 2005