THIS ABOVE ALL
Winsome ways
Khushwant Singh
Till recently I used to take my evening walks in Lodhi Gardens. I had begun to tire easily after every few minutes of going round the lawns. I had found a flat stone at the base of the Bara Gumbad mosque to take short rests before taking another round or two. The spot was a short distance from the footpath taken by most walkers bent on treating walking as an exercise. I could see them; few bothered to look towards the monument under which I sat.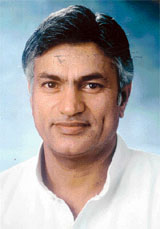 Surender Singh
One evening, it must have been over five years ago, I saw a young man leave the footpath and come straight towards me. He touched my feet, folded the palms of his hands, lowered his head and said: "Aap ka ashirwad leyney ayaa hoon" (Iíve come to seek your blessings) He was a handsome, powerfully built young man with dimpled cheeks. I put my hand on the mop of his graying hair as a gesture and asked him who he was. "I am Surender Singh, son of Bansi Lal." There was a lot more to him besides being the son of former Chief Minister of Haryana. He had been Member of Parliament and the Vidhan Sabha; he was husband of the beautiful Kiran Chaudhary, who was on the rise in Delhi politics.
I was pleasantly surprised at Surenderís humility and his asking for nothing more than my blessings ó which cost me nothing. This became a regular evening routine. I had harboured a grudge against his father Bansi Lal. Though I regarded him as the best Chief Minister Haryana ever had, as Defence Minister he had vetoed the proposal to shoot a scene of a train going over a bridge based on my novel Train to Pakistan as a security risk. I am sure he had not read the novel and the message of goodwill it meant to convey. It had nothing whatever to do with security. Ultimately, it was Digvijay Singh, the then CM of Madhya Pradesh, who allowed the scene to be shot in his state and the film was made.
It did not take long for Surender to win my affection. I could not understand him as a rising politician; most politicians are takers; he was a giver. Another surprise was in store for me.
Some months after we got to know each other, I happened to be in Neemrana for the Writersí Conference. On my way back, we pulled up at a roadside restaurant-cum-hotel for lunch. It was a very pleasant, neatly kept joint and the South Indian food my companions and I sampled was most tasty. When paying my bill, I complimented the manager and wrote a few lines of appreciation in the visitorsí book. A week later, the manager turned up in my flat, handed back the money I had paid for lunch (there were three of us) along with a bottle of Scotch. He also said I could stay in the hotel whenever I liked and take as many friends with me free of charge. The joint belonged to Surender and his father.
I had an equally memorable encounter with his wife Kiran. I found myself sitting across the aisle in an Air India overnight flight from Delhi to Rome. I had not met her before. So we only exchanged namaste. As soon as we took off, she put her head on a pillow and dozed off. I am unable to sleep in either train or plane and kept reading. Occasionally I glanced at her: the diamond in her nose sparkled in the blue night light. She was indeed a very beautiful woman. At Rome airport, we again exchanged namaste and went to our separate conferences.
On my way back home, I ran into Kiran again in the passengersí waiting lounge. She greeted me warmly. Her face was flushed with excitement. "Such beautiful things in airport shops," she gushed. "I wish I could buy everything. But I have no foreign money." Without pausing, I took out my wallet which contained several hundred US dollar notes and said, "Buy what you like; there are more than a couple of thousand dollars in it. You can pay me back in rupees when we get to Delhi." She was taken aback. "Really, you really mean it?" she asked. I nodded my head and thrust my wallet in her hand. After all she was Surenderís wife, my surrogate daughter-in-law.
EARLIER COLUMNS

The tehelka of desire
April 9, 2005


Search for solitude
April 2, 2005


Making peace with Partition
March 26, 2005


Making of a leader
March 19, 2005


Equality check
March 12, 2005


One manís belief is anotherís shackle
March 5, 2005


The good, the bad & the ugly
February 26, 2005


The light of other days
February 19, 2005


The fiction of Tagore
February 12, 2005


Gossip is what gossip does
February 5, 2005


Kingdom of God
January 29, 2005

Kiran returned from her "shopping" expedition as she heard the announcement of our flight. She handed me back my wallet. "I decided I did not want to buy anything," she said. "It was kind of you to lend me your wallet. I did not spend a paise."
When I heard of Surenderís death in the copter crash, my eyes filled with tears, as if I had lost one of my sons.
LAT relationship
Before I tell you what LAT stands for, I will tell you about the person who introduced the word in my vocabulary. He was an English academic who spent some years in India and other far-eastern countries, researching on the prevalence of bribery and corruption. I often had him and his wife over for the evening. They were a happily married couple, both involved in research. His thesis was published and acclaimed as a seminal work on the subject. He was appointed Professor at the University of Bath (UK). In due course of time, he retired, his wife died and he was living alone close to the university campus.
An article on me, illustrated by a cartoon and showing me holding a bottle of Scotch and tumbler, appeared in Financial Times of England. The professor worte to me saying how happy he was to read of my doing what I was infamous for doing. He also mentioned the death of his wife and said he had found a LAT (Living Apart Together) i.e. having a lady to share his home, do his house-keeping and provide him company. He did not say what age she was nor whether they slept in the same bed. It sounded a very nice arrangement.
In the West, where aged people cannot expect to be looked after by their progeny, loneliness becomes a serious problem. They find company in old peopleís homes. Some take on second wives or husbands. LAT relationship sounds better than the other two options. You acquire a live-in companion with similar interests. You have somebody at hand to ring up for a doctor or the ambulance if the need arises. And in the end ring up an undertaker to drive over with his hearse to take your companion away.