PUNJAB

HARYANA

JAMMU & KASHMIR

HIMACHAL

REGIONAL BRIEFS

NATION

OPINIONS

MAILBAG

BUSINESS

SPORTS

WORLD
Friday, April 29, 2005, Chandigarh, India
Updated at 3:00 am (IST)

NDA leaders meet Kalam, seek Lalu's ouster
New Delhi, April 28
NDA leaders today met President A.P.J. Abdul Kalam to advise Prime Minister Manmohan Singh to remove Railway Minister Lalu Prasad Yadav from the Cabinet.


PM calls on Kalam

BJP President L.K. Advani and NDA Convener George Fernandes address the media after giving a memorandum to the President in Delhi on Thursday.
— Tribune photo by Rajeev Tyagi

In video: BJP decides to continue with parliament boycott. (28k, 56k)

CAST YOUR VOTE
Should off-season foreign trips by legislators/ministers be banned?


FORUM

EDUCATION

JOBS & CAREERS

HEALTH & FITNESS

SCIENCE & TECHNOLOGY

SPORTS

SOCIETY

TRIBUNE CLASSIFIEDS

BRIDES WANTED

GROOMS WANTED

OTHERS

HOW TO PLACE ADVTS
Guilty in arms deal case to be punished: Pranab
New Delhi, April 28
As the controversy raged over the alleged payoffs in a deal for purchase of Anti-Material Rifles from South African firm Denel during the NDA regime, the government today said the guilty would be punished in case of any lapses.
Pak boy undergoes bloodless liver
transplant in Delhi
New Delhi, April 28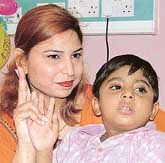 Safi Khan, a four-year-old Pakistani boy suffering from congenital liver disease is assured of a better quality of life after a successful liver transplant without any blood transfusion at Sir Ganga Ram Hospital here.

Four-year-old Pakistani boy Safi Khan with his mother Anila Khan after undergoing bloodless liver transplant at Sri Ganga Ram Hospital in New Delhi on Thursday. — Photo by Rajeev Tyagi


In Jalandhar Plus today
QUOTE OF THE DAY
I cannot as Secretary-General have a preference for any of the options or express an opinion on which individual country or countries should be members of the Security Council.

— Kofi Annan

THE TRIBUNE MAGAZINES
On Sundays

On Saturdays


No new veto powers in expanded UN Security Council
New Delhi, April 28
UN Secretary General Kofi Annan today categorically said India's aspirations for a seat in the Security Council were legitimate even as the five permanent members were unwilling to create any additional veto.


PM apologises for minister's absence
New Delhi, April 28
A visibly embarrassed Prime Minister Manmohan Singh today apologised for the absence of Labour Minister K. Chandra Shekhar Rao in the Rajya Sabha during Question Hour and said he would ask his Cabinet colleagues to give due priority to Parliamentary work.

2 cops leave gun in gurdwara, suspended
Phagwara, April 28
Two members of a police control room (PCR) patrol party, identified as Pargat Singh and Daljit Singh, were suspended this evening by the Deputy Superintendent of Police here after they reportedly left behind their Sten gun in a gurdwara last night. The suspension has been ordered for negligence.


Vijay steps on Tiger's tail

Last year Vijay Singh of Fiji defeated Tiger Woods in a head-to-head showdown at the Deutsche Bank Championship, took away his No 1 ranking, plus his player-of-the-year status and Vardon Trophy.
This year he is playing even better. He has passed the $40 million earnings and he is all set to take the No 1 ranking again from Tiger Woods.


Tiger Woods
Vijay Singh

(Detailed report on Sports page)
In Science & Technology today
Military aid in doldrums as Nepal arrests Deuba
April 28, 2005

21 states agree on uniform VAT rates
April 27, 2005

Laloo charge-sheeted
April 26, 2005

Manmohan calls for restructuring of UN
April 25, 2005

Military aid for Nepal
April 24, 2005

PM meets King today
April 23, 2005

17 killed as trains collide in Gujarat
April 22, 2005

Phukan report to be tabled in House
April 21, 2005

Parivar in trouble
April 20, 2005

India, Pak give a push to peace process
April 19, 2005