PUNJAB

HARYANA

JAMMU & KASHMIR

HIMACHAL

REGIONAL BRIEFS

NATION

OPINIONS

MAILBAG

BUSINESS

SPORTS

WORLD


A M R I T S A R
Every Thursday

Balle-balle from Amritsar to L.A.
Foreign shores have a special fascination for the city's well-heeled residents. They love to travel there, and ENJOY!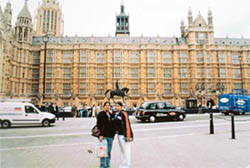 NO gifts! No planning! Just a wish! And foreign lands beckon the city folks. Rupinder Singh Bedi, a businessman, has been off to foreign lands, many times with his family.


Chowk Ghanta Ghar shopkeepers flay govt decision to uproot them
THE famous lemonade brand Amin Chand may not find a place in the market if the government decides to "uproot" the 90-year-old business establishments in Chowk Ghanta Ghar Market outside the Golden Temple complex.
Honouring one's own
April 28, 2005

A treasure house of Hindi literature in Gurmukhi
April 21, 2005
Piece of history reclaimed
April 14, 2005
A bit of Bihar in Punjab's heart
April 7, 2005
Can Amritsar become the business hub?
March 24, 2005
Hindi novel's
first cradle
March 17, 2005
Pakistan's gold
link with city
March 3, 2005
Turban clinics in city
February 24, 2005
Preet Nagar dream
dies a painful death
February 17, 2005
The SsARI
February 10, 2005
Citizen Dang
February 3, 2005