PUNJAB

HARYANA

JAMMU & KASHMIR

HIMACHAL

REGIONAL BRIEFS

NATION

OPINIONS

MAILBAG

BUSINESS

SPORTS

WORLD
Wednesday, May 18, 2005, Chandigarh, India
Updated at 3:00 am (IST)

More charges framed against Lalu Yadav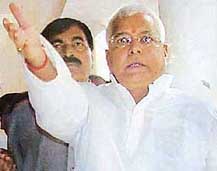 Ranchi, May 17
The CBI today filed charges against Railways Minister Lalu Prasad Yadav in connection with his alleged role in perpetrating a multi-million rupees fodder scam, along with former Bihar Chief Minister Jagannath Mishra in 1996.

Railway Minister Lalu Prasad arrives to appear before a special CBI court in the fodder scam case, in Ranchi on Tuesday. — PTI photo


In video (28k, 56k)


Nation page: Cracks within Left on Lalu's continuation


If Lalu doesn't quit, dismiss him: BJP
CAST YOUR VOTE
Are you happy with the UPA govt's performance so far?


FORUM

EDUCATION

JOBS & CAREERS

HEALTH & FITNESS

SCIENCE & TECHNOLOGY

SPORTS

SOCIETY

TRIBUNE CLASSIFIEDS

BRIDES WANTED

GROOMS WANTED

OTHERS

HOW TO PLACE ADVTS


PM promises strict N-safeguards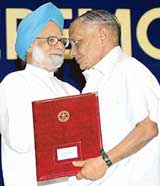 New Delhi, May 17
Prime Minister Manmohan Singh today sought to assure the international community about its non-proliferation concerns and said that India was prepared for "broadest" engagement with the international non-proliferation regime provided its indigenous nuclear and strategic programme was not subject to "externally imposed constraints".

Prime Minister Manmohan Singh greets Ram Narain Agarwal, the Lifetime Achievement Award winner of Distinguished Scientist during a Defence Research and Development Organisation technology awards presentation ceremony in New Delhi on Tuesday. — Tribune photo by Mukesh Aggarwal

Govt silent on Chinese incursion in Arunachal
New Delhi, May 17
The government today maintained total silence on reports of a Chinese incursion in Arunachal Pradesh even as Beijing denied such reports.
In Jobs & Careers today
In Health & Fitness today
QUOTE OF THE DAY
In the defence field and the nuclear field, our strategic programmes are indigenous and not dependent on external sources of support. Nor can they be the subject of externally imposed constraints.
— Manmohan Singh

THE TRIBUNE MAGAZINES
On Sundays

On Saturdays

Bhat mourners fired upon, two killed, 20 hurt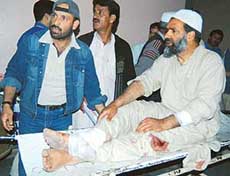 Srinagar, May 17
Two mourners were killed and 20 injured when scooter-borne militants hurled a grenade and opened fire at a congregation on the fourth day of mourning at Bagh-e-Mehtab here this afternoon.

A wounded person is carried to a hospital in Srinagar after a grenade explosion on the outskirts of Srinagar left two persons killed and 20 injured. — Tribune photo by Amin War


Notice to Sukh Ram, EC on HVC-Cong merger
New Delhi, May 17
The merger of Himachal Vikas Congress, an outfit formed by former Union Communication Minister Sukh Ram, with the Congress prior to the last Lok Sabha elections has been challenged in the Delhi High Court by one of his ex-party colleagues on the ground that the merger was "improper" and in violation of election laws.


---

Bollywood actress Mallika Sherawat (right) kisses Hong Kong actor Jackie Chan at a photocall for Hong Kong director Stanley Tong's film "The Myth" during the 58th Cannes Film Festival on Tuesday.
— Reuters


---
SEBs unbundling delayed
New Delhi, May 17
To avoid a showdown on the eve of UPA anniversary bash and soaring mercury, the government today extended by six months the date of unbundling state electricity boards.


NHRC notice to Punjab on custodial death
New Delhi, May 17
The NHRC has issued notice to the Punjab police on the death of a 37-year-old Dalit man who is alleged to have died in police custody last month.
CWC pats Sonia, Manmohan
May 17, 2005

Punjab to promote religious tourism
May 16, 2005

Opposition is fine, but be responsible: Sonia
May 15, 2005
Phukan report rejected
May 14, 2005
Blast outside school leaves 2 dead, 52 hurt
May 13, 2005
Sonia lambasts BJP for boycott
May 12, 2005
SC stay on Bhakra, Beas projects
May 11, 2005
EC takes Chhapra to Kalam
May 10, 2005
India not to insist on veto power
May 9, 2005
Two ECs must quit, says Lalu
May 8, 2005
CAG raps NDA govt
May 7, 2005
PM puts Opposition on the mat
May 6, 2005