PUNJAB

HARYANA

JAMMU & KASHMIR

HIMACHAL

REGIONAL BRIEFS

NATION

OPINIONS

MAILBAG

BUSINESS

SPORTS

WORLD
Saturday, May 21, 2005, Chandigarh, India
Updated at 3:00 am (IST)

PM favours tenure security for bureaucrats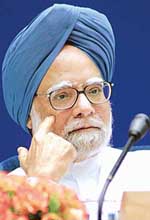 New Delhi, May 20
In the backdrop of officials being transferred at the whims of political masters, Prime Minister Manmohan Singh today favoured security of tenure for bureaucrats. "On the security of tenure of key functionaries such as district collectors and superintendents of police, I do recognise that you are entitled to ask for this," Dr Manmohan Singh said addressing a district collectors' conference here at Vigyan Bhavan.



Special article: A year of Dr Manmohan Singh–III
CAST YOUR VOTE
Should the lower-than-planned growth rate in the economy cause concern?


FORUM

EDUCATION

JOBS & CAREERS

HEALTH & FITNESS

SCIENCE & TECHNOLOGY

SPORTS

SOCIETY

TRIBUNE CLASSIFIEDS

BRIDES WANTED

GROOMS WANTED

OTHERS

HOW TO PLACE ADVTS



Srinagar-Leh road reopens
Zojila, May 20
The 434-km-long Srinagar-Leh National Highway reopened today after remaining closed for six winter months due to 30 to 40 feet of snow.


An Army truck passes through walls of snow after the Srinagar-Leh road was opened to traffic in Zojila, 108 km east of Srinagar, on Friday. — Reuters photo
| | |
| --- | --- |
| | |
| | |
| | HIMACHAL: Vidya Sagar is Shimla DCC (Rural) chief |
| | DELHI: Kidnapped child rescued |
| | |
| | CHANDIGARH: Orders issued to shift Arun Kumar |
| | LUDHIANA: Cong govt incompetent, says Badal |
| | OPINIONS: UPA birthday |
| | BUSINESS: Telecom sector may attract $ 800 m FDI this fiscal |
| | NATION: Red alert in tiger reserves |
| | |
| | SPORTS: Chappell named coach |

In Sports Tribune today
QUOTE OF THE DAY
No system of government can deliver if people are changed without notice. Short tenures do not produce the desired results.
— Manmohan Singh

THE TRIBUNE MAGAZINES
On Sundays

On Saturdays

Pervez rules out religion in Kashmir solution
Islamabad, May 20
Acknowledging India's "sensitivities", Pakistan President Pervez Musharraf said tonight that a solution to the Kashmir issue cannot be on religious basis. Stating that "we do understand India's sensitivities of their secular credentials", the Pakistani leader said a solution of the vexed issue cannot be on "any religious basis".
SC: poll mudslinging not corrupt practice
New Delhi, May 20
An unsubstantiated attack on the character of a rival candidate during poll campaign by a contestant "does not amount to a corrupt practice" until fully established with supportive evidence, the Supreme Court has ruled.
Major, 3 jawans shot in ambush
Jammu, May 20
Four Army personnel, including a Major, lost their lives in an encounter with terrorists in the Rajouri district today. According to official reports, Army personnel were ambushed by the terrorists in the Moghla area of the district. Further details of the incident are awaited.
Creativity can't be restricted, says Rahul Rawail
Chandigarh, May 20
The director of the controversial film "Jo Bole So Nihal," Rahul Rawail, asserts that creativity can't be restricted.



J&K page: Screening of 'Jo Bole So Nihal' off in Jammu


Haryana page: Movie off Haryana screens too
India steps up campaign for UN seat
New Delhi, May 20
With barely a month left before the draft resolution of G-4 countries (India, Germany, Japan and Brazil) for permanent membership of the United Nations Security Council comes up before the UN General Assembly for discussion and possible voting, it is time for India to do some tactical diplomacy and focus on 'difficult' countries.


World page: UN council expansion can't be unanimous, says India

Cabinet clears mid-term appraisal of 10th Plan
May 20, 2005


UPA, Left rift widens
May 19, 2005

More charges framed against Lalu Yadav
May 18, 2005

CWC pats Sonia, Manmohan
May 17, 2005

Punjab to promote religious tourism
May 16, 2005

Opposition is fine, but be responsible: Sonia
May 15, 2005
Phukan report rejected
May 14, 2005
Blast outside school leaves 2 dead, 52 hurt
May 13, 2005
Sonia lambasts BJP for boycott
May 12, 2005
SC stay on Bhakra, Beas projects
May 11, 2005