PUNJAB

HARYANA

JAMMU & KASHMIR

HIMACHAL

REGIONAL BRIEFS

NATION

OPINIONS

MAILBAG

BUSINESS

SPORTS

WORLD
Friday, July 8, 2005, Chandigarh, India
Updated at 3:00 am (IST)
TERROR STRIKES LONDON
*37 dead, 3000 hurt in serial blasts
*Underground network shut down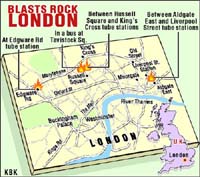 London, July 6
Terrorists today struck at the London transport system, killing 37 and injuring around 3,000 persons, 45 of them critically. The attacks took place in the morning rush hour at a number of tube stations. At least four explosive devices were exploded.



In video: Terror attacks can derail peace efforts: Indian PM.
(28k, 56k)

CAST YOUR VOTE
Are you satisfied with the government's response to the militant attack on Ayodhya?



FORUM

EDUCATION

JOBS & CAREERS

HEALTH & FITNESS

SCIENCE & TECHNOLOGY

SPORTS

SOCIETY

TRIBUNE CLASSIFIEDS

BRIDES WANTED

GROOMS WANTED

OTHERS

HOW TO PLACE ADVTS
---

Editorial: Terror in London

World page: Traffic chaos in London
and more



Debris is strewn near the scene of an explosion near Russell Square in London. A series of explosions ripped through London's underground system on Thursday morning.
— Reuters photo

---
G-8 discusses climate control under shadow of terror
Gleneagles, (Scotland) July 7
Eight developed countries of the world today deliberated here on climate control and global economic situation as the G-8 summit was overshadowed by an unprecedented wave of terror attacks in London which coincided with the event.


In video (28k, 56k)

Shock, confusion in London
London, July 7
"I was on the bus. I looked round and the seats behind me were gone.'' More than that, the middle-aged victim of the bus blast in central London could or would not say.

In Science & Technology today
QUOTE OF THE DAY
The Ayodhya incident is not a political matter. It is a national issue; issue of brotherhood involving society and the nation.
— Sonia Gandhi


THE TRIBUNE MAGAZINES
On Sundays

On Saturdays

Spain on high alert
Madrid, July 7
Spain put its security forces on maximum alert in case of terrorist attacks on Thursday after a series of explosions hit London's public transport system.
Al-Qaida group claims responsibility
London, July 7
A previously unknown group claimed responsibility in the name of Al-Qaida for a series of deadly blasts in London, two news organisations reported on Thursday.


Flood fury of Sutlej, Beas lessens
500 tourists stranded between Leh-Manali road
Shimla/Mandi, July 7
While the fury of the Beas, Sutlej and their tributaries abated to a great extent today, life in the affected areas remained paralysed due to destruction of road links and other infrastructure.


Nation page: Flood situation grim


J&K page: It's Tawi terror in Jammu


Punjab page: Ravi swamps border areas


Haryana page: 70 marooned on Yamuna island with 35 ft water around


Ludhiana page: DC reviews flood situation
In Jalandhar Plus today

PM rules out Pak hand in Ayodhya
July 7, 2005
6 ultras killed as they storm Ayodhya temple
July 6, 2005
TRS quits Cong govt in Andhra
July 5, 2005
Thackeray sacks Rane
July 4, 2005
PM favours no-first-use N-doctrine
July 3, 2005
Gujarat flood kills 94; 500 cr aid announced
July 2, 2005
Houses can be sold floor-wise
July 1, 2005
India, US sign 10-yr defence agreement
June 30, 2005
Terror in Pak, PoK still exists: Pranab
June 29, 2005
Hindustan-Tibet road washed away at several places
June 28, 2005