Attack on London gurdwaras; Badal writes to PM
Chandigarh, July 10
The President of the Shiromani Akali Dal, Mr Parkash Singh Badal today asked the Prime Minister, Dr Manmohan Singh, to take up the issue of racist attacks on gurdwaras in London with his British counterpart, Mr Tony Blair.
BJP seeks apology from PM
Chandigarh, July 10
The President of the Bharatiya Janata Party's Punjab unit, Mr Avinash Rai Khanna, today demanded an apology from the Prime Minister, Dr Manmohan Singh, for his reported remarks praising the British for "developmental" activities during the days of the British rule in India.
Uniform taxes on tourist vehicles planned
Chandigarh, July 10
In order to bring about uniformity in taxes levied on tourist vehicles, a high-level meeting of tourism and transport officers of northern states was held here today.
Centre urged to help Indians in Saudi jails
Mandi Ahmedgarh, July 10
A local Muslim youth has urged the Union Government to rescue hundreds of Indians who are languishing in jails in Saudi Arabia after being duped by travel agents and exploited by labour contractors. The youth himself has suffered due to greed of his brother.


Factionalism bares rift in SAD
Fatehgarh Sahib, July 10
Though SAD(B) candidates have succeeded in winning all six seats of the Directors for Primary Agriculture Development Bank, Sirhind, by defeating ruling Congress party candidates, it seems they had succeeded because all factions of SAD(B) presented a united face.
BJP rally against VAT
Patiala, July 10
BJP leaders have decided to meet President of India to urge him to impose President's rule in Punjab after dismissing Congress government for the alleged involvement of its Chief Minister Capt Amarinder Singh in criminal activities including his visit to Dixie Gurdwara in Canada and providing shelter to criminals at his stud farm.
Akali Dal (Mann) flays terrorist attack
Amritsar, July 10
The Akali Dal (Mann) here today condemned attacks in London. Mr Ram Singh, General Secretary, SAD (Mann), said no religion of the world preached killing of fellow human beings.


Vedanti flays activities of Nurmahalias
Moga, July 10
Giani Joginder Singh Vedanti, Jathedar of Akal Takht has criticised the "anti-Sikh activities" of Ashutosh Maharaj, head of Nurmahalia sect and his disciples and exploitation of Sikh youth.
Poor protection measures expose fertile land to erosion
Mukerian, July 10
Changing course of Beas towards right bank has been eroding land of farmers. The river has been changing course due to the poor protection measures and the Mukerian hydel canal that enters the river in the area.
Food processing industry needed, says Kanwaljit
Chandigarh, July 10
Criticising the efforts of the Punjab Government on the economic front, Capt Kanwaljit Singh, a former Finance Minister of Punjab, said the agri-economy in the state was not growing.
Postal stationery, stamps on your doorstep
Chandigarh, July 10
Next time a postman comes to your house for sale of postal stamps or booking a registered letter, do not be surprised.
High-tension wires threaten lives in grain market
Sultanpur Lodhi (Kapurthala): The District Mandi Board and the PSEB authorities seem to be waiting for a mishap to occur before they will make necessary arrangements to raise the height of high-tension electric wires, which are just hanging at a height of 7 or 8 feet from the ground level at New Grain Market here.
Proposed 'India Gate' turns into cart stand
Amritsar, July 10
The site for proposed 'Gateway of India' on the Amritsar-Lahore road, has virtually become a horse-cart stand, since 27 years of its foundation-laying ceremony.

A view of the site for 'Gateway of India' on the Amritsar-Lahore road. The foundation stone of the project was laid on October 24, 1977. — A Tribune photograph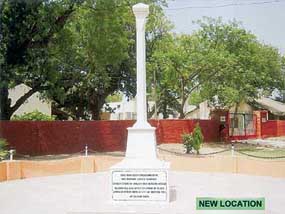 Relocated memorial gets new lease of life
FEROZEPORE: The Golden Arrow Division of the Indian Army has given a new lease of life to the war memorial erected in the memory of the Sutlej Campaign of 1845. it was lying in a state of apathy and neglect in the grounds adjacent to St Andrews Church on the Jhoke Road in the cantonment here.
The historic Sutlej Campaign Memorial, which has now been relocated at War Memorial Chowk on The Mall.

Get status for schools, Ramoowalia to minorities
Phagwara, July 10
The National Commission for Minorities Education Institutions, a quasi-judicial body, has dealt with 165 cases ever since its inception three months ago, said Mr Balwant Singh Ramoowalia, a senior member of the commission and National President Lok Bhalai Party, here today.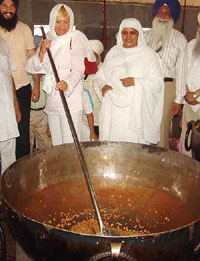 Norway leader visits Golden Temple
Amritsar, July 10
To woo Indian voters for the forthcoming election, Ms Kristin Halvorsen, leader of the Opposition in Norway's Parliament, today announced to extend citizenship rights to persons of Indian origin settled in Norway after her party comes to power. She was addressing a gathering of family members of Punjabis residing in Norway at a hotel here today. She was accompanied by Ambassador of Norway to India Mr Jon Westvorg.




Ms Kristin Halvorsen, leader of the Opposition in Norway's Parliament, has a first hand experience of preparing langar at the Golden Temple on Sunday. — Photo by Rajiv Sharma

Punjab to appoint 1400 veterinary doctors
Amritsar, July 10
The Punjab Government will appoint fresh staff of 1400 veterinary doctors in the state on contract in a period of two months.
Lack of funds delays opening of special ward
Barnala, July 10
Paucity of funds has delayed the opening of a special ward comprising six special rooms in the local Civil Hospital.
Abandoned newborn finds love in SOS village
Rajpura, July 10
Abandoned by his parents just after 24 hours of birth, a baby boy was found near a causeway on a road linking Madanpur Chalehri village with the busy GT Road, about 8 km from here, early this morning.
Protest march by kin of Kanshi Ram
Patiala, July 10
Hundreds of activists of the Sahib Shri Kanshi Ram Bachao Sangharsh Committee led by relatives of Mr Kanshi Ram, including his mother Ms Bishan Kaur today took out a march in this city to lodge their protest against the illegal confinement of Mr Kanshi Ram by former Uttar Pradesh Chief Minister Ms Mayawati.
Seminar on heart ailments organised
Patiala, July 10
Noted Cardiologist Dr Upendra Kaul today said stress upon the need of community programmes for the recognition and prevention of heart ailments.
Punjab to observe Save Girl Child Day
Chandigarh, July 10
The Punjab Government is making concerted efforts to improve the female sex ratio in the state, which has witnessed a decline from 882 in 1991 to 876 in 2001. In the age group of 0-6 years, in particular, the ratio of 975 girls to 1000 boys in 1991 has sharply declined to 798 in 2001.
Rotary Club formed at Fatehgarh Sahib
Fatehgarh Sahib, July 10
Service to mankind is service to God and the Rotary International has always served the downtrodden section of the society. Besides, the thrust area of Rotary is to build and enhance public image.
Naib Subedar cremated
(Bhagomajra), Kurali, July 10
Body of naib subedar Avtar Singh who died fighting militants near Poonch was today brought here by Army personnel this morning. Family members of Avtar Singh and the villagers were waiting for the body since Friday night after they received news of his death.
Soldier cremated with full honours
Sangrur, July 10
Lance Naik Kuldip Singh, who laid down his life while fighting infiltrators along the Line of Control in Poonch Sector of Jammu and Kashmir on Friday, was today cremated with full military honours at his native Bihla Khurd village, (near Bhadaurh) in Barnala Subdivision.
Sharma's book, a comment on life of common man
Ropar, July 10
Expressing the superficial existence of common man in every walk of life a book of poems "The Ballad of Noman" in English written by Ashok Sharma was released at a function held at Shalki English Academy Complex here today.
6 hurt as cars collide
Bathinda, July 10
Six persons were seriously injured when two cars collided head-on on the Bathinda-Goniana road here last night.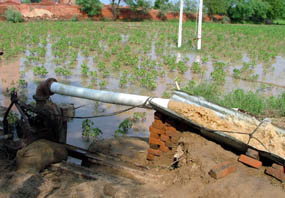 Opting for cotton proved dear to small farmers
Bathinda, July 10
Depleting water table, shortage of power and high diesel prices had forced farmers in Malwa region to prefer cotton to paddy, but today they are ruing the day they made the decision with thousands of acres of crop submerged after a spell of heavy shower.
Water being pumped out of a field near Talwandi Sabo on Saturday.


Admn takes over Service Club
Amritsar, July 10
The district administration yesterday took over the Service Club. The situation became tense when opposition group led by Mr S.S. Chhina, a retired IPS officer, entered the club and declared Dr A.L. Adlakha as president in the parallel extraordinary general house meeting.


Missing doctor's body found after 17 days
Tarn Taran, July 10
The police here recovered today decomposed body of Dr. Tirath Singh, resident of the town who was kidnapped by four persons of the area on last June 23.
Five arrested for looting petrol station
Gurdaspur, July 10
The police here has arrested the robbers who had robbed a petrol station on the Kalanaur-Batala road yesterday. At a press conference here the SSP Gurdaspur said that all five involved in the crime had been arrested.
Three held in murder case
Batala, July 10
In a brawl in Sunnaia village (7-km from here) on the Batala-Fatehgarh Churian Road, Sardara Masih was injured who later died in Civil Hospital on July 07, 2005.
Woman accused of killing husband
Patiala, July 10
Darshna Devi, a local resident, allegedly killed her husband late last night after she got fed up with him due to his habit of drinking excessively.
Fugitive Armyman held for 'spying'
Bathinda, July 10
The police has arrested a fugitive Army man who was reportedly giving secret information to some foreign agency.
ETT teachers end fast after assurance
Jalandhar, July 10
Unemployed ETT teachers today discontinued their two-day fast after an assurance given by Punjab Minister for Food and Civil Supplies Avtar Henry to meet their demands as soon as possible.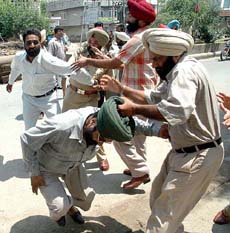 A scuffle between the police and teachers during the teachers' demonstration in Amritsar on Sunday.
— PTI

Jobless ETT teachers block traffic
Bathinda, July 10
Activists of the unemployed Elementary Teachers Union jammed traffic for one hour at Multania bridge here after their two-day fast in front of residence of Mr Surinder Singla, Finance Minister, Punjab concluded today.
PCCTU to observe 'awareness week'
Jalandhar, July 10
The Punjab and Chandigarh College Teachers Union has decided to observe a "Demands Awareness Week" in the state from July 26 to July 30, during, which, memorandums about problems of college teachers would be sent to Punjab Chief Minister Captain Amarinder Singh through ministers, MLAs and Deputy Commissioners.
Girls excel in Guru Nanak varsity exams
Phagwara, July 10
Shivani Beoli of Kamla Nehru College for Women, Phagwara, stood first in Guru Nanak Dev University's Postgraduate Diploma in Textile Designing securing 463 marks out of 500. In M.Com-I, Raman was first position while Harleen Kaur stood second in Kapurthala district.