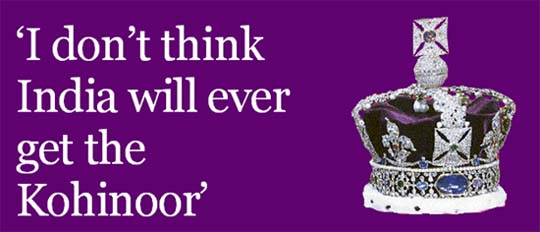 With the British deciding to display a replica of the Kohinoor in a London museum, the spotlight is again on India's lost relic. Kuldip Nayar, former High Commissioner to the UK, recalls why his request for the return of the jewel went unheeded.
Someone from amongst us, off and on, will continue to ask the British for its return. It is ours but I do not think India will ever get back the Kohinoor. At the common level, it is an emotional problem. Lord Dalhousie took it from Dalip Singh, the eight-year-old son of Maharaja Ranjit Singh.
Jewel chase
Besides India and Pakistan, many descendants of Maharaja Dalip Singh have staked their claim to the Kohinoor, reports K.R.N.Swamy
THE recent move of the British government to display a replica of the original uncut Kohinoor, as it was taken from its last Indian owner Maharaja Dalip Singh, in the Natural History Museum in London, again brings back controversies surrounding this historic treasure.
Looking down on creation
Standing amid the vast silvery expanse of Rohtang Pass is a dream come true for every tourist to Himachal Pradesh, reports Usha Bande after a visit
AT 13,400 feet, the pass commands a breathtaking view of the valleys on either side and as one gasps for breath one wonders why it is called a pass at all for it does not have that narrowness associated with one. It spans a kilometre in width and overlooks the gigantic meadows that accentuate the sense of height.


Monsoon glory

A peacock displays its feathers to impress a peahen in a zoo in New Delhi — Reuters
Till kingdom come
Shirish Joshi on the Air-India Maharaja who entered his 60th year this July
THE now familiar lovable figure, the Maharaja, first made his appearance way back in 1946, when Bobby Kooka, then A-I's Commercial Director, and Umesh Rao, an artist with the advertising agency J. Walter Thompson Ltd, Mumbai, together created the Maharaja.
Images of Asia
Cinefan, New Delhi's own festival of Asian cinema, launched in 1999, has today evolved into a full-on celebration of films made in the world's most populous continent, reports Saibal Chatterjee
THE seventh edition of the 10-day Osian Cinefan Film Festival, underway in the national Capital's sprawling Siri Fort complex from July 15, promises to be bigger, brighter and better than ever before.
Lines that linger
Long after a Hindi film has been watched, the one-liners that draw whistles remain etched in public memory. Surendra Miglani scans a range of films over the past few decades to pick out the memorable dialogues.
IT happened sometime in the 1970s. Actor Prem Chopra's car had to make a halt at a railway crossing. Some passersby, on spotting the actor, mobbed him and insisted that he speak his famous one-liner, Prem...naam hai mera...Prem Chopra (from the film Bobby).
Just don't visit
A thin plot, tired acting and dull lines render Just Visiting avoidable
GUESS it all started with H.G. Wells' Time Machine, this thing about travelling back and forth in time and the idea was well exploited by Robert Zemeckis in Back to the Future. The two sequels may have lost their freshness but they were still quite watchable and sort of gave Michael J. Fox's career a head start in the late 1980s.