PUNJAB

HARYANA

JAMMU & KASHMIR

HIMACHAL

REGIONAL BRIEFS

NATION

OPINIONS

MAILBAG

BUSINESS

SPORTS

WORLD
Friday, July 22, 2005, Chandigarh, India
Updated at 3:00 am (IST)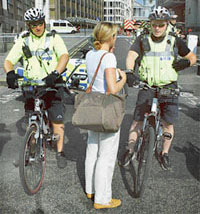 London, July 21
Four small coordinated explosions hit London's bus and underground train network today, injuring one person, exactly 2 weeks after bombers killed more than 50 persons in the British capital.

Policemen give directions to pedestrians as they block Ludgate Hill near St. Paul's Cathedral in London on Thursday after a suspect package was found in the area but not deemed a threat. — AFP photo



Graphic: London rocked again
CAST YOUR VOTE
Has Dr Manmohan Singh's visit taken the Indo-US relations to a new height?


FORUM

EDUCATION

JOBS & CAREERS

HEALTH & FITNESS

SCIENCE & TECHNOLOGY

SPORTS

SOCIETY

TRIBUNE CLASSIFIEDS

BRIDES WANTED

GROOMS WANTED

OTHERS

HOW TO PLACE ADVTS
Pervez sounds positive on resolving disputes with India
Islamabad, July 21
Pakistan President Pervez Musharraf tonight said he was hopeful of resolving all disputes with India, including Jammu and Kashmir, peacefully and judiciously.

Passes buck, asks UK to act on terror
World page:


100 more held in Pak crackdown


Pak, UK to step up war on terror
PM warns of jehadi control over Pak nukes
Prime Minister Manmohan Singh has expressed concern about the security of Pakistan's nuclear weapons should President Pervez Musharraf be removed from office.


In videos (28k, 56k), (28k, 56k)


PM in Geneva


Special article: 'Mountain of peace'
In Jalandhar Plus today
In Science Tribune today
QUOTE OF THE DAY
I have to be realistic enough to recognise the role that terrorist elements have played in the last few years in the history of Pakistan.
— Manmohan Singh

THE TRIBUNE MAGAZINES
On Sundays

On Saturdays


Left decries Indo-US N-pact, fears 'compromise' on national security
New Delhi, July 21
The much-hailed "breakthough" in the civilian nuclear cooperation between India and US came in for a sharp criticism from the Left parties today.


In video (28k, 56k)
Kashmiri Samiti rejects APHC stand on migrants
New Delhi, July 21
The Kashmiri Samiti today told the Minister of State for Home Affairs, Mr Prakash Jaiswal, that it would not allow the Hurriyat leadership to have a say in the safe return of the 7.5 lakh Kashmiri migrants to the valley.



Editorial: Return of the Pandits
CBI to probe Centaur selloff
New Delhi, July 21
The government has asked the CBI to probe the alleged infirmities in the privatisation of Centaur Hotels by the National Democratic Alliance regime in 2002. The Finance Ministry has sent a note to the CBI, asking it to probe the multi-crore deal which was reached when Mr Arun Shourie was Disinvestment Minister.


SHO among 2 killed as cop opens fire, DSP hurt
Srinagar, July 21
Two persons including the SHO of Maisuma police station, were killed and a Deputy Superintendent of Police injured due to firing by a constable in the central Budshah Chowk area here this morning.


E - Revolution 2005:
A Two-day IT conclave

Assembly Elections - 2005

Turbans

Chandigarh is 50

EARLIER FEATURES
PM allays fear of Pakistan, China
July 21, 2005
US recognises India as nuclear state
July 20, 2005
Indo-US ties in for transformation
July 19, 2005
Advani to stay on both posts
July 18, 2005
India not on sale: PM
July 17, 2005
LeT hand in Ayodhya attack
July 16, 2005
London blast mastermind of Pak origin
July 15, 2005
128 die as 3 trains collide in Pak
July 14, 2005
Crisis blows over, Advani not to step down
July 13, 2005
RSS mounts pressure on Advani to quit
July 12, 2005