PUNJAB

HARYANA

JAMMU & KASHMIR

HIMACHAL

REGIONAL BRIEFS

NATION

OPINIONS

MAILBAG

BUSINESS

SPORTS

WORLD


B U S I N E S S

Rs 700 cr revival package for HMT on cards
MoU with Mitsubishi to make multi-utility vehicles
at Pinjore likely
New Delhi, August 5
Amid controversy of disinvestment of government's stake in the state-owned navratna BHEL, Ministry of Heavy Industry and Public Enterprises has proposed a financial package of around Rs 700 crore to revive the HMT Ltd and some of its subsidiaries.


Petition challenges sops to pharma
units in HP
Ahmedabad, August 5
A Division Bench of Gujarat High Court has admitted a writ petition challenging total exemption from excise duty granted to pharmaceutical units located in Himachal Pradesh and Uttaranchal.
Ranbaxy plans plant at Lalru
Chandigarh, August 5
Ranbaxy Laboratories Ltd will be injecting a sum of Rs 365 crore for upgrading its existing bulk drug manufacturing plants in Mohali and Toansa, besides setting up a new one at Lalru.
Birlas consolidate Pilani holding
Kolkata, August 5
Patriarch of the Birla family Basanta Kumar Birla today said that he was not worried about the 25 per cent stake held by Rajendra Lodha-controlled M.P. Birla group in Pilani Investments as he and his grandson Kumarmangalam Birla had now consolidated their position in the family holding company.
Education cess makes govt richer by 5,010 cr
New Delhi, August 5
The government has collected an estimated Rs 5,010 crore under education cess in 2004-05, the Lok Sabha was informed today.
Centre plans $ 3-4 bn investment in semiconductor units
Kolkata, August 5
The Centre has planned to set up five semiconductor fabrication units through collaboration with a US firm and state governments to boost the IT and communication network in the country, Communications and IT Minister Dayanidhi Maran said today.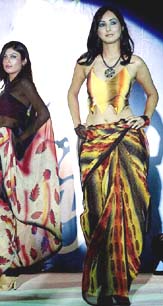 Models walk on the ramp during a fashion show in Lucknow on Thursday evening. — PTI

North okays BBMB hydel proposal
August 5, 2005

Reliance to double Jamnagar refinery capacity
August 4, 2005

Oracle to buy $ 900 m stake in i-flex
August 3, 2005

Aiyar to discuss oil PSUs loss in Cabinet
August 2, 2005

Jet Airways under ED scanner
August 1, 2005

CERC rejects Reliance Energy's plea
July 31, 2005

IOC negotiates with Reliance for cheap cooking fuel
July 30, 2005

ONGC fire to hit oil output, refineries
July 29, 2005

Gurgaon an isolated case: Kamal Nath
July 28, 2005

RBI leaves bank rate, repo rate unchanged
July 27, 2005