PUNJAB

HARYANA

JAMMU & KASHMIR

HIMACHAL

REGIONAL BRIEFS

NATION

OPINIONS

MAILBAG

BUSINESS

SPORTS

WORLD
Sunday, September 25, 2005, Chandigarh, India
Updated at 3:00 am (IST)
World wants India to succeed but bottlenecks are within: PM
Chandigarh, September 24
"The world wants India to succeed." This was stated by the Prime Minister, Dr Manmohan Singh, here today while inaugurating the 125th anniversary celebrations of The Tribune. Unlike some of his predecessors who used to blame external agencies for any internal problem in the country, Dr Manmohan Singh was candid enough to acknowledge that the bottlenecks were not external, rather they were internal.


Strengthening India our aim: H.K. Dua


A secular voice of the people, says Justice Pathak


Commemorative postage stamp


Readers and caretakers share the joy of togetherness


More stories in Business, Chandigarh and Ludhiana
CAST YOUR VOTE
Should Sourav Ganguly step down as captain till he regains form?


LUDHIANA

JALANDHAR

AMRITSAR

DELHI

FORUM

EDUCATION

JOBS & CAREERS

HEALTH & FITNESS

SCIENCE & TECHNOLOGY

SPORTS

SOCIETY

TRIBUNE CLASSIFIEDS

BRIDES WANTED

GROOMS WANTED

OTHERS

HOW TO PLACE ADVTS
| | |
| --- | --- |
| | Prime Minister Manmohan Singh releases the special supplement on the 125th anniversary of The Tribune in Chandigarh on Saturday. Justice R.S. Pathak, President of The Tribune Trust (left), and Mr H.K. Dua, Editor-in- Chief, are also seen in the picture. — Tribune photo by Manoj Mahajan |
I will tell all to the cricket board: Sourav
Kolkata, September 24
Stung by Greg Chappell's stringent attack, Sourav Ganguly today asserted that he had an answer to whatever was being said but would place it only before the Board of Control for Cricket in India. "I have a lot of things to say, but will say it only before the Board," Ganguly said at his residence, shortly after returning to the city.


In video (28k, 56k)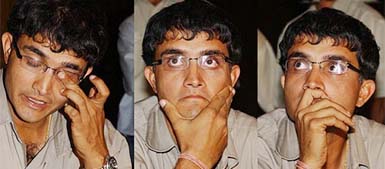 Alleged funding of Cong: BJP stir from today
New Delhi, September 24
The BJP today announced a week-long agitational campaign against alleged KGB funding of the Congress and CPI from tomorrow with its top leaders, including former Prime Minister Atal Bihari Vajpayee and outgoing party president L.K. Advani leading the programme.

India: The Tasks Ahead


SPECIAL SUPPLEMENT


THE TRIBUNE MAGAZINES
On Sundays

On Saturdays

70,000 security personnel for Bihar elections
New Delhi, September 24
With Naxal threat looming large over the forthcoming assembly polls in Bihar, nearly 70,000 security personnel of the Central forces and armed police of other states would be deployed across the state to ensure free and fair elections.
Recording of reasons must in bail orders: SC
New Delhi, September 24
The Supreme Court has come down heavily on the high courts and lower courts for granting bail without detailing any reason on many occasions, saying the reasoning order was compulsory.
Gas pipeline project not to be suspended, says PM
Chandigarh, September 24
Ruling out the possibility of mid-term elections to the Lok Sabha, the Prime Minister, Dr Manmohan Singh, today said the UPA government would complete its full five-year term. "There is no possibility of a mid-term poll and the government will complete its full term,'' he said while talking to reporters at a function organised by the Chandigarh Press Club here today to mark its silver jubilee celebrations.



Nation: PM's subtle balancing act with Iran


No training camps in PoK, says former PoK PM
New Delhi, September 24
Former Prime Minister and President of Pakistan-occupied Kashmir Sardar Muhammad Abdul Qayyum Khan has said that India's concerns on cross-border terrorism were "exaggerated" as Pakistan Government had taken "all steps to prevent effective movement (of militants)." In an interview with The Tribune here, Mr Qayyum said the phase when training camps existed was over.
In Society today

E - Revolution 2005:
A Two-day IT conclave

Assembly Elections - 2005

Turbans

Chandigarh is 50

EARLIER FEATURES
Ganguly unfit to lead, says Chappell
September 24, 2005
Observers call BCCI meeting today
September 23, 2005
CBSE spells reforms for Class X & XII exams
September 22, 2005
Curb flow of funds for terror, says PoK ex-PM
September 21, 2005
North Korea to give up nuclear programmes
September 20, 2005
Advani to quit by December-end
September 19, 2005
New rules for IIT admission from 2007
September 18, 2005
Advani warns dissidents
September 17, 2005
Indo-Pak talks run into trouble
September 16, 2005
US committed to N-energy deal
September 15, 2005