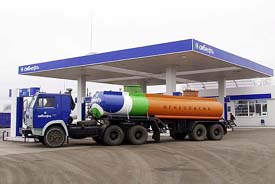 An undated picture shows a Sibneft petrol station in Russia. State-controlled Russian gas giant Gazprom on Wednesday purchased a controlling stake in the Russia's fourth-largest oil company, Sibneft, for $13 billion, a joint statement from the two companies said. — AFP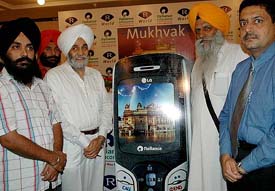 From left: Mr Jaswinder Singh, Mr Rajinder Singh Mehta, members, SGPC, Mr H.S. Mattewal, a former Advocate General of Punjab and Mr Himanshu Kapania, CEO, Reliance Infocomm pose during the launch of Mukhvak audio clip service on R-World in Chandigarh on Wednesday. An audio clip of Mukhvak will now be available from 0800 hours daily on all R World-enabled Reliance India mobile handsets, including the entry-level phones. The clip will also convey the meaning and give the page number reference of Shri Guru Granth Sahib. — Tribune photo by Vinay Malik
Click and book a hotel in Himachal
Shimla, September 28
In order to ensure a comfortable stay and facilitate easy travel arrangements, Himachal will soon become the first state in North India to launch online hotel reservation and payment facility.
Birla raises stake in Idea
New Delhi, September 28
Aditya Birla Group today raised its stake in Idea Cellular to 50.15 per cent after it bought Cingular Wireless's stake for a consideration of $150 million (about Rs 650 crore).
Taiwan nod to Chinese currency exchange
Taipei, September 28
Taiwan is ready to lift its decades-old ban on local banks to conduct currency exchange business in Chinese yuan, the government said today.
Govt favours 100 pc FDI in agro sector
New Delhi, September 28
Union Minister for Food-Processing Industries Subodh Kant Sahai said today that the government was in favour of allowance of 100 per cent Foreign Direct Investment (FDI) in agri-business to accelerate its growth to about 10 per cent in the next decade.
Lankan team visits LSE
Ludhiana, September 28
A 12-member delegation from Eastern University (EU), Sri Lanka, visited the Ludhiana Stock Exchange (LSE) here today. The team is in India for exploring the areas of research and industry interaction.
Hutch recharge coupon for Rs 10
New Delhi, September 28
Cellular service provider Hutch today spiced up competition in the pre-paid mobile segment by introducing recharge coupons that start from as low as Rs 10 and promise users full talk-time and no access fee.


| | | |
| --- | --- | --- |
| | Corporate News | |
Dr Reddy's forms Perlecan Pharma
Mumbai, September 28
Dr Reddy's Laboratories Ltd announced the formation of India's first integrated drug development company called Perlecan Pharma Pvt Ltd.
Berger Paints

Ford Fiesta in Nov

Tata Tele-TCS deal

Eveready's move