PUNJAB

HARYANA

JAMMU & KASHMIR

HIMACHAL

REGIONAL BRIEFS

NATION

OPINIONS

MAILBAG

BUSINESS

SPORTS

WORLD


Friday, November 25, 2005, Chandigarh, India
Updated at 3:00 am (IST)

Volcker report rocks Parliament
Govt ready for debate: PM
New Delhi, November 24
The UN Oil-for-Food Volcker Committee report rocked Parliament today with a determined Opposition stalling the proceedings in both Houses, even as the government conceded that it was ready for a discussion on the issue under rules which required voting.

Nation page: Govt shying from Volcker debate: BJP
Congress Big Five decide to hit back
New Delhi, November 24
A high-level strategy session by the Congress party's Big Five today decided to hit back at the Opposition by drawing a comparison between the NDA's handling of the Tehelka revelations with its own quick response to the Volcker committee report.
CAST YOUR VOTE
Is Pakistan responsible for the killing of M. R. Kutty in Afghanistan?


CHANDIGARH

LUDHIANA

JALANDHAR
New

DELHI

JALANDHAR PLUS

AMRITSAR PLUS

LIFESTYLE
New

FORUM

EDUCATION

JOBS & CAREERS

HEALTH & FITNESS

SCIENCE & TECHNOLOGY

SPORTS

SOCIETY

TRIBUNE CLASSIFIEDS

BRIDES WANTED

GROOMS WANTED

OTHERS

HOW TO PLACE ADVTS
Newly-elected Congress MP from the North-West constituency of Mumbai Priya Dutt, with husband Owen Roncom, waves to mediapersons as she arrives to attend the winter session of Parliament in New Delhi on Thursday.
— Tribune photo by Mukesh Aggarwal

Dayal gets key documents
Washington: India's special envoy Virendra Dayal has received "key documents" that list former External Affairs Minister K. Natwar Singh and the Congress as beneficiaries of kickback in the Iraq oil-for-food scandal.

Nitish sworn in Bihar CM
Patna, November 24
All roads in Patna today converged at the historic Gandhi Maidan where NDA leader Nitish Kumar was sworn in as the 32nd Chief Minister of Bihar by Governor Buta Singh.


In video (28k, 56k)


Editorial: Rebuilding Bihar


Opinions page: Nitish Kumar — CM at last


Nation page: Rift in Bihar BJP over Modi as Dy CM


Nitish to build new Bihar


Biharis celebrate Lalu's defeat
In Jalandhar Plus today
THE TRIBUNE MAGAZINES
On Sundays

On Saturdays

Kutty's body brought back
New Delhi, November 24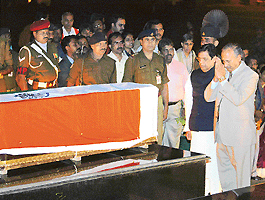 The body of M.R. Kutty, who was kidnapped and murdered by the Taliban militia in Afghanistan, was brought to Delhi this evening by a special Indian Airlines flight. The body was received at the airport with full state honours.
Minister of State for External Affairs E.Ahmed pays homage to the body of Maniappan Kutty at New Delhi's International Airport on Thursday. — AFP photo

News Analysis
India's Pakistan policy coming apart
New Delhi, November 24
India's Pakistan policy is coming apart and the killing of M.R. Kutty in Afghanistan has the potential of proving to be the proverbial last straw on the camel's back.
Rane to bring 6 Shiv Sena MPs into Cong fold
New Delhi, November 24
Having registered a spectacular victory in Malvan, Maharashtra Minister Narayan Rane has now promised to deliver at least six Shiv Sena MPs and 10 legislators to the Congress.
In Science & Technology today

E - Revolution 2005:
A Two-day IT conclave

Assembly Elections - 2005

Turbans

Chandigarh is 50

EARLIER FEATURES
Taliban kill hostage
November 24, 2005

NDA sweeps Bihar poll
November 23, 2005

Left-UPA tradeoff
November 22, 2005

Indian kidnapped in Afghanistan
November 21, 2005

Bihar poll largely peaceful
November 20, 2005

6 convicted for killing rights activist Khalra
November 19, 2005

Punjab's nod to 85th Amendment
November 18, 2005

4 killed, J&K ex-minister hurt in Srinagar blast
November 17, 2005

None will be spared: Sonia
November 16, 2005

Naxals kill 9 abducted Sena men
November 15, 2005

Pak hasn't done enough to end terror, says PM
November 14, 2005