PUNJAB

HARYANA

JAMMU & KASHMIR

HIMACHAL

REGIONAL BRIEFS

NATION

OPINIONS

MAILBAG

BUSINESS

SPORTS

WORLD

CHANDIGARH

LUDHIANA

JALANDHAR
New

DELHI

JALANDHAR PLUS

AMRITSAR PLUS

LIFESTYLE
New
Monday, April 24, 2006, Chandigarh, India
Updated at 3:00 am (IST)

Thousands defy curfew in Kathmandu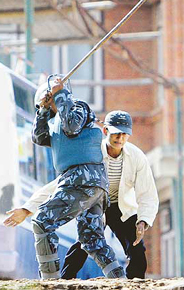 30 pro-democracy activists hurt in clashes


Koirala to lead protest on Tuesday
Kathmandu, April 23
About 30 pro-democracy activists were injured in clashes with the police today as anti-monarch protests spread to other districts of Nepal, a day after opposition alliance rejected the King's offer inviting them to form a government.
A Nepalese policeman beats a pro-democracy activist with a stick at Balaju in Kathmandu on Sunday.
— AFP photo

CAST YOUR VOTE
Should the minimum support price of wheat have been hiked by more than Rs 50?




FORUM

EDUCATION

JOBS & CAREERS

HEALTH & FITNESS

SCIENCE & TECHNOLOGY

SPORTS

SOCIETY

TRIBUNE CLASSIFIEDS

BRIDES WANTED

GROOMS WANTED

OTHERS

HOW TO PLACE ADVTS
HOROSCOPE

Mahajan still critical, undergoes surgery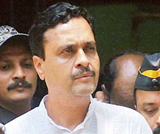 Mumbai, April 23
The condition of Pramod Mahajan, general secretary of the Bharatiya Janata Party, who was shot at and injured by his brother yesterday, continues to be critical, according to doctors at Hinduja Hospital where he is admitted.

In video (28k, 56k)
Policemen escort Pravin Mahajan, the brother of Pramod Mahajan, out of a court in Mumbai on Sunday. — AFP photo

Germany lowers reservation on
Indo-US N-deal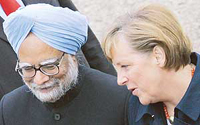 Hannover, April 23
Germany today lowered its reservation on the issue of supply of civilian nuclear technology to India saying that developments on this issue were on "the positive path".

German Chancellor Angela Merkel talks to Prime Minister Manmohan Singh after they reviewed a German Bundeswehr army guard of honour upon his arrival in Hannover on Sunday. — Reuters photo


Hannover Diary: Pied Pipers of Hamlin

30 NRIs in Britain's top 1,000 rich
London, April 23
NRI steel tycoon Lakshmi Mittal was today declared the wealthiest person in Britain and the seventh richest in the world while as many as 30 NRIs in the UK, including Lord Swraj Paul, had fortunes worth over $ 60 million each.
| | |
| --- | --- |
| | |
| | HARYANA: Boy students sans textbooks |
| | HIMACHAL: Panel disfavours cluster of reserved constituencies |
| | |
| | CHANDIGARH: Dust storm hits city |
| | LUDHIANA: Embers leave jhuggis gutted |
FORUM
Forum provides our readers with an opportunity to express their views on some of the vital issues facing the country. The new question being posed is:
Should admissions to specialised courses be on the basis of caste or merit?
Readers are invited to mail their letters to:
forum@tribunemail.com

— H.K. Dua
Editor-in-Chief
Bonus issue draws flak
Chandigarh, April 23
The pressure to extend bonus to farmers who sold their wheat to private parties has started gaining momentum as the Rajya Sabha member, Dr Manohar Singh Gill, and the Federation of Aarhtiya (commission agents) Association of Punjab, decided to take up cudgels on their behalf.



More related stroies on Punjab page

Iraqi Prime Minister gets one month to form government
5 killed in mortar attack
Baghdad, April 23
Fresh mortar attacks and the discovery of six bodies in Baghdad on Sunday highlighted the security challenge still facing Iraqi leaders after they broke months of political deadlock to appoint a new Prime Minister.
Gurgaon-Delhi Metro link decision soon
New Delhi, April 23
The Haryana Government is waiting for the Delhi Government to finalise the Delhi Metro's alignment to Gurgaon so that it can expedite its project of linking its commercial capital with Delhi with a metro line.


'Mughal-e-Azam' premiered in Pak
Islamabad, April 23
Pakistan ended its four-decade-old freeze on screening Indian films by premiering the all-colour version of Bollywood's magnum opus 'Mughal-e-Azam' in Lahore today.

A Pakistani looks at a poster of Indian classic movie 'Mughal-e-Azam' at Gulisatan Cinema in Lahore on Sunday.
— Reuters photo



E - Revolution 2005:
A Two-day IT conclave

Assembly Elections - 2005

Turbans

Chandigarh is 50

EARLIER FEATURES
Pramod Mahajan shot at
April 23, 2006

King to hand over power to people
April 22, 2006
Karan Singh returns with hope
April 21, 2006

Curfew in Kathmandu
April 20, 2006

Manu, 6 others get bail in Jessica case
April 19, 2006

SC refuses to halt work
April 18, 2006

No decision to stop work on dam: PMO
April 17, 2006

Narmada talks hit roadblock
April 16, 2006

5 dead, 33 hurt in Srinagar
April 15, 2006

CBI raids houses of top IAS, IFS officers
April 14, 2006

Iran enriches uranium
April 13, 2006