IT Parks to firm up demand for homes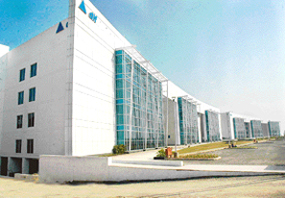 Chandigarh and satellite towns anticipate another boom in housing sector as technology companies eye the region, asserts
Naveen S. Garewal
The real estate boom in Chandigarh and its neighbouring areas, especially Mohali district, is directly related to Information Technology (IT) companies setting up base in the region.
DLF will be building a hotel-cum-convention centre at the Park. — Tribune photo by Parvesh Chauhan


Zooming in on housing project developer
Peeyush Agnihotri
When completed, Rajiv Gandhi Chandigarh Technology Park (RGCTP) will be one of the biggest IT specific SEZ park in the country. It has been divided into three phases. The first phase, comprising 123 acres, is already ready and all land allocations has been done.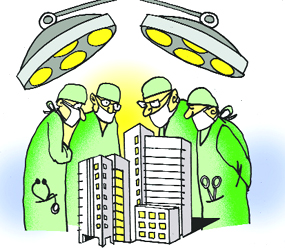 From healing to dealing!
Doctors find real estate business more lucrative than clinics, finds out Varinder Singh
Dazzled by over 300 per cent appreciation of prime lands of Punjab and lured by the unprecedented and unparalleled boom in real estate sector within a short span of about one year, every Tom, Dick and Harry has jumped in property business to make most of the hay till the sun shines.
Property balloon starts deflating
Supply is exceeding demand in Chandigarh's periphery, observes Pradeep Sharma
The property bubble has started bursting in Chandigarh's periphery spreading panic among the builders, property consultants and investors.
Apartments Act causes resentment
Bonafide Himachalis see it as tool of harassment, says Rakesh Lohumi
The entry of the private builders in the housing sector has ushered in a new era in the real estate business in the hill state but inherent disadvantages like paucity of saleable land, shortage of water and the Land Tenancy Act, which debars non-agriculturists from purchasing land, are holding back its growth.
Global firms pump funds into India
M.C. Govardhana Rangan
India's property market is luring global realty funds as the fast-growing economy boosts demand for office space, houses and shopping malls, but soaring prices pose a risk of a meltdown.
Bangalore to have five satellite townships soon
Move aimed to decongest garden city
Jangveer Singh
In a move to decongest Bangalore, the Karnataka Government has decided to establish five satellite townships and link them with a ring road and an intermediate ring road.
Estate talk
Reliance ties up with Omaxe
Manoj Kumar
Omaxe, a real estate major, has announced to tie up with the Reliance Group to offer customers a retail experience.
Amritsar topography undergoes sea change
Neeraj Bagga
Facility of international airport, expectation of implementation of Safta and immense possibilities of opening of trade with Pakistan and central Asian countries coupled with easy availability of loans resulted in real estate boom in this border town, which it had never witnessed before.


Global Realty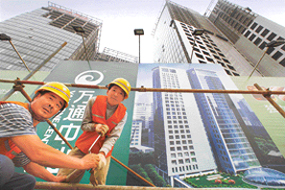 Workers toil on a new housing project in Beijing. China's urban fixed asset investment rose 29.6 per cent in the first four months of 2006, official figures showed, with the key economic data picking up further in a booming economy with total investment in real estate projects up to 413 billion yuan ($51 billion). — AFP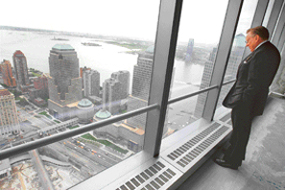 World Trade Center developer Larry Silverstein speaks at the new 7 World Trade Center tower in New York. The first new skyscraper built at the World Trade Center site opens in two weeks and developer Larry Silverstein is confident he will rent all 1.7 million square feet (158,000 square metres) of office space within a year. — Reuters
Self-shading marvel
Solar geometry inspires Sidcul's Cyber Tower in Doon Valley, says Girja Shankar Kaura
It will be the iconic building for the newly carved state of Uttaranchal and would act as an attraction for the others who want to be a part of 60-acre Information and Technology (IT) Park, which the Uttaranchal Government has planned just on the outskirts of Dehra Dun in an effort to attract BPOs and other multinational companies from other parts of the country.
Realty IPOs to make India a property-driven market
Manoj Kumar
Once considered as the fly-by-night companies, the real estate companies are the new hits on the bourses. It is estimated that in next four to six months, this sector alone will bring in over Rs 20,000 cr Initial Public Offer (IPO) into the market.
Designer's corner
A flat shouldn't be that flat
A lot of dimensions can be added to it internally as well externally, suggests A.P. Singh
Just because it is flat, does not mean you can't add dimensions to it. Building society norms must not stop you from adding character to your flat. Discard thoughts that exterior designing is limited to houses or villas.
TAX tips
Can man get rent receipt from wife?
By S.C. Vasudeva
Q. I am government employee and have taken Rs 4.5 lakh HBA from HDFC for my own home and am paying Rs 5,136 pm as instalment.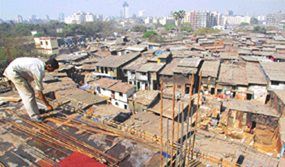 A labourer works on a construction at Kumbharwada next to Asia's largest slum Dharavi in Mumbai. An estimated 25,000 families living in makeshift huts along miles of pavements in Mumbai will be evicted within two years, an official said. The mass removal plan is part of a project to shift 2 lakh families out of the city's slums into tenement blocks within the next three years, despite protests over tactics employed by officials and police. Slums cover some 3,500 hectares (8,645 acres) of Mumbai — tagged Slumbai by critics — but previous efforts to rehouse slum dwellers have failed and more than a third of the near 20 million population lives in shanties. — AFP
Sectoral limits

NRI land deal

Mother as owner
Buzz on Bourses
Yuvraj is LVL brand ambassador
Chandigarh: Real estate company Lakshmi Vatika Ltd (LVL), currently managing several projects of over Rs 3,000 crore, has signed cricketer Yuvraj Singh as their brand ambassador
JMD forays into Punjab

NHAI inks deal for NH project

IALS on expansion spree

Simplex gets 2 contracts

GMR files prospectus

Unity Infra to raise Rs 252 cr