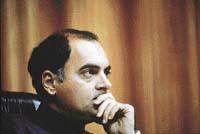 How Rajiv's India was banned
A film on the spirit of new India made by Jack Anderson, known as the father of investigative journalism, ironically has never been publicly shown in India. For all intents and purposes, the government of Rajiv Gandhi had banned the film, writes Niranjan Desai
THE legendary American journalist Jack Anderson who died a couple of months ago still continues to make headlines.
Spanish extravaganza
The Spaniards' zest for life is known and it is clearly reflected in their cinema, writes Ervell E. Menezes
IF the recent Mumbai Academy of the Moving Image (MAMI) festival did one good thing (despite the poor organisation), it was giving the Mumbaite a chance of sampling world cinema other than Hollywood and that meant European and South American cinema too. Spain itself had a large share of 12 films and they proved to be a big draw.
'I am a fighter'
AMISHA Patel, an actress whose career has seen better days with films like Kaho Na Pyaar Hai and Gadar - Ek Prem Katha, is fast fading into oblivion. But she says she is confident about putting her career back on track.


'ART AND SOUL: Visual forms of the subtle body
by B. N. Goswamy

Food Talk: Meat for the heat
by Pushpesh Pant

CONSUMER RIGHTS: Why docs dodge the dock
by Puspha Girmaji

GARDEN LIFE: Colour and scent of shrubs
by Kiran Narain

HOLLYWOOD HUES: Sci-fi romance
by E.E.M.

ULTA PULTA: Double game
by Jaspal Bhatti

BRIDGE
by David Bird