Partying students lathi-charged
Abohar, May 25
Some students celebrating the success of a fellow student in the Class XII exam at a dinner hosted by him were allegedly beaten up by five policemen last night.
B.C. Shekhar is new ADC to Governor
Chandigarh, May 25
Mr B. Chandra Shekhar, a 1994 batch IPS officer of the Punjab cadre, has been posted as ADC (P) to the Governor of Punjab, Gen S.F. Rodrigues (retd). He replaces Mr P.S. Gill, who has been the ADC for more than a decade.


Free power to SC families only on paper: BSP
Hoshiarpur, May 25
The tall claims of the Capt Amarinder Singh government regarding free electric supply of 200 units to the Scheduled Caste families are only on paper as none of the family is getting free power in the state.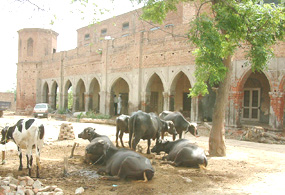 200-year-old court building being used as cowshed
Rasulpur (Tarn Taran), May 25
The two-century-old majestic court building of the British era, on the old Sher Shah Suri road, is being used as cowshed, by the family of village Sarpanch who had bought this heritage building in 1977 for a song.
Two-century-old 'haveli' of Rasulpuria Sardars adjoining majestic court building at Rasulpur village, Tarn Taran (Amritsar), where domestic animals are kept. — Photo by Rajiv Sharma

Akal Takht jathedar's luxury car withdrawn
Amritsar, May 25
The SGPC yesterday withdrew the controversial luxury Toyota Camry car from the jathedar of Akal Takht.
Baba Jagtar Singh installs palanquin at Darbar Sahib
Tarn Taran, May 25
Three-century-old gold palanquin was replaced by a new one at the Darbar Sahib here today . The new palanquin was installed by Baba Jagtar Singh of the Kar Sewa Wale sect with the consent of Shiromani Gurdwara Prabandhak Committee (SGPC).
7 reservoirs made functional after 2 decades
Amritsar, May 25
The MC has brought seven over head service reservoir (OHSR) under operation after about two decades for supplying water to the walled city.
2 chemist shops raided
Sangrur, May 25
Mr Jatinder Singh, Drug Inspector, today raided two chemist shops here and seized drugs, which could be misused as intoxicants, from these shops as owners of the shops could not produce purchase records (bills) of the same.
Obituary
A writing career cut short
He was different. He never compromised on what he felt was right. With an incisive mind, Saravmeet, who passed away last week, used to make even the best of political leader uneasy by asking inconvenient questions of public interest.
Mumtaz's kids to be released today
Chandigarh, May 25
The three children of Mumtaz, the Pakistani woman who had remained in the media limelight last month, are likely to be released from Amritsar jail tomorrow.


Suvidha camp mismanaged
Ropar, May 25
The first suvidha camp organised here by the police today for out-of-court settlement was a show of mismanagement. Aggrieved parties were kept waiting for Ludhiana Range DIG Parag Jain to arrive and hear their problems.


Two cops suspended
Abohar, May 25
SSP Arpit Shukla placed the in charge of the Arniwala police post and a Head Constable under suspension on corruption charges, sources said today. According to information, Mr Bhupinder Singh, a farmer from Dhippanwali village, had submitted an affidavit to the SSP, stating that ASI Paramjit Singh and a Head Constable took his relative Satnam Singh in custody in a land dispute.


Naib Tehsildar held for bribery
Sangrur, May 25
A team of the Vigilance Bureau, led by Mr Roop Singh, DSP, Vigilance, today caught Balwinder Singh, Naib Tehsildar, Bhawanigarh, when he was "accepting" a bribe of Rs 3,000 from Mr Pardeep Kumar, a resident of Bakhtari Kothe village (near Bhawanigarh), in connection with the registration of a sale deed of a 150-yard plot.
Youth commits suicide
Ropar, May 25
Twenty-year-old Pankaj, a student of the polytechnic at Tangori, committed suicide at Morinda today.


ITI students allege fee overcharge
Bathinda, May 25
Protesting against the alleged overcharging of fee, students of Indian ITI, a private institute, today took out a protest march from Teachers' Home to the Deputy Commissioner's office under the banner of the All-India Students Federation (AISF).
Guru Arjan Dev college planned for Tarn Taran
Tarn Taran, May 25
The Punjab Government plans to commemorate the 400th martyrdom day of Guru Arjan Dev, Mr Partap Singh Bajwa, Minister PWD (B&R) and Cultural Affairs, Punjab, stated at a meeting of the State Level Implementation Committee here yesterday.
BSc (IT) part-III results today
Amritsar, May 25
The results of the BSc (IT) part-III examination of Guru Nanak Dev University will be declared tomorrow. The results will also be available on the university website, www.gnduonline.org.
Students' gesture
Rajpura May 25
In a unique gesture, students of Patel Public School have collected an amount of over Rs 60,000 for the inmates of the SOS Children's Village here.