| | | |
| --- | --- | --- |
| | REGIONAL POTPOURRI | |
Books on wheels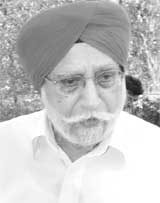 Prof Jaswant Singh
Prof Jaswant Singh, an NRI from Judahan village of Ludhiana, believes that inculcating the habit of reading among people is the most effective way to make them better human beings. It is this belief that made him start a mobile library.
This library puts to good use the over 15 years of experience that he gained while managing libraries in the USA. It stocks over 4,000 books and is housed in an airconditioned bus which visits five villages, including his native place Judaha, Rangoowal, Dhurkot and Phallewal, every week.
"We have books for children which are issued to them at a nominal fee of Rs 5. For people in the rural areas, getting access to a wide variety of books is not easy, thus impeding the development of the reading habit among village children," says Prof Jaswant Singh.
Children who visit his mobile library have the option of borrowing books or reading them inside the bus.
In the absence of Prof Jaswant, who spends almost half the year in the USA, his mobile library is managed by his friend Dr Amarjit Singh, who retired as Head, Department of Journalism, Languages and Culture, Punjab Agricultural University, Ludhiana, the bus driver, the manager and a few others.
Formed under the aegis of the Anant Education and Rural Development Trust with an initial investment of more than Rs 20 lakh, it has been a hit with the kids, its membership now well over 600. Every three months, some 200-odd books are added.
The professor's aim is not just to promote the habit of reading, but to make children read good books. "You name a book in Punjabi and we have it. Besides books in Punjabi, we have titles in English and Hindi. We offer a lot of variety and have received a good response for our venture."
Even as this NRI continues contributing his bit, he regrets that the Punjab Public Library Act has not yet been passed. The legislation would help villages open libraries with the help of the government, he feels.
Art of the matter
an art teacher at Vidya Devi Jindal School, Hisar, N.P. Pandey is an artist who likes to bring out unsaid feelings and emotions through his expressive drawings and paintings. Relationships of all kinds — from the mother-child bond to the nature-life interdependence — fascinate him and the artist in him is always keen on depicting these on canvas.
"An artist should not be required to explain his work…the creations should speak for themselves," observes the gifted drawing master, who is a melodious singer as well.
Though Pandey works with a number of media and also mixes media, pen and ink are his favourite. Besides, he dabbles in oil, crayon, acrylic and charcoal painting and lithography. Having specialised in graphic art, his works also make use of this medium quite often. Basically, expression-based drawings and paintings are his forte.
Born at Malda in West Bengal, Pandey did his degree in Fine Arts from Shantiniketan Visvabharati in 1984. Later, he joined this prestigious residential-cum-day boarding school, which he is serving till date.
One of his creations was adjudged the "outstanding exhibit", for which he got the first prize at the annual All-India Exhibition of Art organised recently by the Department of Languages and Culture, Himachal Pradesh, at the State Museum in Shimla.
Pandey's works have also been awarded by the All-India Fine Art and Crafts Society, All-India Exhibition of Prints and Government Art College, Chandigarh, Himachal Pradesh Lalit Kala Akademi, Agnipath and Kshitij. The National Lalit Kala Akademi, Delhi, and Punjab National Bank have also selected his creations.
He has exhibited his drawings and paintings at a number of state and national-level exhibitions, including a few solo shows.
He has also visited the UK in connection with a joint project on Indian Miniature Painting and Traditional Art under the British Council's cultural exchange programme.
Side-tracked no longer
The 'chhook-chhook' sound of a steam engine will again be heard on the Pathankot-Jogindernagar narrow gauge railway track. This has become possible with the railway authorities conducting a successful trial of the steam engine, covering a distance of nearly 12 km from Pathankot railway station to Dalhousie.
Railway engineer Vineet Kumar of the loco-shed claimed that the recent trial run of the 1952 JBD-66 steam engine, manufactured by the UK-based Bagnar company, was a success. Northern Railways will now go ahead with the reintroduction of the Kangra Queen nearly eight years after it was converted into a fully AC diesel train.
It will be a dream come true for the people of Pathankot, especially those living along the track, who will again be able to hear the traditional whistle of the steam engine.
After the railways had introduced diesel engine and electric engines, the steam engines had been consigned to the stockyards.
Following the Kangra Queen's conversion into a fully AC train, it got a good response initially. But over the years, the railway authorities found that the number of passengers was dwindling, largely due to the steep fares. This made the authorities do a rethink and the decision to restore the steam engine-driven train was taken.
—Contributed by Shveta Pathak, Sunit Dhawan and Bharat Bhushan Dogra