BRIDES WANTED

GROOMS WANTED

OTHERS

HOW TO PLACE ADVTS
QUOTES
They (players) will select themselves in or select themselves out just on their performances.
— Greg Chappell
In Society today
A Tribune Special
Attorney to pay Rs 10,000 for 'obnoxious' remarks made in '85
Chandigarh, August 5
"The learned court lost sight of the fact that the applicant was 70 years old. He was a retiring kind. He was a spent cartridge. He was rather a burden on society and his family. He was not earning anything. He has not been incapacitated in earning a livelihood."
Bank strike on August 10 and 11
New Delhi, August 5
A two-day all-India strike by bank employees will be observed from August 10 to protest the failure of bank managements to address the grievances of the employees.


Army recruits 248 in Kashmir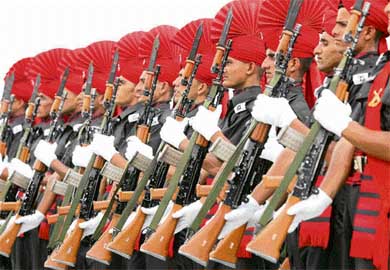 New recruits of the Jammu and Kashmir Light Infantry Regiment during the passing out-cum-attestation parade of the 75th Recruit Course held at the Jakli Regiment Centre at Rangreth in Srinagar on Saturday. As many as 248 recruits took the oath of allegiance to the nation. — PTI photo

E - Revolution 2005:
A Two-day IT conclave

Assembly Elections - 2005

Turbans

Chandigarh is 50

EARLIER FEATURES

HOROSCOPE
Two children die in heavy rain
Srinagar, August 5
Two children were killed and two bridges washed away due to rising water levels in rivers following heavy rains in Kashmir and Ladakh regions, officials said today. Two children were killed as their house collapsed due to heavy rains and rising water levels in Zanskar area of Kargil district last night, they said.
MLA gets life term
Patna, August 5
In its ongoing drive to ensure speedy trials to establish rule of law in the state, the Nitish Kumar government scored a major success today when a Madhubani fast-track court gave life imprisonment to the state president of Samajwadi Party and sitting MLA Devnath Yadav in connection with the murder of Surendra Yadav in 1992.
Greg Chappell puts players on notice
Perform or warm the bench, says coach
Bangalore, August 5
Indian cricket coach Greg Chappell has sought to put his players on notice ahead of important tournaments leading to the World Cup, saying any complacency on their part will leave the door open for others to sneak into the side.
(Details on Sports page)

Forgery case against Bina Ramani
New Delhi, August 5
The Delhi Police has registered a case against socialite Bina Ramani for forging documents to acquire a licence to run a restaurant at the Tamarind Court in South Delhi, where ramp model Jessica Lall was murdered on April 19, 1999. — PTI


Pathak report leak rocks Parliament
August 5, 2006

Bridge washed away
August 4, 2006
Privilege notice against Jaswant
August 3, 2006
6 schoolchildren die as bus falls into canal
August 2, 2006
Lok Sabha passes profit Bill
August 1, 2006
'Mole' not named in letter, says PM
July 31, 2006
Kalam for speedy justice in terror cases
July 30, 2006
Peace must for J&K's progress, says Kalam
July 29, 2006
US House approves N-deal with India
July 28, 2006
No compromise on N-deal: PM
July 27, 2006
Govt's no to POTA
July 26, 2006