PU Elections
SOPU loses 6 candidates due to wrong filing of nominations
Chandigarh, September 6
In a major set back to the Students Organisation of Panjab University in the forthcoming students elections, the party lost six candidates, including their candidate for the post of general secretary to wrong filling of nomination forms.


Girl framed me, PU teacher tells VC
Chandigarh, September 6
A day after the a Panjab University teacher was arrested by the police for allegedly trying to outrage the modesty of a girl student, the Panjab University Vice-Chancellor, Prof R.C. Sobti, sought the explanation of the erring teacher.
HUDA plot draws on Sept 18, 19
Panchkula, September 6
The Haryana Urban Development Authority, today, announced that the draw of lots for plots in Sector 27 will be held on September 18 while the draw for plots of Sector 28 will take place on September 19 at 10 am at the HUDA complex, Sector 6.


Brutalised in '97, Kiranjit inspires film
Chandigarh, September 6
Kiranjit Kaur is an icon in rural Punjab. In her brutal end, she left many messages for those in her league; not all of them were comforting. But to date, the memory of the girl, declared a martyr by her villagers, continues to inspire mass movements against crimes which women living in villages endure.

One of the members of the Action Committee which sought justice for Kiranjit. — A Tribune photograph
Special Story
GCM finds lady doctor guilty of abetting airman's suicide
Chandigarh, September 6
In the first case of its kind in the services, a general court martial has held a lady doctor in the Air Force guilty for abetment to suicide. She has been sentenced to two years loss of seniority besides a severe reprimand, it is learnt.


Khushwant Singh's prose finds a befitting match in White's images
Chandigarh, September 6
Broken homes, like broken hearts, run into several editions — more so when the tale of trauma has been compellingly told. To that extent, Khushwant Singh's "Train to Pakistan" remains a classic.

Old and new book covers of Khushwant Singh's classic "Train to Pakistan". — Tribune photographs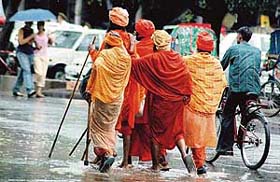 In rhythm with the rain: Pujaris trail a path as rain lashed Chandigarh on Wednesday.
— Tribune photo by Vinay Malik
Mohali to have hi-tech PCR
Mohali, September 6
A high-tech police control room is being set up here as part of a plan to revamp the entire communication network even as the concept of telephone operators is being done away to check wastage of manpower.
Information panel raps HUDA for dilly-dallying
Panchkula, September 6
The State Information Commissioner, Mr G. Madhwan, and the member of the commission, Ms Minakshi Anand Choudhary, have directed the Haryana Urban Development Authority to furnish a reply to a query by the Citizens' Welfare Association within next 10 days.