Boutique in village
Jyoti Sandhu, 40, with her entrepreneurial and painting skills has turned Sarhali village into a place where pieces of cloth are embroidered and painted.
Short cut to humour
SMS has, no doubt, a popular way of communication. In fact, humour and jokes have had a new lease of life with the Short Service Message. It facilitates communication, but at times it proves to be a nuisance. Some 'humour' leaves a bad taste in mouth.
Doctor's century
Orthopedic surgeon Dr Avtar Singh, the chief replacement specialist of Amandeep Hospital here, was honoured by the BJP MP, Mr Navjot Singh Sidhu, at a function recently.
Munis for peace
A revered Jain saint, Pravartak Shri Suman Muni Ji Maharaj is in Amritsar for 'chaturmas' (period of four months).


Encroachments at Hukam Singh Road
Residents of the Hukam Singh road are concerned over the pitiable condition of roads and footpaths, besides encroachments on public places by unscrupulous elements. People have flouted civic rules with impunity, says Mr Brij Bedi, President, Citizen's Forum, who is also a resident of the locality.

Rainwater fills up potrholes of Hukam Singh Road. — Tribune photo
DAV students win debate
Student of DAV Public School swept the prestigious Cicero Running Trophy for the first time at the Inter-Public School Open English Debate. They had also finished second in a state-level, science competition organised recently.


Pull of Darbar Sahib
Four Oxford University students had visualised the Golden Temple nestling in tranquil surroundings. They were disappointed to see the holy place amidst congested and highly polluted area of the city. However, the plan to lay an elevated road to decongest the traffic was of little solace to them. The students: Mr David Whiteside, Aiman Leung, Ms Annie Mcdermott and Ms Miranda Jones were here with students and teachers of Khalsa College for thee weeks to get a feel of life here.
Students from Oxford University, the UK, with teachers at Khalsa College Amritsar. — Tribune photo
Contrasts of life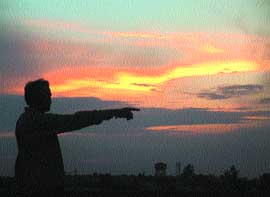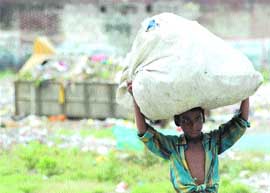 Top: A farmer closes day's activities in his field as sun sets in Amritsar. Bottom: For a ragpicker child day's job has to be done to ward off hunger. — Tribune photos
Baba Seechewal on education mission
Baba Balbir Singh Seechewal, the Chairman of the Ek Onkar Charitable Trust, has been in news for cleansing the sacred Kali Bein.
Evening college on good track
The only evening college in the city, Trai-Shatabdi Guru Gobind Singh Khalsa College, has shown commendable results. The school is run from the 68-year-old Sri Guru Ram Das Khalsa Senior Secondary School building.
Rain makes farmers powerless
The two–day incessant rain in Amritsar and surrounding areas has flattened more than 50 per cent of Sharbati and other varieties of paddy.
Two lecturers present papers
Ms Harmeen Kaur Soch and Dr Jaspal Singh, faculty members of the Department of Commerce and Business Management, Guru Nanak Dev University, presented their papers at international conferences.
Beopar mandal hails decision on octroi
The Punjab Pradesh Beopar Mandal president, Mr Amrit Lal Jain, has welcomed the decision of the Punjab Government to abolish the octroi in the state.