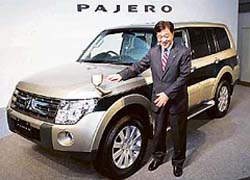 Mr Osamu Masuko, President, Mitsubishi Motors Co., poses with fully redesigned new Pajero in Tokyo on Wednesday. The SUV will cost between 24,15,000 and 38,46,000 yen ($20,460 to $32,585). — Reuters
Centre puts spanner on two Reliance SEZ proposals
New Delhi, October 4
The Centre has put a spanner on two ambitious SEZ proposals of Reliance Industries in Maha Mumbai and Jhajjar, by questioning the excess allotment of land in Maharashtra and asserting that the double-crop criterion would be strictly followed for the Haryana zone.
Montek against concessional finance to SEZs
New Delhi, October 4
Planning Commission Deputy Chairman Montek Singh Ahluwalia today joined the fierce debate on special economic zones (SEZs), saying that he was against providing concessional finance to them.
WL Ross & Co buys OCM India for Rs 170 crore
Mumbai, October 4
WL Ross & Co, a global private equity investor in corporate restructurings, today announced it's entry into India, with the acquisition of OCM India for a consideration of $37 million in cash ( Rs 170 crore).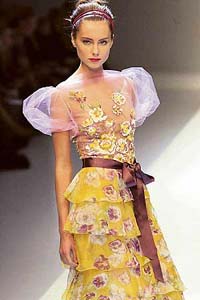 A model presents a creation by Italian designer Valentino for his Spring/Summer 2007 ready-to-wear collection in Paris on Wednesday. — AFP
More international routes for pvt carriers
New Delhi, October 4
Jet and Air Sahara will now be able to fly to more foreign destinations, including those in China, Thailand and the Maldives, as the government opened up more international routes for private carriers.
India worst performer on Transparency Bribe Payers Index
New Delhi, October 4
India has been ranked as the worst performer by Transparency International on its global Bribe Payers Index, which is based on the propensity of companies from the world's 30 leading exporting countries in bribing abroad.
Gold, silver lose shine
Mumbai, October 4
Spot silver and gold crashed two-week low on at Rs 690 per kg and Rs 240 per 10 gm, respectively, on sluggish demand and on bearish global advice, traders at the Bombay Bullion Association said today.
RIL exports to cross $10 b mark: Mukesh Ambani
New Delhi, October 4
Reliance Industries Ltd (RIL) today said its exports would cross the $10 billion mark this fiscal, while its Chairman Mukesh Ambani reiterated that special economic zones (SEZs) were key to India's future growth.
IFC to buy stake in Cairn India for $45 m
New Delhi, October 4
World Bank's private lending arm IFC is considering investing $45 million to buy a stake in Cairn India Ltd.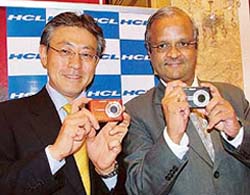 Mr T.Kyoden, Managing Director, Casio India, and Mr J.V. Ramamurthy, Chief Operating Officer, HCL Infosystems Ltd, display a 10-mega pixel camera in New Delhi on Wednesday. The two companies annouced a strategic national distribution pact for marketing, servicing and distribution of Casio digital cameras in India. —A Tribune photograph
Koutons relaunches 'Charlie Outlaw'
New Delhi, October 4
Koutons, which operates under the same brand name, today re-launched its apparel brand 'Charlie Outlaw', targeting men in the age group of 16-24 years.
Welspun forms JV in Russia with 40 pc stake
Mumbai, October 4
Welspun Gujarat Stahl Rohren Ltd, the flagship company of $1-billion Welspun Group, today signed an MoU with Volzhsky Pipe Plant (VTZ) to form a joint venture company in which it will hold a 40 per cent stake.
Satyam global innovation hub in Singapore
Hyderabad, October 4
Satyam Computer Services Limited today announced the establishment of its first global innovation hub in Singapore, a facility dedicated to research and development.
Essar Tele exit price at Rs 4,990
New Delhi, October 4
Essar Teleholding, the telecom arm of the Ruia family- promoted Essar Group, said today it had fixed the price for delisting its shares from various stock exchanges at Rs 4,990 per share.
Telecom Cos get three more months
New Delhi, October 4
The government has given telecom companies with FDI three more months to comply with the conditions imposed when the cap on foreign equity was increased to 74 per cent.