CHANDIGARH

LUDHIANA

JALANDHAR
New

DELHI

HIMACHAL PLUS
New

AMRITSAR PLUS

LIFESTYLE
New

BRIDES WANTED

GROOMS WANTED

OTHERS

HOW TO PLACE ADVTS
ADVERTISEMENT
Dengue tightens grip, toll up
New Delhi, October 6
Seven more dengue deaths have been reported from various parts of the country in the past 24 hours, taking the toll to 45. Reports of 282 fresh dengue cases across the country have added to the worry of public health experts.

In video (56k)

Chandigarh page:


Insanitation, waterlogging dog city hospitals


11 fresh cases of dengue reported


Ludhiana page: 28 more suspected dengue cases surface


Punjab page: Suspected dengue case reported


Haryana page: Steps to prevent dengue, malaria


Delhi page: Dengue outbreak shows no sign of abating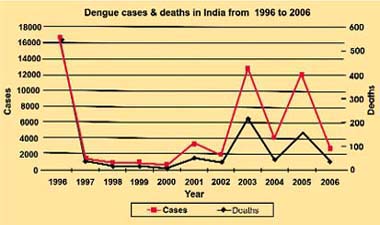 BJP denies ticket to Varun
New Delhi, October 6
Strong pressure and resentment in the state unit forced the BJP to deny the Lok Sabha ticket to a scion of Gandhi-Nehru family Varun Gandhi from Vidisha and instead go for Minister of Public Health and Engineering Rampal Singh.

E - Revolution 2005:
A Two-day IT conclave

Assembly Elections - 2005

Turbans

Chandigarh is 50

EARLIER FEATURES
In Sports Tribune today
HOROSCOPE

Militants kill 13 Railway men in Assam
Guwahati, October 6
Suspected anti-talk Dimasa militants today killed 13 NF Railway personnel in a remote jungle near Hatikhuli, about 12 km from Lumding railway junction.
'93 blasts: 3 more found guilty
Mumbai, October 6
The special court set up under the Terrorism and Disruptive Activities Act to hear the 1993 Mumbai serial blasts case today found three persons guilty of being part of the conspiracy.
Two ISI agents held
New Delhi, October 6
Two agents of the Pakistan's Inter Services Intelligence have been arrested in the Capital with sensitive defence documents in their possession.


Tribune Special
Education in North in a shambles
Schools in all states perform below national average
Chandigarh, October 6
In a reminder of the abysmal education system in government schools across North India, the Union Ministry of Human Resource Development has found that school students in Punjab, Haryana, Chandigarh, Himachal Pradesh and Jammu and Kashmir are performing below the national mean achievement.
Quote
The brand of cricket we are playing makes us confident of doing well.
— Tom Moody,
Sri Lanka coach

Holed-up militants shot
October 6, 2006
PM's grandsons hit by dengue
October 5, 2006
Dengue claims one more life at AIIMS
October 4, 2006
Pak not to hand over any suspect
October 3, 2006
India to provide evidence to Pak
October 2, 2006
ISI hand in 7/11 blasts
October 1, 2006
J&K CM seeks pardon for Afzal
September 30, 2006
PM cautions CMs on populism
September 29, 2006
No package, only assurance
September 28, 2006
Mumbai blasts: 5 cops convicted
September 27, 2006